When does error code 0x8007007e occur?
When updating to a newer version of Windows or when installing a big update, users sometimes encounter the error code 0x8007007e. The error continues with "api-ms-win-core-libraryloader-l1-1-1.dll missing". A lot of users find themselves unable to fix the error, which prevents them from updating their current Windows or upgrading to a newer version. There are a few fix methods you can try to fix error code 0x8007007e.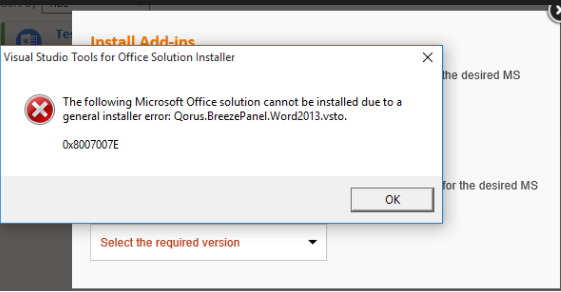 How to fix error code 0x8007007e?
First of all, you should perform the Windows Update Troubleshooter. You will need to download and run the version of Troubleshooter compatible with your computer, which you can find here. You should then perform a clean boot in Windows, for which you can find instructions here.
A Microsoft moderator on their forums also recommend temporarily disabling 3rd party anti-virus programs. If you have one installed, try disabling it until you complete the updates. Another recommended method is to reset Windows Update components:
Press Windowskey and X at the same time. Press on Command Prompt (Admin).
Type the following and press Enter after each command:

net stop wuauserv
net stop cryptSvc
net stop bits
net stop msiserver
ren C:WindowsSoftwareDistribution SoftwareDistribution.old
ren C:WindowsSystem32catroot2 Catroot2.old
net start wuauserv and press Enter
net start cryptSvc
net start bits
net start msiserver

Close the Command Prompt (Admin) window.
Try to perform the upgrade again.
Another method proposed by one user in a forum is to replace the C:Windows10Upgradewimgapi.dll with the one from C:WindowsSystem32wimgapi.dll.
If none of these methods to fix error code 0x8007007e worked, try to manually update/upgrade. You can download updates for manual installation here.
Incoming search terms: