What is Bitdefender Antivirus Software?
Bitdefender is an anti-virus application that provides advanced protection against Internet-based threats. You can choose between Bitdefender Anti-Virus Plus, Bitdefender Internet Security and Bitdefender Total Security. All of these programs have similar features that are discussed below. In addition to these features Bitdefender Internet Security and Bitdefender Total Security provide you with a Two-way Firewall, which monitors your Internet connection and prevents unauthorized access, Parental Control, which allows you to block inappropriate content, and Cloud Antispam, which prevents spam emails from reaching your inbox. Bitdefender Total Security also has secure online storage, device anti-theft and file encryption features.
Best Protection. Best Performance.
The main asset of Bitdefender is the level of security that it provides. You can browse the Web without having to worry about various online infections. With Bitdefender's Safepay online transactions become a secure and quick process. The anti-malware also protects your social networking accounts. It blocks malicious links that you may be exposed to on Facebook, Twitter and other popular sites. Moreover, the software also checks the links that are provided to you in Google and Bing search results. It blocks access to corrupted links that you click on. Its anti-phishing feature analyzes the sites you open and blocks pages that support virtual scams and credit card phishing.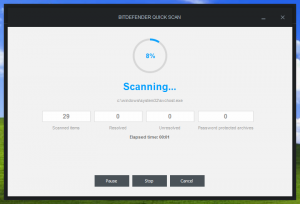 Other important features of the utility are its Scanner, Active Virus Control and Rescue Mode. The Quick Vulnerability Scanner warns you of vulnerable software, potentially unsafe settings and missing security patches for Windows. Active Virus Control is a detection technology that monitors the behavior of processes in real time and tags questionable activities. Rescue Mode restarts your computer in a trusted environment used for clean up in case a malicious threat manages to infiltrate your PC.
Bitdefender presents your security status of the past week in its Security Report. This report consists of fixed issues, freed up space, optimized applications, etc. Security Widget, on the other hand, allows you to monitor security-related tasks and quickly scan files for viruses straight from your desktop.
The utility does not interrupt you unnecessarily. It blocks notifications when you play games, watch videos or work. The anti-malware does not affect the speed of your system, in fact, its innovative technology improves your computer's performance. If there is a program that is slowing down your PC, Bitdefender's OneClick Optmizer will run every known optimization freeing up disk space and speeding up your system.
When it comes to help and support, Bitdefender does not disappoint. You can find required information on the Bitdefender support center site that has helpful topics and coherent explanations. Customer support can be contacted by phone, email or online chat 24/7.
Bitdefender Anti-Virus is a reliable utility that has plenty of useful features. It provides advanced protection against various malicious threats, keeps your PC clean and improves its performance. Bitdefender is one of the best security suites in the anti-virus market at the moment.
Minimal system requirements:
Operating system: Microsoft Windows XP SP3 | Windows Vista SP2 | Windows 7 SP1 | Windows 8 | Windows 8.1
CPU: 1.6 GHz processor
Memory (RAM): 1GB
Available free hard disk space: 1 GB free space (at least 800 MB on the system drive)
Recommended system requirements:
Operating system: Microsoft Windows XP SP3 | Windows Vista SP2 | Windows 7 SP1 | Windows 8 | Windows 8.1;
CPU: Intel CORE 2 Duo (2 GHz) or equivalent processor
Memory (RAM): 1 GB (Microsoft Windows XP), o 1.5 GB (Microsoft Windows Vista, Microsoft Windows 7, Windows 8, Windows 8.1);
Available free hard disk space: 2 GB free space (at least 800 MB on hard system drive)
Download Link : Bitdefender Anti-Virus
Save