I Have To Share Bad News With You Penipuan Email diklasifikasikan sebagai penipuan sextortion karena menurut email, video pribadi Anda akan dirilis jika Anda tidak setuju untuk membayar jumlah uang yang diminta. Ini adalah contoh klasik dari penipuan sextortion yang telah terjadi selama beberapa tahun sekarang. Meskipun mungkin tampak mengkhawatirkan pada awalnya, tidak memperhatikan isi email karena itu tidak lebih dari penipuan.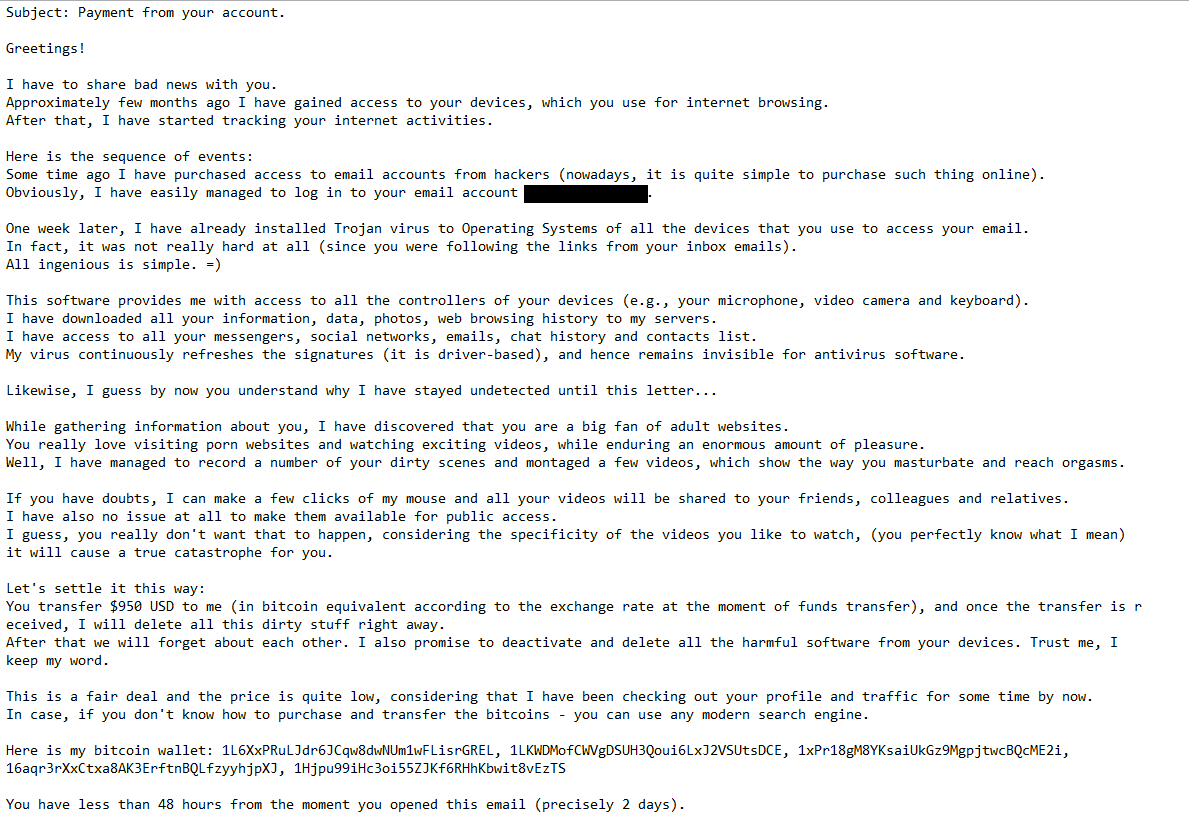 Email sextortion biasanya memiliki baris subjek yang menarik. Misalnya, baris subjek email khusus ini adalah "Pembayaran dari akun Anda". Karena email biasanya berakhir di folder sampah/spam di kotak masuk Anda, scammers mencoba menarik perhatian Anda dengan topik yang berhubungan dengan uang.
Setelah Anda membuka email " I Have To Share Bad News With You ", pengirim akan mencoba mengintimidasi Anda agar percaya bahwa komputer Anda telah diretas. Scammers akan menggunakan berbagai bahasa yang mengkhawatirkan seperti "Sekitar beberapa bulan yang lalu saya telah mendapatkan akses ke perangkat Anda, yang Anda gunakan untuk penjelajahan internet", dan "Saya telah mengunduh semua informasi, data, foto, riwayat penelusuran web Anda ke server saya". Seharusnya, "peretas" membeli alamat email Anda yang entah bagaimana memberi mereka akses ke akun email Anda. Mereka kemudian dapat menginstal malware ke semua perangkat yang Anda gunakan untuk masuk ke email itu. Seharusnya, malware memungkinkan "peretas" mengakses perangkat Anda sepenuhnya, termasuk memberi mereka izin untuk menghidupkan / mematikan mikrofon dan kamera video Anda.
Email tersebut kemudian mengklaim bahwa pengirim tidak hanya dapat mencuri semua data Anda tetapi mereka juga membuat video Anda menonton pornografi. Mereka mengancam akan mengirim video ganda (video yang Anda tonton di satu sisi dan video Anda di sisi lain) ke semua kontak Anda kecuali Anda setuju untuk membayar jumlah uang yang diminta, yang, dalam hal ini, adalah $950 dalam Bitcoin.
Jika Anda tahu sesuatu tentang komputer dan malware, isi email akan sangat tidak masuk akal. Pertama-tama, kecuali Anda memiliki kata sandi yang sangat mudah ditebak untuk akun email Anda, peretas tidak akan dapat mengakses akun Anda hanya karena mereka tahu alamat email Anda. Kedua, kecuali Anda mengklik tautan berbahaya dan lampiran email di email kiri dan kanan, menginfeksi komputer Anda dengan malware tidaklah mudah. Akhirnya, aktor jahat tidak memata-matai pengguna acak dengan harapan bahwa mereka akan mengunjungi situs web pornografi sehingga mereka dapat memerasnya.
Tidak ada klaim dalam email yang benar. Tidak ada malware di komputer Anda, juga tidak ada video Tentang Anda menonton pornografi. Jangan perhatikan email tersebut, dan hapus " I Have To Share Bad News With You " Penipuan Email dari kotak masuk Anda segera setelah Anda mendapatkannya.
Subject: Payment from your account.

Greetings!

I have to share bad news with you.
Approximately few months ago I have gained access to your devices, which you use for internet browsing.
After that, I have started tracking your internet activities.

Here is the sequence of events:
Some time ago I have purchased access to email accounts from hackers (nowadays, it is quite simple to purchase such thing online).
Obviously, I have easily managed to log in to your email account (****@****.com).

One week later, I have already installed Trojan virus to Operating Systems of all the devices that you use to access your email.
In fact, it was not really hard at all (since you were following the links from your inbox emails).
All ingenious is simple. =)

This software provides me with access to all the controllers of your devices (e.g., your microphone, video camera and keyboard).
I have downloaded all your information, data, photos, web browsing history to my servers.
I have access to all your messengers, social networks, emails, chat history and contacts list.
My virus continuously refreshes the signatures (it is driver-based), and hence remains invisible for antivirus software.

Likewise, I guess by now you understand why I have stayed undetected until this letter…

While gathering information about you, I have discovered that you are a big fan of adult websites.
You really love visiting porn websites and watching exciting videos, while enduring an enormous amount of pleasure.
Well, I have managed to record a number of your dirty scenes and montaged a few videos, which show the way you masturbate and reach orgasms.

If you have doubts, I can make a few clicks of my mouse and all your videos will be shared to your friends, colleagues and relatives.
I have also no issue at all to make them available for public access.
I guess, you really don't want that to happen, considering the specificity of the videos you like to watch, (you perfectly know what I mean) it will cause a true catastrophe for you.

Let's settle it this way:
You transfer $950 USD to me (in bitcoin equivalent according to the exchange rate at the moment of funds transfer), and once the transfer is received, I will delete all this dirty stuff right away.
After that we will forget about each other. I also promise to deactivate and delete all the harmful software from your devices. Trust me, I keep my word.

This is a fair deal and the price is quite low, considering that I have been checking out your profile and traffic for some time by now.
In case, if you don't know how to purchase and transfer the bitcoins – you can use any modern search engine.

Here is my bitcoin wallet: 1L6XxPRuLJdr6JCqw8dwNUm1wFLisrGREL, 1LKWDMofCWVgDSUH3Qoui6LxJ2VSUtsDCE, 1xPr18gM8YKsaiUkGz9MgpjtwcBQcME2i, 16aqr3rXxCtxa8AK3ErftnBQLfzyyhjpXJ, 1Hjpu99iHc3oi55ZJKf6RHhKbwit8vEzTS

You have less than 48 hours from the moment you opened this email (precisely 2 days).

Things you need to avoid from doing:
*Do not reply me (I have created this email inside your inbox and generated the return address).
*Do not try to contact police and other security services. In addition, forget about telling this to you friends. If I discover that (as you can see, it is really not so hard, considering that I control all your systems) – your video will be shared to public right away.
*Don't try to find me – it is absolutely pointless. All the cryptocurrency transactions are anonymous.
*Don't try to reinstall the OS on your devices or throw them away. It is pointless as well, since all the videos have already been saved at remote servers.

Things you don't need to worry about:
*That I won't be able to receive your funds transfer.
– Don't worry, I will see it right away, once you complete the transfer, since I continuously track all your activities (my trojan virus has got a remote-control feature, something like TeamViewer).
*That I will share your videos anyway after you complete the funds transfer.
– Trust me, I have no point to continue creating troubles in your life. If I really wanted that, I would do it long time ago!

Everything will be done in a fair manner!

One more thing… Don't get caught in similar kind of situations anymore in future!
My advice – keep changing all your passwords on a frequent basis
Bagaimana scammers mendapatkan email Anda?
Satu-satunya klaim yang benar dalam email penipuan ini adalah scammers membeli alamat email Anda dari peretas. Jika alamat email Anda pernah bocor atau bagian dari pelanggaran data, kemungkinan alamat email tersebut dijual di berbagai forum peretas. Email dan informasi pribadi lainnya bocor setiap saat karena berbagai alasan, dan begitu informasinya ada di luar sana, tidak banyak yang dapat Anda lakukan. Anda dapat memeriksa apakah alamat email Anda telah bocor di haveibeenpwned . Jika informasi Anda bocor, Setidaknya Anda bisa waspada saat berurusan dengan email yang tidak diminta.
Dalam beberapa kasus, dalam upaya untuk membuat email tampak lebih sah, scammers juga menyertakan kata sandi pengguna. Kata sandi biasanya sudah tua tetapi yang saat ini digunakan juga terungkap. Menurut email sextortion, scammers memiliki kata sandi karena mereka meretas komputer pengguna. Bagi beberapa pengguna, ini mungkin tampak cukup meyakinkan karena bagaimana lagi mereka akan memilikinya? Pada kenyataannya, kata sandi diperoleh dengan cara yang sama seperti alamat email. Mereka dibeli oleh scammers dari forum peretas. Ketika kata sandi tidak dilindungi oleh layanan yang Anda gunakan, kata sandi tersebut dapat diekspos. Jika Anda pernah menerima email sextortion yang mengungkapkan kata sandi yang Anda gunakan, jangan panik dan cukup ubah kata sandinya. Dan perlu diingat bahwa Anda tidak boleh menggunakan kembali kata sandi karena jika bocor sekali, itu dapat digunakan untuk mengakses akun Anda yang lain. Kata sandi juga harus unik untuk setiap akun dan berisi campuran huruf besar/kecil, angka, dan simbol. Menggunakan pengelola kata sandi mungkin juga merupakan ide yang bagus.

I Have To Share Bad News With You Penghapusan Email Scam
Anda cukup menghapus I Have To Share Bad News With You Penipuan Email dari kotak masuk Anda jika Anda mendapatkannya. Mereka biasanya akan mendarat di folder spam / sampah sehingga Anda bahkan mungkin tidak menyadarinya. Dan ingat, tidak satu pun dari jenis email ini yang pernah sah.
Jika email sextortion dilengkapi dengan lampiran dan Anda membukanya, Anda harus segera memindai komputer Anda dengan perangkat lunak anti-malware karena lampiran tersebut sering kali dapat berisi malware. Secara umum, Anda tidak boleh membuka lampiran email tanpa memeriksa ulang terlebih dahulu. Anda dapat menggunakan perangkat lunak anti-malware Anda untuk memindai mereka atau VirusTotal .
Site Disclaimer
2-remove-virus.com is not sponsored, owned, affiliated, or linked to malware developers or distributors that are referenced in this article. The article does not promote or endorse any type of malware. We aim at providing useful information that will help computer users to detect and eliminate the unwanted malicious programs from their computers. This can be done manually by following the instructions presented in the article or automatically by implementing the suggested anti-malware tools.
The article is only meant to be used for educational purposes. If you follow the instructions given in the article, you agree to be contracted by the disclaimer. We do not guarantee that the artcile will present you with a solution that removes the malign threats completely. Malware changes constantly, which is why, in some cases, it may be difficult to clean the computer fully by using only the manual removal instructions.