Why You Need to Download Spyhunter 5?
Every day malware becomes more and more powerful and sneaky. It evolves at unbelievable speed while hackers come up with new ways to avoid detection by security programs. Millions of malicious software applications are created daily, which makes a legitimate and up-to-date computer security application not only a welcome, but instead an absolutely essential part of your system. However, since there are so many possible computer security programs to choose from, it may be hard to determine which one is best suited to your needs. To make a selection easier, we prepared this article about a highly recommended Spyhunter 5.
What is Spyhunter 5 and How Does it Work?
Spyhunter 5 is definitely one of the most attractive anti-spyware applications available right now. This powerful security tool will ensure that your system is protected and you will not need to worry about various forms of malware any longer. The useful and trustworthy software will not only shield your PC from all kinds of threats, but also will clean all the viruses that already reside in your system. To achieve the best possible results, we recommend to scan your system as soon as you install this security program. This way you will be sure that your computer is safe from the very first day you start using Spyhunter 5.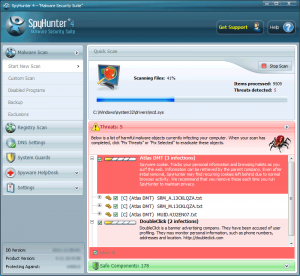 Even though this application was mainly created for average computer users, according to numerous reports, even inexperienced ones find this real-time anti-spyware pretty straightforward and easy to manage. If you do not wish to spend a lot of time controlling the software, this application is certainly for you. Beginners will be happy to know that only minimal intervention is needed for Spyhunter 5 to run successfully and to ensure your system's safety.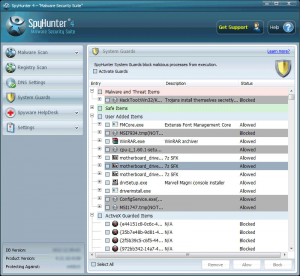 However, we assure you that if you are an advanced user, you will find that it is possible to personalize this anti-spyware to your own needs as well. This security software offers a wide variety of customization options. For example, if you wish to keep one of the processes that Spyhunter 5 tries to remove, but you know to be safe, running in your computer, you can add it to Safe Items list. The list can be found in System Guard. Another example of this application's ability to adapt to your needs is the scheduled scans. It is up to you how often you want such scans to run. We guarantee that you will be able to set the scans according to your wishes. Scheduled Pattern can be as frequent or as rare as you like. Also, to ensure the optimal protection of your PC, the scans will take place, even if you are not at your computer at the appointed time. All in all, it can be safely said that while many security applications are difficult to control and appear to be quite inflexible, Spyhunter 5 proves to be a tool which is easy to use and to personalize.
How Safe Is Spyhunter 5?
This day-to-day computer security program has an extensive capabilities. It can protect your PC from various threats including such complicated and hard-to-find malware like rootkits. This fact should certainly show to you that this security program is powerful enough to protect your computer. Remember that rootkits are very difficult to remove and they are very dangerous too. Rootkits are mainly used to secretly install fake anti-spyware applications and Trojans. They employ concealed files and folders to avoid detection from security software. However, Spyhunter 5 is capable of fixing this problem for you after an instant rootkit scan. You will be asked to reboot your computer in order for the software to eliminate the threat. To delete a rootkit, your Windows operating system has to be stopped completely. The creators of this anti-spyware added Compact OS into this version of the SpyHunter. This OS permits you to boot your system without Windows which makes the removal of a dangerous rootkit possible.
Furthermore, as long as Spyhunter 5 is in your computer, you will be protected from such things as tracking cookies, adware, Trojans, rogue anti-spyware tools, and malicious files as well. All these infections are dangerous and can harm your system in numerous ways. While some of them, like adware, are not really malicious, they still can be very difficult to deal with. Needless to say, it is very useful to have an application which can guarantee your PC a round-o'clock protection against even the smallest menace.
Another welcome aspect of this computer security software is its trustworthy support. A feature called Spyhunter HelpDesk guarantees that you will be able to ask advice from a trained professional at any time. A team of qualified technicians will help you solve any security problem you might face. No matter what kind of threat you encounter, they will be glad to assist you in any way. Moreover, in case your computer gets attacked by some form of malware which evades the Spyhunter 5, you do not need to worry either. If you contact HelpDesk, you will receive a custom fix which will ensure that no loopholes threaten your system's security.
Spyhunter 5 Malware Security Tool Summary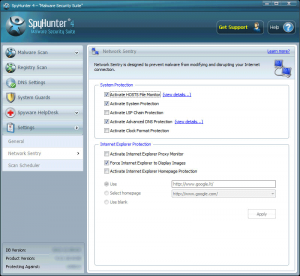 Our experts are also available to help the users who may have problems with the Spyhunter 5 itself. If you are having difficulties using some feature or if you have other questions, you will be able to seek help and advice from our professionals too.
All in all, it is quite obvious that Spyhunter 5 can safeguard your PC even against the most dangerous attackers. As long as this security tool is in your system, you can be sure that cyber criminals cannot harm it. The creators of this software offer the best services and you should not hesitate any longer. You only need to install Spyhunter 5 and keep it updated, so that you would not need to worry about your computer's protection in the foreseeable future.