What is SpyWarrior?
SpyWarrior is an anti-malware program for Windows computers developed by EU based cybersecurity company Kibernetinio Saugumo Sistemos. They revolutionize the malware detection industry by fundamentally changing computer security. SpyWarrior, an anti-virus program based on a model that is yet to be used in the industry. The developed AI(artificial intelligence) algorithms automate malware detection and malware action categorization/inclusion in the malware database. All of this makes it possible to quickly detect and remove new malware from users' computers.
SpyWarrior anti-malware features
According to the official website, SpyWarrior can protect computers from adware, browser hijackers, spyware, keyloggers, trojans, rootkits, ransomware, and other malware. Real-time protection prevents the malware from getting in but the program will also get rid of all malware already present on the computer or new threats that may be able to sneak in.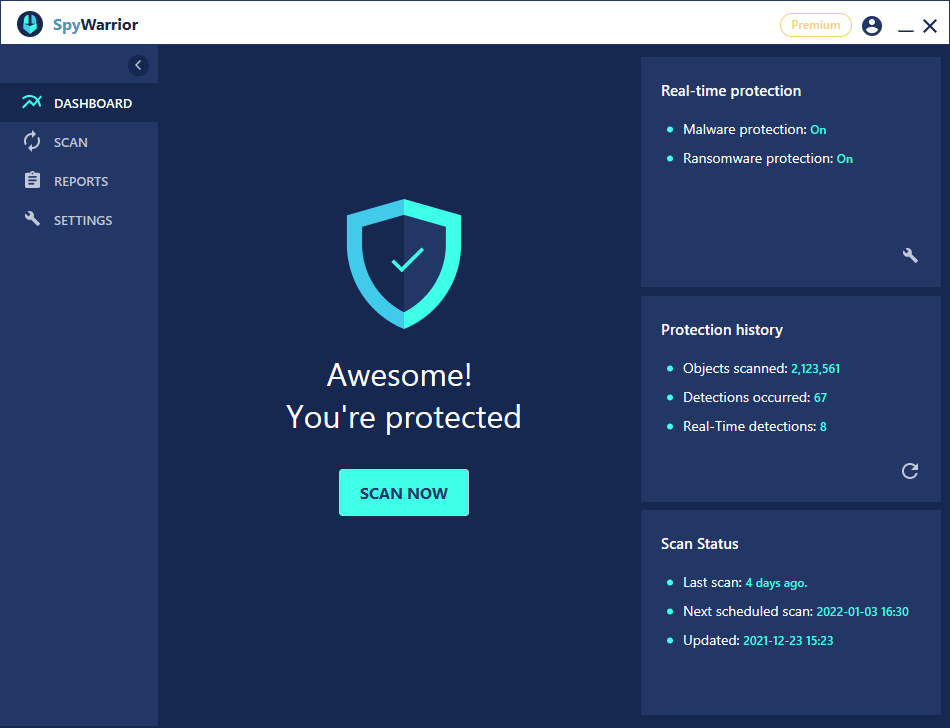 We first tested how well the program deals with less serious threats like adware, browser hijackers, and potentially unwanted programs. These infections aren't particularly serious because they do not directly harm the computer. However, they're not only very annoying to deal with but can also expose users to potentially malicious content. But a lot of bigger anti-malware vendors do not detect these threats since they're not particularly serious. During testing, SpyWarrior was able to detect 99% of these potential threats, which is a great detection rate. The program also undoes setting changes made to browsers by infections like browser hijackers.
But more importantly, we tested how well the program detects/removes malware threats. These kinds of threats can cause a lot of damage both to computers and data so it's important that they're detected before they can cause harm. In this regard, SpyWarrior has great results. We used SpyWarrior against a wide range of malicious infections, and the program was able to detect 99% of threats.
SpyWarrior anti-ransomware feature
Because of how dangerous and common ransomware is, users should opt for anti-malware software that also has an anti-ransomware feature. SpyWarrior does have ransomware protection, and the official website claims that the program will block any attempts to encrypt files. While it sounds good in theory, it's important to test out the feature to see how well it does in practice.
We tested SpyWarrior against 50 different ransomware infections, and surprisingly, all attempts to encrypt files were blocked. SpyWarrior was able to isolate all malicious processes, saving the files. For such a new program, this is certainly an impressive achievement.
SpyWarrior customer support
SpyWarrior does not have a live chat option, which may be a slight downside. But users can contact customer support using email, social media, or the program's Help Desk feature. Contacting them using the Help Desk is very easy because users only need to fill in a ticket with all relevant information. This is also the feature to use when encountering issues with SpyWarrior not being able to remove a threat. While we have not tested out this feature, users can contact support to get a custom solution that would be delivered to the program and then remove the infection.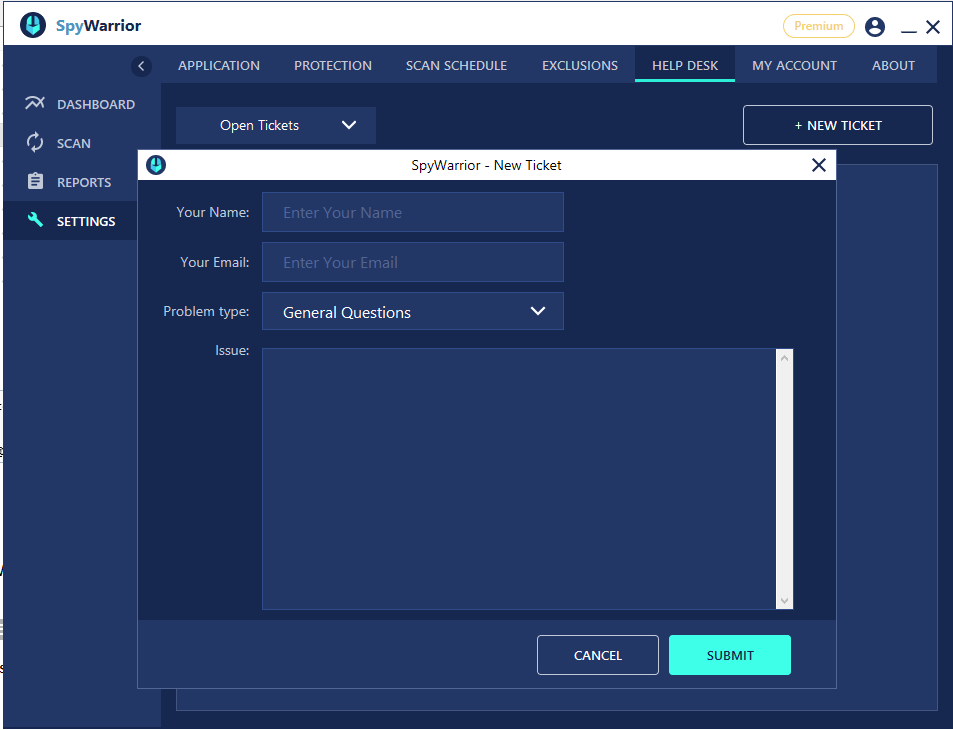 SpyWarrior interface/design
SpyWarrior has a clean, modern design, and the white-blue color scheme is pleasing to the eye. But more importantly, SpyWarrior's interface is very user-friendly. This is very important because a large percentage of users are not very tech-savvy. Such users would have a difficult time navigating a complex program and would either choose a different one or not use one at all. But SpyWarrior's features are all sectioned to allow easy navigation and settings are easily modifiable. It's also not difficult to turn features off/on. The official website also has detailed instructions to help users set up accounts, download/install/use the program.
SpyWarrior performance
It's important to see how well the program works alongside other programs and whether it has any negative effect on system performance. Anti-virus programs slowing down computers used to be a serious issue in the past but it happens very rarely now.
During testing, we kept an eye on SpyWarrior's resource consumption and overall effect on performance. The program mostly operates in the background silently without causing any interruptions, whether it's idly monitoring for threats or actively scanning the computer. It's also unnoticeable for the most part when removing malicious threats. The only time we noticed a momentary lag was when the program initially launched. Overall, it seems to cause no issues system performance-wise.
SpyWarrior free version
SpyWarrior offers a free version but it's very limited and only allows users to scan their computers for threats. But users have the option to try the program using the 7-day free trial. The trial is automatically initiated when users purchase one of the two long-term plans. That means users will be charged the full amount only after the trial ends.
SpyWarrior price
SpyWarrior has three plans available, though they only differ in subscription length. There is one monthly plan and two long-term subscriptions. Because of the offered discounts, it's cheaper to subscribe long-term. The 1-year discount currently has a 51% discount so instead of the usual €120/year, the price is €59/year (€4.92/month). And the 2-year plan is €79/two years (€3.29/month) instead of the usual €240/two years because of the 67% discount. It appears that these discounts are also applied during automatic subscription renewal. There is also a 1-month plan for €10/month. All plans include 5 licenses.
Conclusion
To conclude, extensive testing has shown that SpyWarrior, despite its young age, is a capable anti-virus program. It has a user-friendly interface, a nice design, and is affordable. But most importantly, it has great malware detection rates. The anti-ransomware feature is particularly impressive. Additional features will likely be released in the future as well. As we already said, SpyWarrior is the next big thing in the antivirus industry,
 Download SpyWarrior

Download SpyWarrior now from 2-remove-virus.com : 100% safe and virus free. Download MacKeeper latest version 2022.