Bitdefender release decryptor for GandCrab versions 1, 4 and up through 5.1
Cybersecurity software company Bitdefender, in collaboration with Romanian Police, Europol and other law enforcement agencies, has released another free decryptor for GandCrab, one of the most notorious ransomware out there at this time. Previously, the company has saved victims hundreds of dollars by providing free decryptors for GandCrab earlier versions, but crooks released a new version of the ransomware every time. With this new decryptor, victims of any GandCrab ransomware versions released since October 2018 can decrypt their files for free. If your files were encrypted with GandCrab versions 1, 4 and up through 5.1, you can download a decryptor either from Bitdefender or NoMoreRansom. Make sure you follow the provided instructions. It should also be noted that in order to use the decryptor and recover files, you need to have a copy of the ransom note on your computer.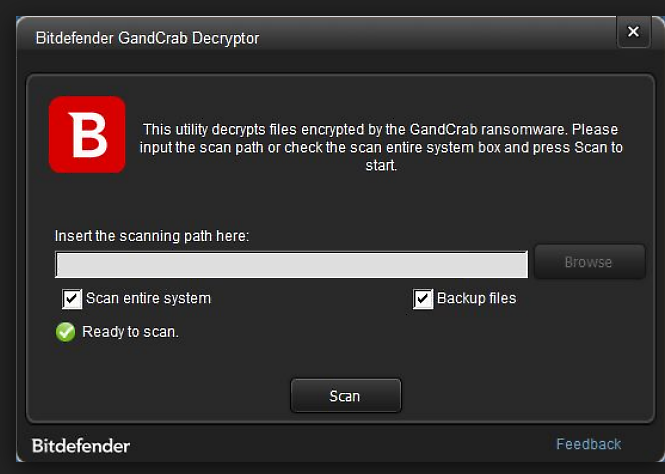 According to Bitdefender, GandCrab has done hundreds of millions of dollars in damages since its release. The company's decryptors have already helped nearly 10,000 GandCrab ransomware victims, who each saved $600. This totals to around $6 million that Bitdefender saved for users overall. And with the newly released decryptor, the amount is likely to increase. In fact, Bitdefender announced that they have saved users more than $2 million within 48 hours of the decryptor's release.
Having backup is the best way to avoid damages by ransomware
While free decryption tools for various ransomware are released regularly, a decryptor for all ransomware is not guaranteed. The only way to ensure that you will get your files back if infected with ransomware is if you have backup for all files, or at least the important ones. There are various different options for backup, and you should be able to find the best one within your price range.
In addition to regularly backing up your files, it is also important that you have reliable protection installed. If you are yet to choose something, we recommend looking at programs that offer ransomware protection along with regular defense against malware. And if you are hesitant to pay for reliable anti-malware, consider how much money it could save you in case you were attacked by ransomware that has no free decryptor available.