Facebook Ray Ban Virus is an online scam that is aimed at tricking users into wasting their money and disclosing their financial details. After cyber criminals hack your Facebook page, they post pictures in your profile and tag your friends in them.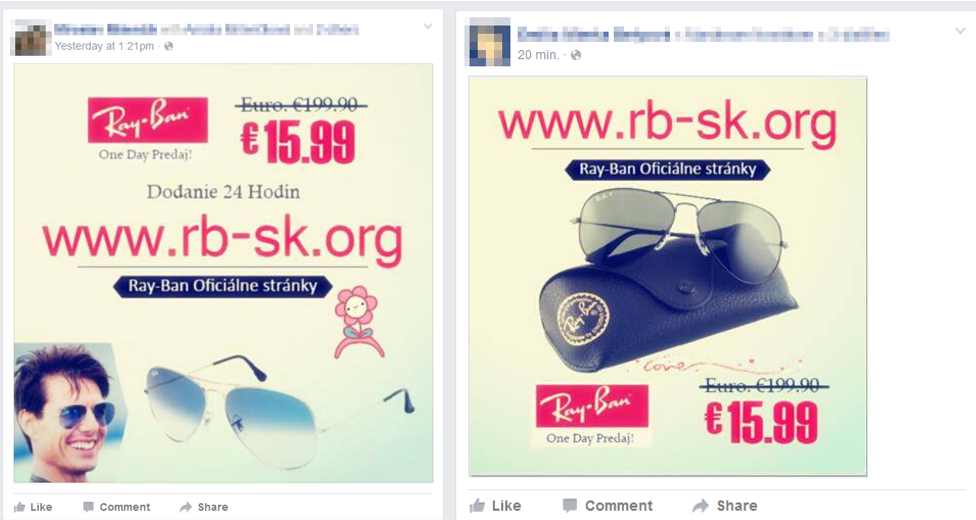 These pictures are adverts of Ray Ban glasses that are supposedly on sale with discounts up to 90%. If your contacts fall for this trick and actually click on the provided link, they will get rerouted to a fraudulent website. This may lead to them wasting their money on the product that they will never receive. In case you notice images in your account that you have not posted yourself, it means that you are dealing with the scam. This article can assist you with Facebook Ray Ban Virus removal.
There are several ways that your Facebook page may have been infiltrated and one of them is that your PC is infected with a malign threat. It is possible that a keylogger has infiltrated your system and that is how the cyber crooks have acquired the password to your account. If that is the case, it is rather likely that you may have other Trojans on your computer as well. It is important to keep your system protected at all times. You can only do that with the help of a powerful anti-malware utility.
Once the hackers have already accessed your page, they will start posting fake Ray Ban adverts on your wall and tag your friends in these pictures. As long as your friends do not interact with the bogus posts, they will not get rerouted to the malign website and they will not lose their money. However, if they do, they will not only waste their money on a fake shopping site, but also disclose their card details to unreliable sources. These details can later be misused and the cardholder may suffer further losses. Please note that there are different versions of the phishing website aimed at users living in China, France, Spain, Chile, Slovakia, Czech Republic, and the UK.
Scam websites
•sk-rb.com
•rb-sk.org
•rbbuy-sk.com
•rayban-sk.com
•rbs-sk.com
•cz-rb.com
•rb-rr.com
•rbstore-no.com
•rb-be.org
•rbeus.co
•rbius.co
•rb-nb.com
•rbsave-fr.com
•salesunglasses07.pw
•rb-ff.com
•rbcet.com
•ok-rb.top
•rbfr-rbs.com
•frrbsrbs.com
•rbese.com
•rb-as.com
•rbs-chile.com
•rayban-brand.com
•spain-rb.com
•rbshop-il.com
•ukrb-uk.com
•esnrb.com
•vt-rbs.com
•rbbuy-se.com
•rbstoreonline.org
•glasses-sale.com
•rb-cz.com
•rb-sk.com
•rbbuy-se.com
•rbnes.com
•2015goodsunglasses.com
•rbstore-cl.com
•cheapsunglasses.cn
•rbwap.com
•br-rbso.com
Prevention and removal
There are several tips that you can follow in order to avoid Facebook Ray Ban Virus or at least deal with the consequences of falling for the scam. First, if you see suspicious adverts that are just to good to be true posted on your friend's Facebook page, do not click on them. If you stay away from these ads, there is no way for you to fall for the scam that they promote. If, however, you have already been tricked by the scam, you should contact your bank immediately and cancel your payment. You should also inform the bank of the fact that your card may be compromised.
If, on the other hand, it is your account that has been hacked, there are 3 steps that you should take:
Change your Facebook password. Go to Settings -> General -> Password.
Review your Facebook Apps. If you find a suspicious application, delete it right away.
Scan your PC with a reputable anti-malware utility as soon as possible to find out whether it is infected or not. You are welcome to use the scanner from our website. If you have a malign threat in your system, be sure to remove it without hesitation. This can be done with the anti-malware utility presented on our page, which will not only help you get rid of Facebook Ray Ban Virus, but also keep your computer safeguarded at all times.
Incoming search terms: