A new form of Apple malware, which greatly resembles the FBI Virus aimed at Windows Operating Systems, has recently appeared online. The infection exploits JavaScript and hijacks Safari browser. Once the ransomware gains access to the system, it blocks the web browser and displays a fake message on the screen in a full-size window. The notification claims to come from the Federal Bureau of Investigation Cyber Department. It accuses the user of violating copyright laws and demands that he pay a fine. Needless to say, that is the last thing anyone should do.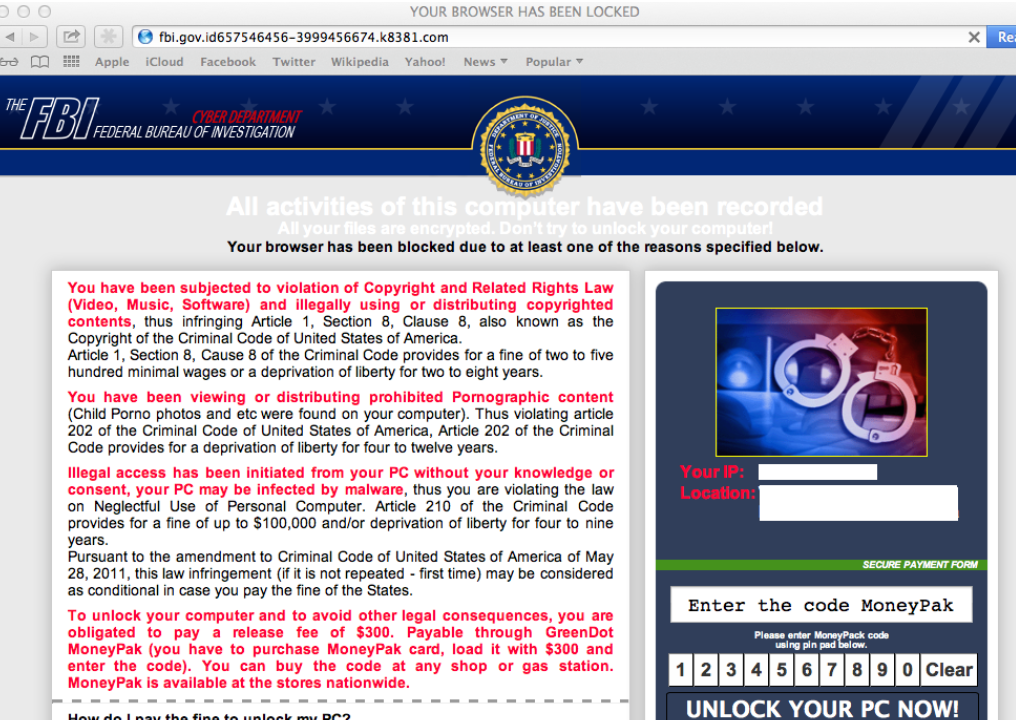 There are several ways you can encounter the ransomware. Cyber criminals utilize various social engineering tricks in order to scam computer users. It is possible to be rerouted to the locked page by searching for nude celebrity photos or similar content. The system may also be comprised by visiting corrupted sites that host torrents, third party software, videos, and so on. These activities may be the reason why some computer users actually believe that they have committed the crimes of which they are being accused.
The fake alert, which pops-up every time you open your browser, states that all activities on the computer have been recorded and that all of your files have been encrypted. That is not true. It goes on to explain that your system has been locked because you have committed one of the listed crimes and that you should not try to unlock your computer. It is clear that the cyber criminals are trying to scare you into paying the so-called fine, which may range from $100 to $500.
If you try closing the browser window, it reopens again and again. In fact, the malware creates a loop of 150 iframes, so it will reappear 150 times. Closing the browser is not an easy task either. It may be impossible to close the Safari window without having to force quit. However, if you do close the window 150 times, you will get rid of the annoying virus.
There are two more ways you can remove the ransomware from your Mac OS X. One of them is to reset your Safari browser. This can be done by following these steps: click on Safari → Reset Safari… → Reset. You should keep in mind, however, that this will erase your entire browsing history including saved passwords, top sites, downloads list, AutoFill forms, etc. The second option is to switch to a different browser. You can use Google Chrome or Mozilla Firefox, both of which are less vulnerable to this infection than Safari.
We cannot stress enough how important it is to keep your system safeguarded. The number of various viruses and online scams is constantly growing, which is why users should stay alert and make sure that they have the most powerful  anti-malware tools installed on their computer to keep it safe and protected at all times.
1. Click Safari. Select Safari from the top menu and choose "Reset Safari…"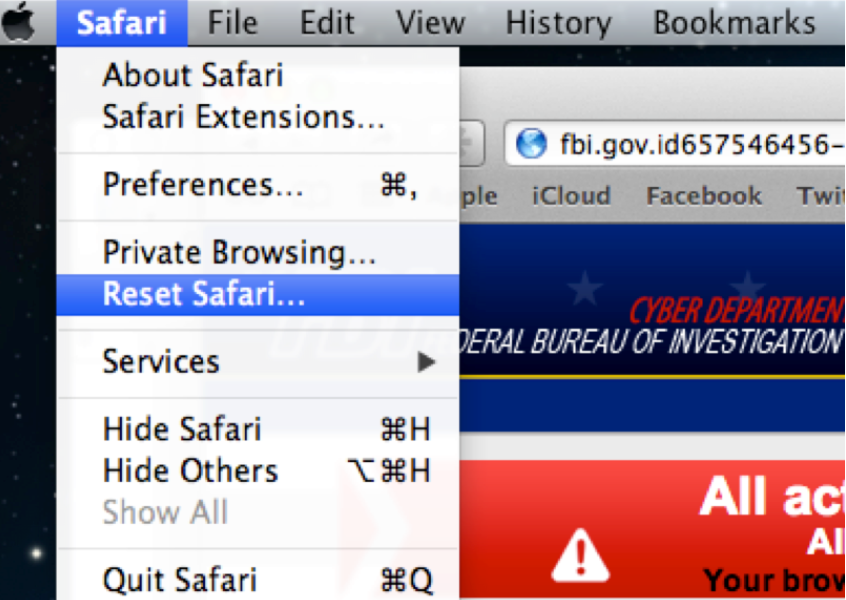 2. A screen will appear that says "Are you sure you want to reset Safari?" Make sure all items on the list are selected (history, reset top sites, etc.),  and click the Reset button.