Why you need to download Spyhunter 5?
EnigmaSoft, the company known for the development of SpyHunter 4, has just released a new and advanced anti-malware tool SpyHunter 5. SpyHunter 5 has a completely different design, comes with improved detection and removal functionalities, and generally is a more advanced anti-malware software compared to its predecessor SpyHunter 4. The program focuses on malware detection and removal, but also has other features to offer, including a software vulnerability scan.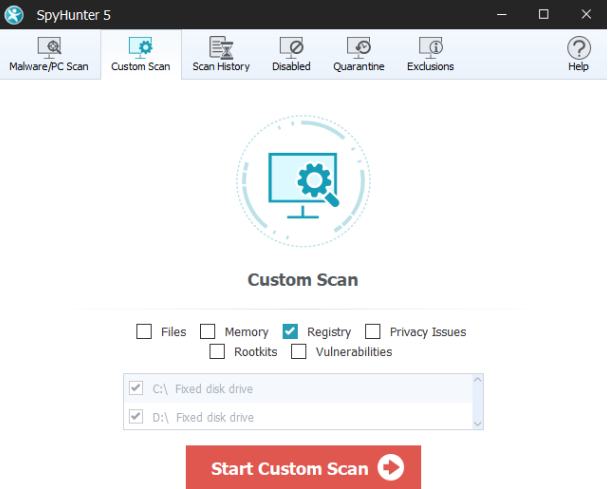 The anti-malware tool protects against the usual threats (Trojans, ransomware, browser hijackers, adware, etc.) but it also detects rootkits and effectively gets rid of them. A custom scan is also available, and it can scan files, registries, etc. However, it still remains an easy-to-use program, which is important because non-tech people are the ones using anti-malware the most commonly.
SpyHunter 5 Key Features
Spyhunter 5 New Interface
If you were using SpyHunter 4 before, you will notice that the new version has a completely different design. It looks more modern, and personally, SpyHunter 5 is aesthetically more pleasing. It's still easy to use, and you have 5 main sections in the program: Home, Malware/PC Scan, System Guard, HelpDesk and Settings. Each of those sections have additional tabs that open when selected. And an Active Scan tab also appears when a scan is in progress.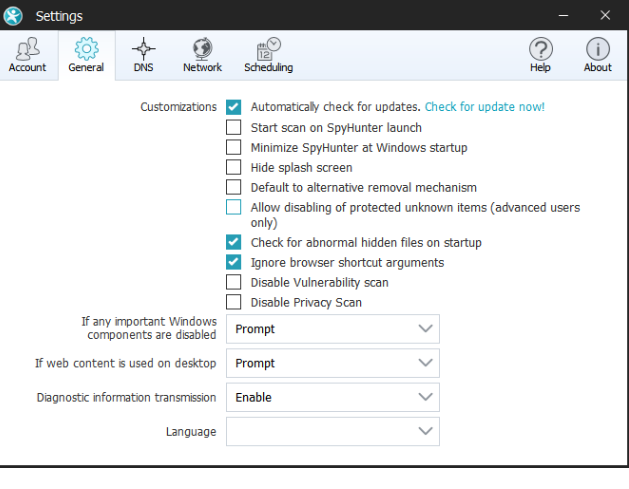 It's easy to perform a scan, review quarantined items, whitelist programs, change settings, etc. It is rather obvious that the program was designed with the user in mind, as even those who have little understanding of technology will be able to use it adequately.
Spyhunter 5 Scanning, detection and removal
SpyHunter 5 scans for all kinds of threats, including ransomware, Trojans, browser hijackers, adware, potentially unwanted programs (PUPs), rogue anti-spyware, rootkits, etc. You can run a regular scan of the whole system or perform a custom scan.  If you select Malware/PC Scan, additional scan related tabs will appear. In Custom scan, you are able to scan Files, Memory, Registry, Privacy Issues, Rootkits and Vulnerabilities. The rootkits and vulnerability scan options are quite interesting, particularly the rootkit. If a rootkit is detected, the program informs the user and boots the computer into a customized environment beneath Windows, which allows the program to fully get rid of the threat.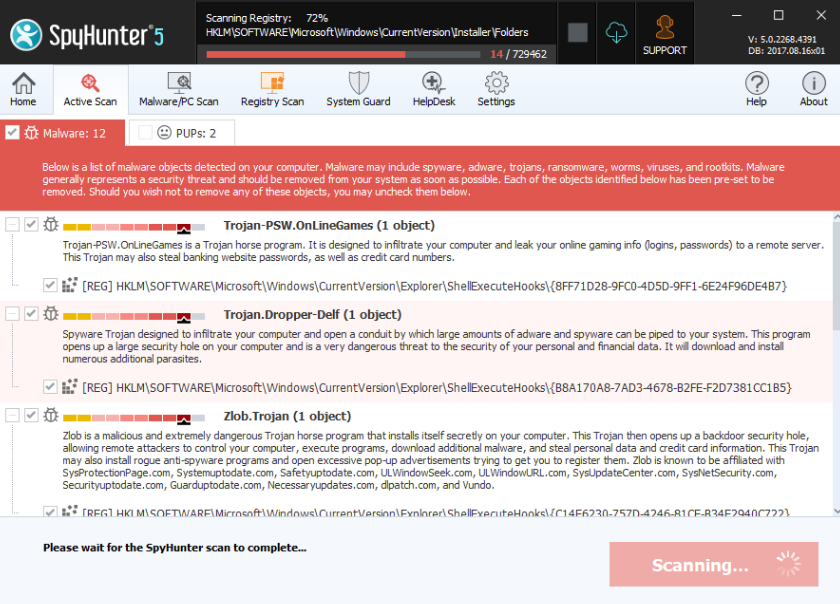 We found the vulnerability scan feature to be quite convenient because it shows you which programs have known vulnerabilities and whether an update is available to fix it. If an update is available, all you really need to do is press Update once the scan is complete, which redirect you to the vendor's official update. This will be particularly useful for people who often do not find the time to look up updates. And by notifying you about critical vulnerabilities, it could prevent disastrous consequences.
The scanning process did not seem to take long, it was pretty standard but one thing that was pretty impressive about the process was that system performance was barely affected. A big problem a lot of anti-malware programs have is how severely they affect older computers during a scan. It can reach a point where users even stop a scan because of this. SpyHunter 5 did not have that problem. When we launched a regular scan, we barely noticed it. Custom scans also had minimum effect.

As a scan is being performed, a list of possible threats will be shown, with classifications and short descriptions about the threat. After a scan is finished, you can also check the quarantine to see what has been detected. In case you want to keep using some kind of PUP but it's always detected as a threat, you can easily add it to Exclusions and it won't be picked up anymore.
Another convenient feature is the scan schedule. This option, located in Settings, allows you to set up a time when a scan is to be performed without you having to do anything. If you enable the scheduled scan, you can set up an exact time and how frequently it should be carried out.
Spyhunter 5 Customer Support
Paid subscribers will get access to Customer Support, which even offers custom fixes. You can access it via the program by pressing on the HelpDesk tab. If you are having issues with malware or need additional support, you just have to fill in a ticket. If the issue you are having is not solved with their response, you can request a custom fix. We consider this to be a particularly useful feature because anti-malware is not always able to remove a threat. We haven't specifically tested out this feature but as long as competent technicians are employed, we don't see where it could go wrong.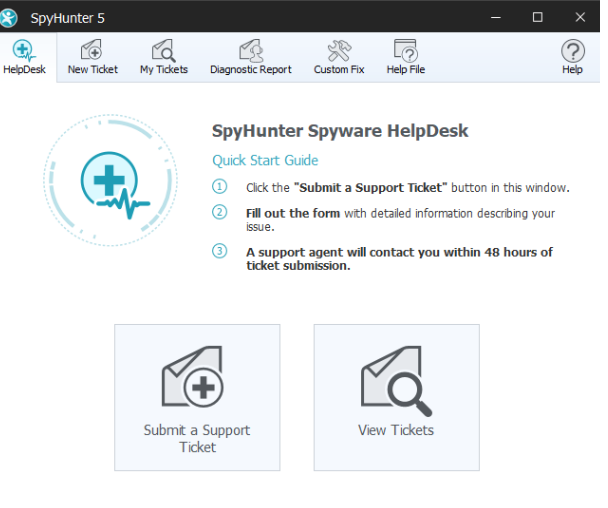 Spyhunter 5 Conclusion
SpyHunter 5 is very different from its previous version design-wise, so for SpyHunter 4 users it will take some getting used to. However, the interface remains user-friendly which is very important. It detects a variety of malware, from basic threats like adware to ransomware. In addition to detecting malware, it also finds software vulnerabilities. If we've learned anything from widespread WannaCry and NotPetya ransomware attacks, it's the importance of updates. Hopefully, the easy update method will encourage more users to keep their software up-to-date.
One of the best parts of SpyHunter is that it only used around 12% of your CPU and very little memory, which allows it to run in the background unnoticed. They also don't take a long time. For people using older computers this will be particularly beneficial. Scans can also be scheduled, which is convenient since many of us simply forget to run regular scans.
Overall, it's not a revolutionary anti-malware tool, but it's certainly effective, and one we recommend.
Incoming search terms: