Whether you want to work remotely full-time or just make money on the side, freelancing is a great way to do that. But starting out as a freelancer can seem daunting, especially because you need to promote yourself and find clients. Fortunately, finding work as a freelancer is much easier now because of the countless websites that help connect clients with freelancers.
If you've made up your mind to start freelancing, here are 14 great websites to help you get started. Whether you're a software developer, social media manager, translator, copywriter, designer, illustrator, etc., you are sure to find at least one platform that works for you in this list.
Without further ado, here are the 14 best freelance websites to find work in 2022.
Fiverr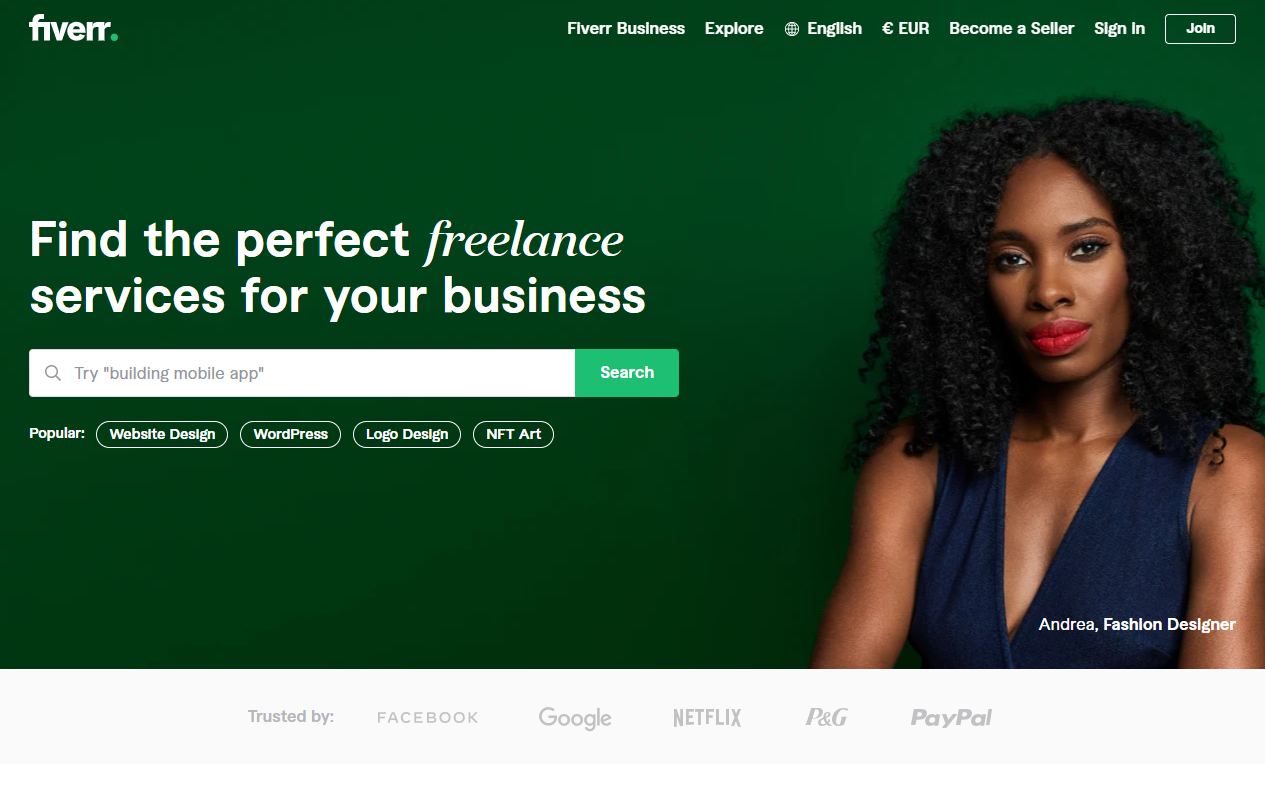 Fiverr is a platform that connects freelancers with clients. Fiverr refers to freelancers as sellers, their services as gigs, and clients as buyers. Originally, Fiverr was a platform for small freelance gigs for $5 (hence the name Fiverr) but has since outgrown this concept. Freelancers can now make between $5 and thousands of dollars.
It allows a wide range of job postings so freelancers in most fields of work should be able to find something that suits their expertise. Categories of job postings include graphic & design, digital marketing, writing & translation, video & animation, music & audio, programming & tech, business, lifestyle, and trading.
To start looking for jobs on Fiverr, you first need to create your profile. You need to include all relevant information, with emphasis on skills, certifications, and experience. Clients can then come across your profile while looking for specialists to do a project for them.
Fiverr has its own payment platform so you won't need to send clients reminders to pay you for your work. When a client purchases a service from a freelancer, they are automatically charged. The money is sent to the freelancer's account once they complete the order. Fiverr takes 20% of the earnings in commission.
Fiverr also offers a wide range of resources to help freelancers develop their skills, find work, find new career paths, etc.
Toptal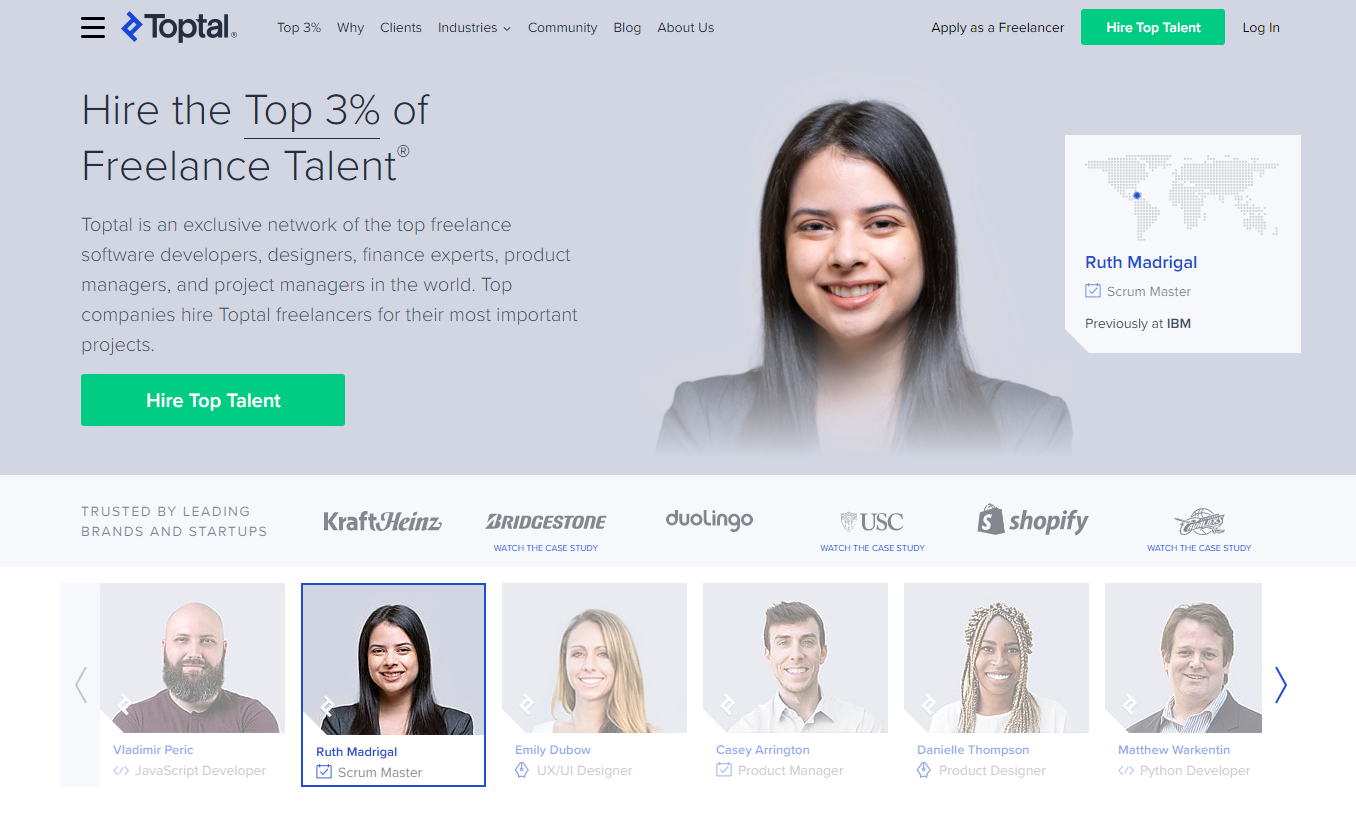 Toptal is a platform that allows companies to find some of the best freelancers in the world. As a freelancer, you can find work in various fields on Toptal, including software development, design, product management, and financial consulting.
It's worth mentioning that Toptal has a very rigorous screening process to stay true to its "Hire the top 3% of freelance talent" advertising. There are five stages to the screening process. The five stages are language and personality, in-depth skill review, live screening, test projects, and continued excellence. According to Toptal, only 3% of applicants pass the last stage. If you manage to get in, you'll have the opportunity to work with some of the biggest companies in the world.
If you pass the screening process, companies looking for your level of expertise will be able to look through your profile to see whether you are the right fit. While getting your profile set up with Total is a lengthy process, the rewards are worth it.
Freelancer.com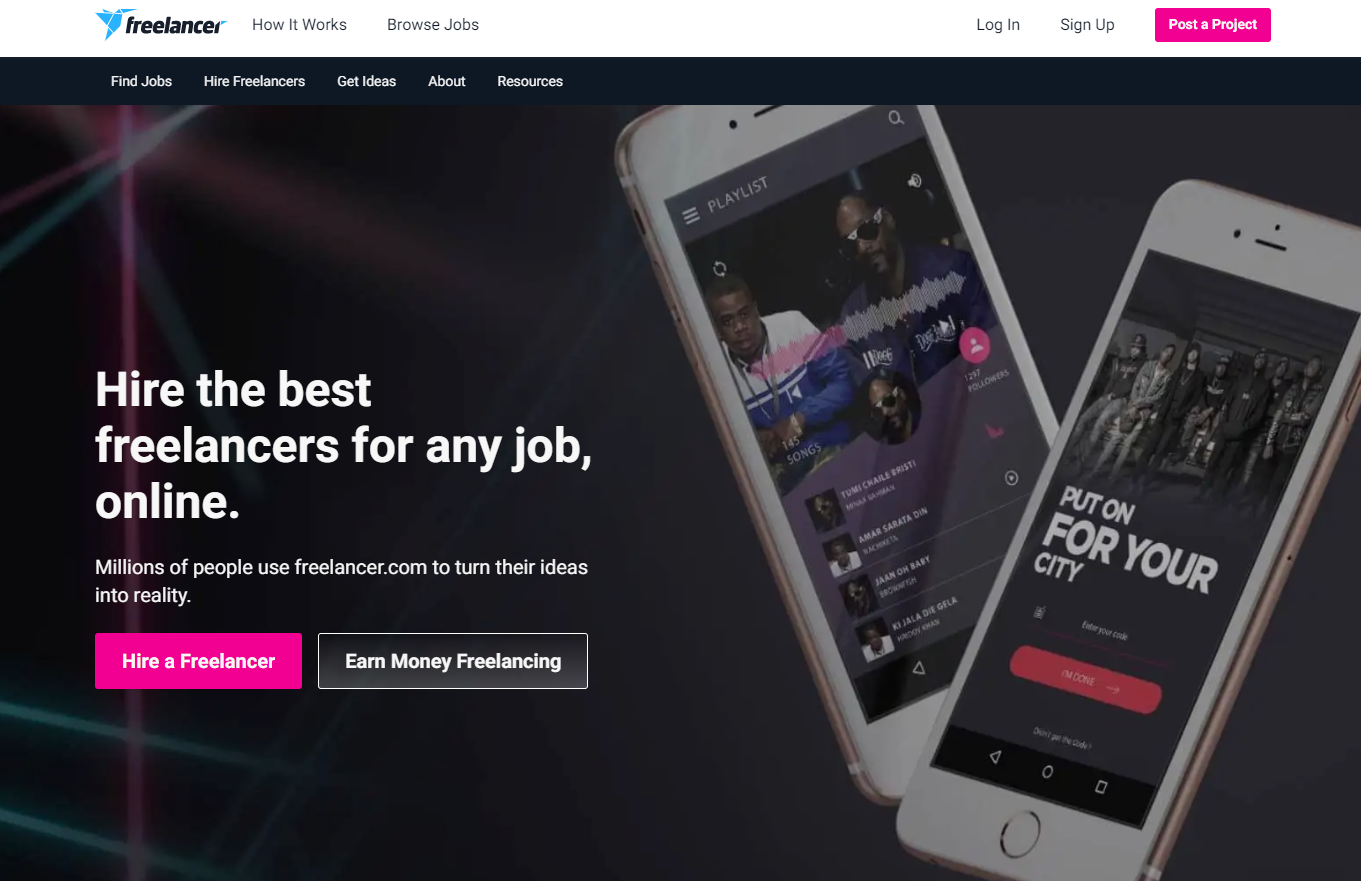 Freelancer.com is a platform that allows customers to post job listings for which freelancers then place bids. It allows job postings in various categories, including graphic design, software development, data entry, SEO, writing, translating, etc. Most freelancers should be able to find jobs that match their areas of expertise.
To get started, you need to first create your profile, detailing your experience, skills, certifications, and all other information that may be relevant. Once your profile is all set up, you can start looking through the available jobs. If you find something you're interested in, you need to place a bid and write a pitch explaining why you are a good fit for the job.
Freelancer.com takes 10% of your total earnings for contests and fixed projects but you get the full payment for other jobs. You can also choose the method you want to be paid in.
Upwork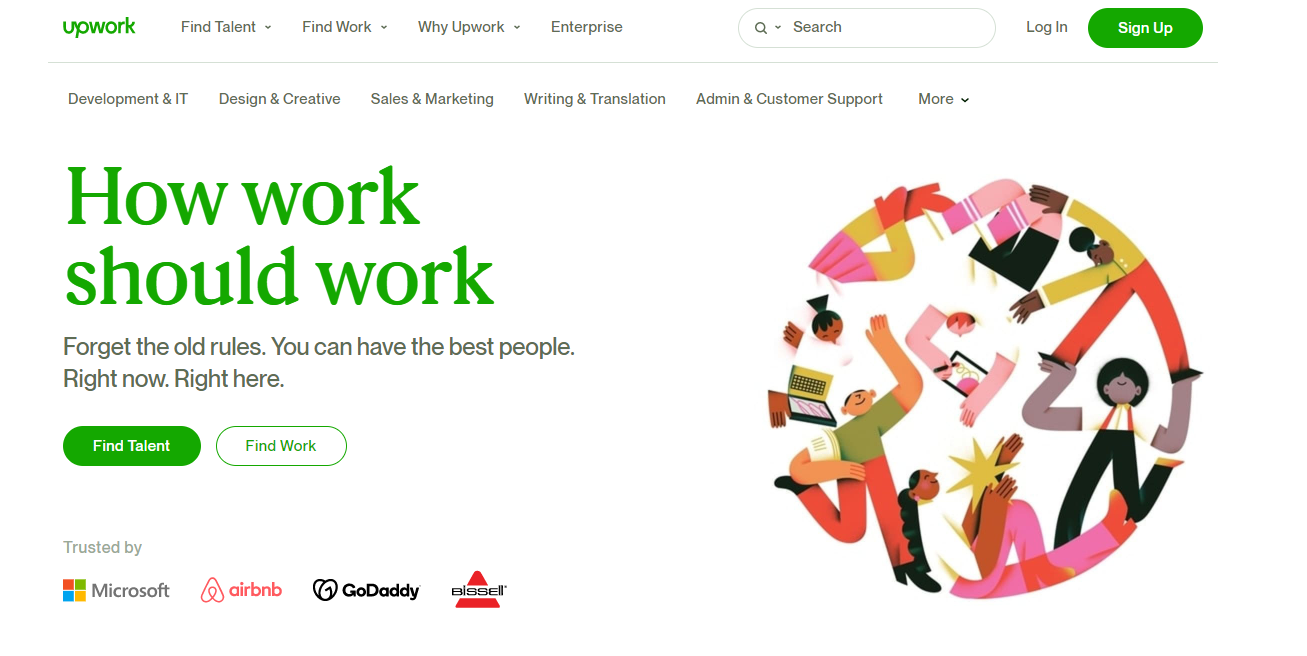 Upwork is one of the most widely used freelance websites with millions of users. It offers work for all types of freelancers, including those in development & IT, design & creative, sales & marketing, writing & translation, and admin & customer support.
As a freelancer, all you need to do is create your profile with details about yourself, your expertise, your work experience, your level of qualifications, etc. Because you will be competing with other experts in the field, the more your profile stands out, the better. Creating an engaging profile can be a bit tricky but Upwork offers resources to help freelancers with that. Once you have your profile, you can then either wait for clients to find you and invite you to apply, or you can look through the available job postings in your field of work.
Upwork has thousands of job postings, with every single one assigned a category for easy navigation. If you find a job posting you like, you can submit a proposal, and all that's left is to wait for the client to decide whether to hire you for the job.
The way you get paid depends on you, whether it's Paypal, wire transfer, etc. Upwork takes a percentage of your earnings, though the more you earn, the less Upwork takes. According to the official website, Upwork takes 20% for the first $500, then 10% for billings between $500.01 and $10,000. Once you go over $10,000, Upwork takes only 5%.
While it may take a while to build your profile and get used to the platform, once you get the hang of things, Upwork is great for finding freelance work.
Flexjobs
Flexjobs, as the name implies, is a platform for people to find flexible and remote work. At the time of writing, there currently are over 27,000 job offers from almost 6,000 companies. In addition to freelance jobs, Flexjobs also has full-time and part-time job offers. Flexjob screens all job offers to ensure they are all legitimate. Fake jobs can sometimes be a problem on similar websites so the fact that Flexjobs vigorously checks every job offer is very helpful.
Unlike other freelance job websites, Flexjobs does not take a cut of your earnings and instead has a subscription model. There are four subscription plans to choose from. It costs $9.95/week, $24.95/month, $39.95/3 months, or $59.95/year. In addition to access to job postings, you also get access to resources to help find suitable jobs more efficiently. There is also a 30-day money-back guarantee in case you do not like the service.
SimplyHired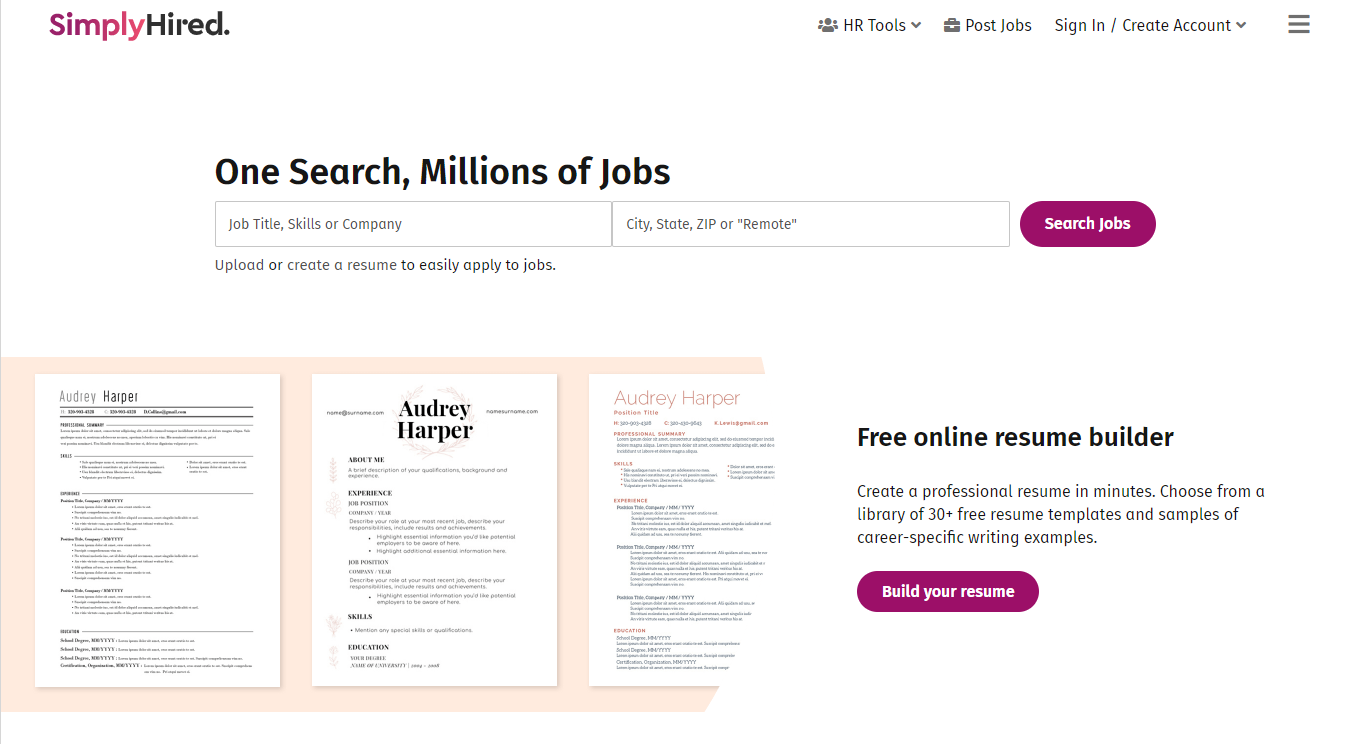 SimplyHired is a job board that collects job offers from all over the Internet but also has company postings. It offers freelancers jobs in various categories, including finance and marketing. It's a pretty easy-to-navigate website that does not require a profile to browse job offerings.
SimplyHired has many resources to help with building resumes as well. There's even a resume tool with various templates. The site also has advice for preparing for interviews, interview questions by category, as well as career advice.
While it's not the best platform for finding freelance work, it's still worth checking out because there are many job postings.
Guru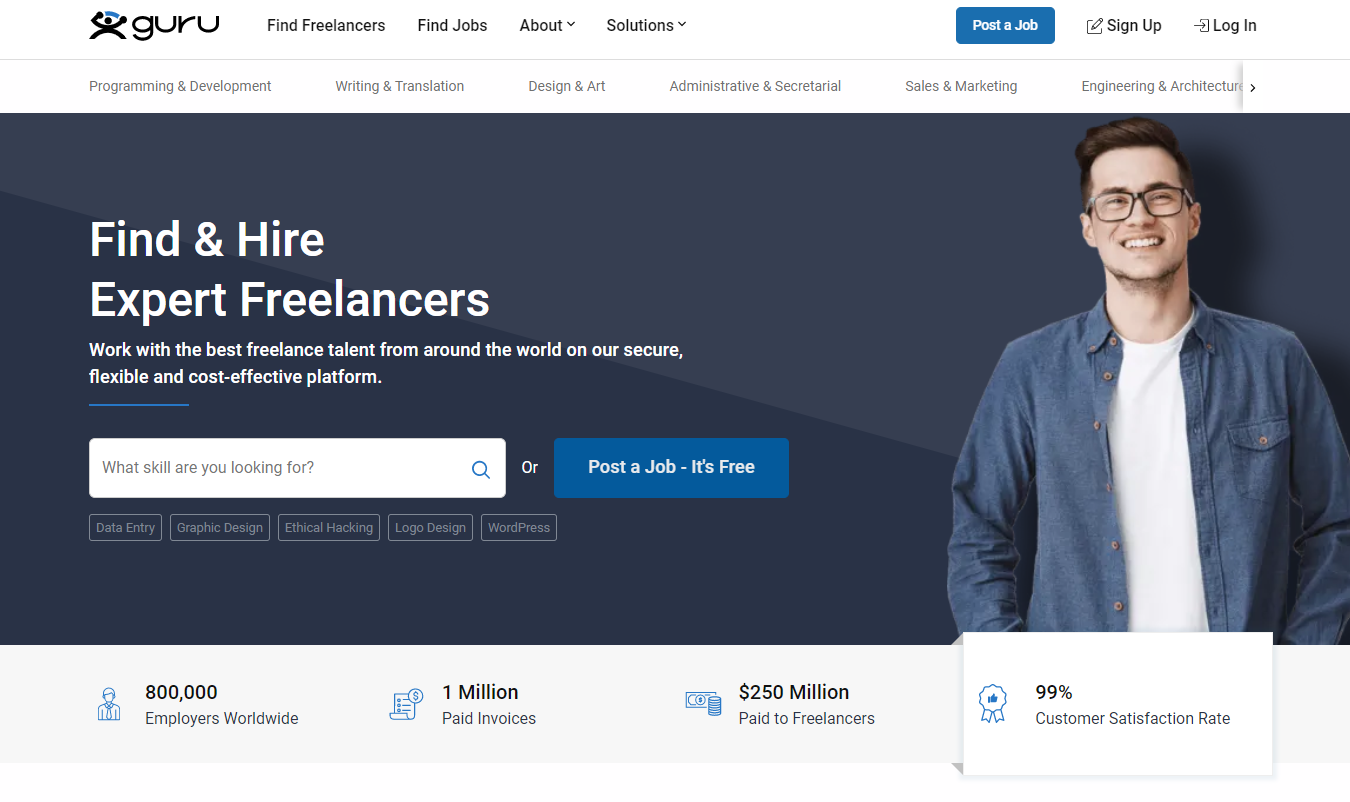 Guru is a platform for freelancers and clients to connect with each other. You can find freelance jobs in various categories, including software development, writing & translation, sales & marketing, etc.
When you register for Guru, you need to create an engaging profile with all the necessary details (work experience, certifications, etc.). Since you would be competing with other freelancers for jobs on Guru, your profile needs to be eye-catching.
Guru has a vetting process for freelancers so when you sign up, you have to prove your credibility. This may seem troublesome at first but actually makes the hiring process much easier.
Once you have registered, you can start applying for jobs. Guru will also suggest jobs based on your skills and qualifications. Once you find a suitable job offer, you can submit quotes. You need to choose from four payment terms and explain why you are a good fit. The client will then go through your profile to see whether they want to hire you for that particular job.
Guru ensures freelancers are paid for their work with SafaPay. When clients hire a freelancer for a job, they need to fund SafePay with at least a minimum balance. When you complete a job, your payment is automatically transferred to your account.
LinkedIn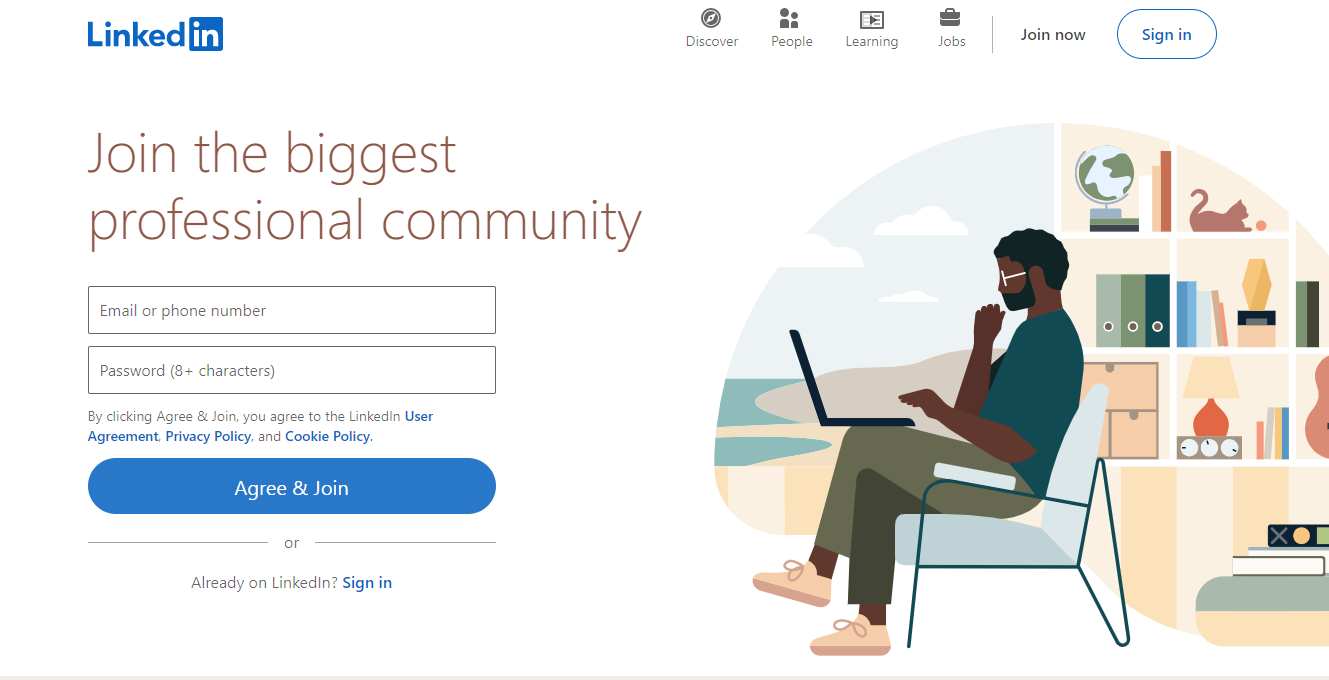 LinkedIn is perhaps one of the most widely used job websites. It's essentially like a social media platform but for professionals. You can build your network of connections, share your work, make various posts, etc.
To browse the site and gain access to job posts, you need to first create a profile. The more detailed your profile is, the more attention you will get. In particular, you need to highlight your experience because that's how recruiters find the people they need.
LinkedIn is often used by various recruiters so you will occasionally get job offers in your inbox. However, you can also apply yourself. You can use LinkedIn's detailed search function to find jobs that suit your qualifications and apply.
Behance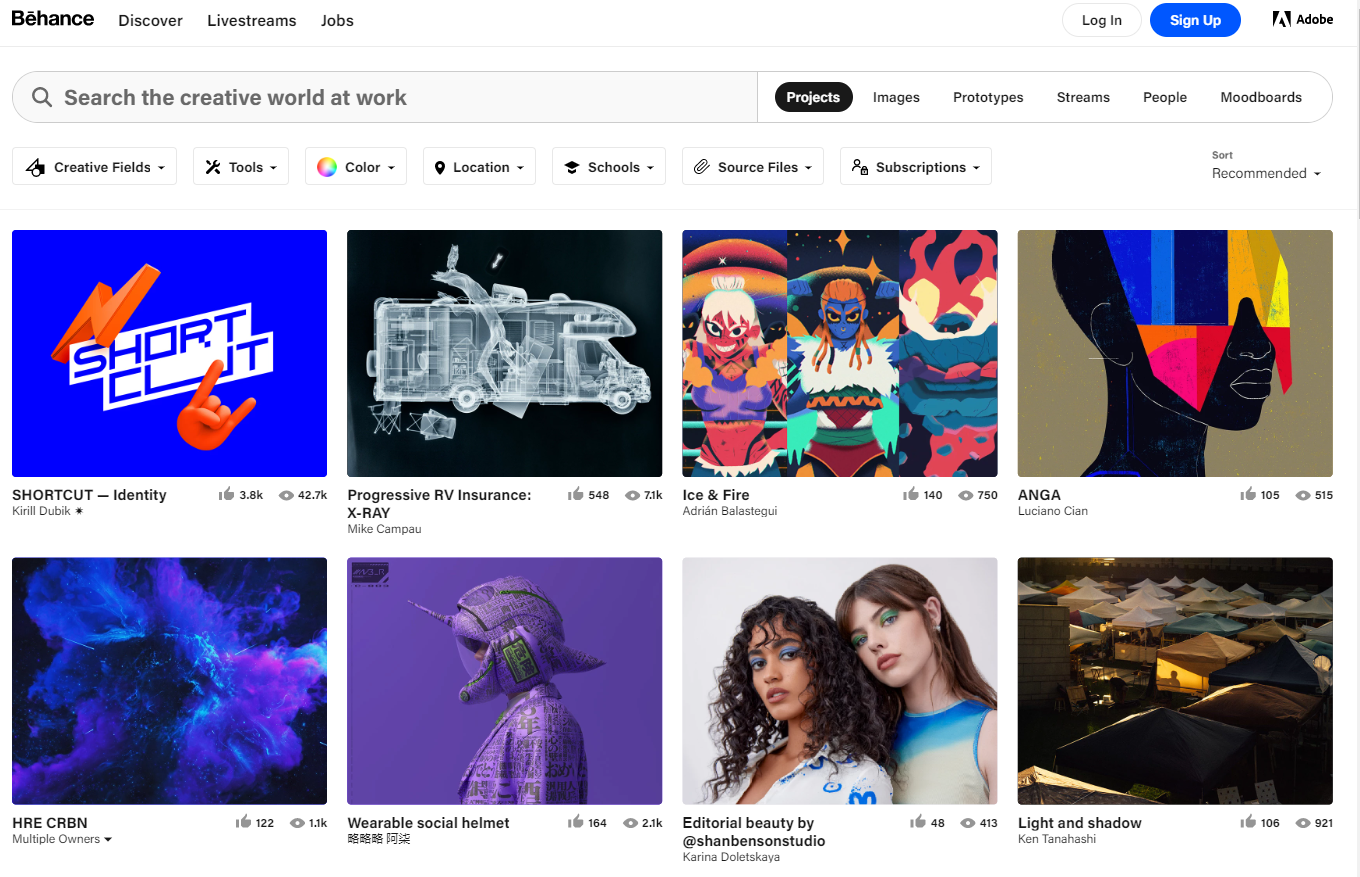 Behance is a platform specifically for creative work. It allows freelance illustrators, graphic designers, web designers, etc., to create profiles showcasing their work. Many freelancers get discovered by clients via Behance. The site also works as a networking platform for professionals. You can follow other creators and make connections.
Behance allows you to build your profile over time. You can upload as much of your work as you want. The more you showcase your work, the more likely potential employers will discover and hire you for a project. Registered freelancers will also get personalized job recommendations based on their skills and category.
Dribbble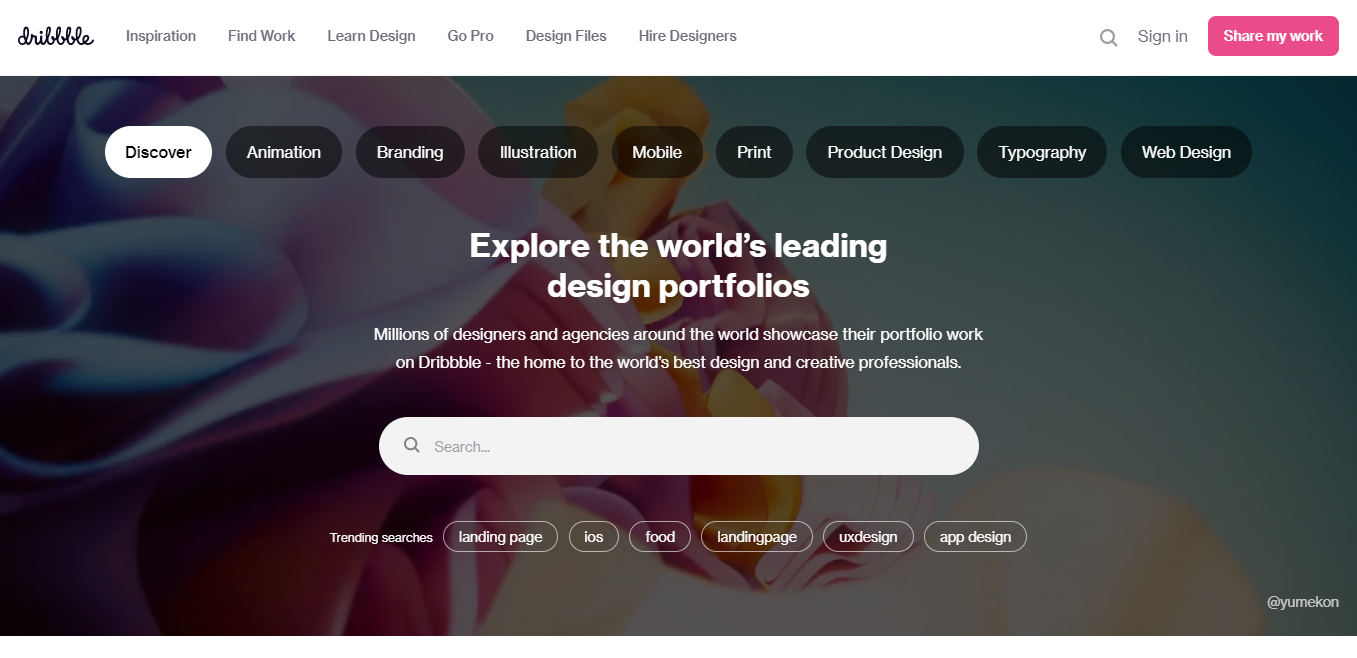 Dribbble is similar to Behance in the sense that it's a platform for freelance creators. It allows creators to build their profiles and showcase their work to potential clients. Dribbble is a very popular website so if you're a freelance creator, it's worth creating a profile.
To start, you need to create your profile with information about yourself, and most importantly, your work. Your profile should reflect the type of work you're best at, and the more you upload, the more likely clients will choose you for their project.
While creating your profile is free, there is a premium version. Prices range from $5 to $15/month. Buying the premium version would allow you to upload videos to your profile, and your profile will get priority on hiring search listings.
ServiceScape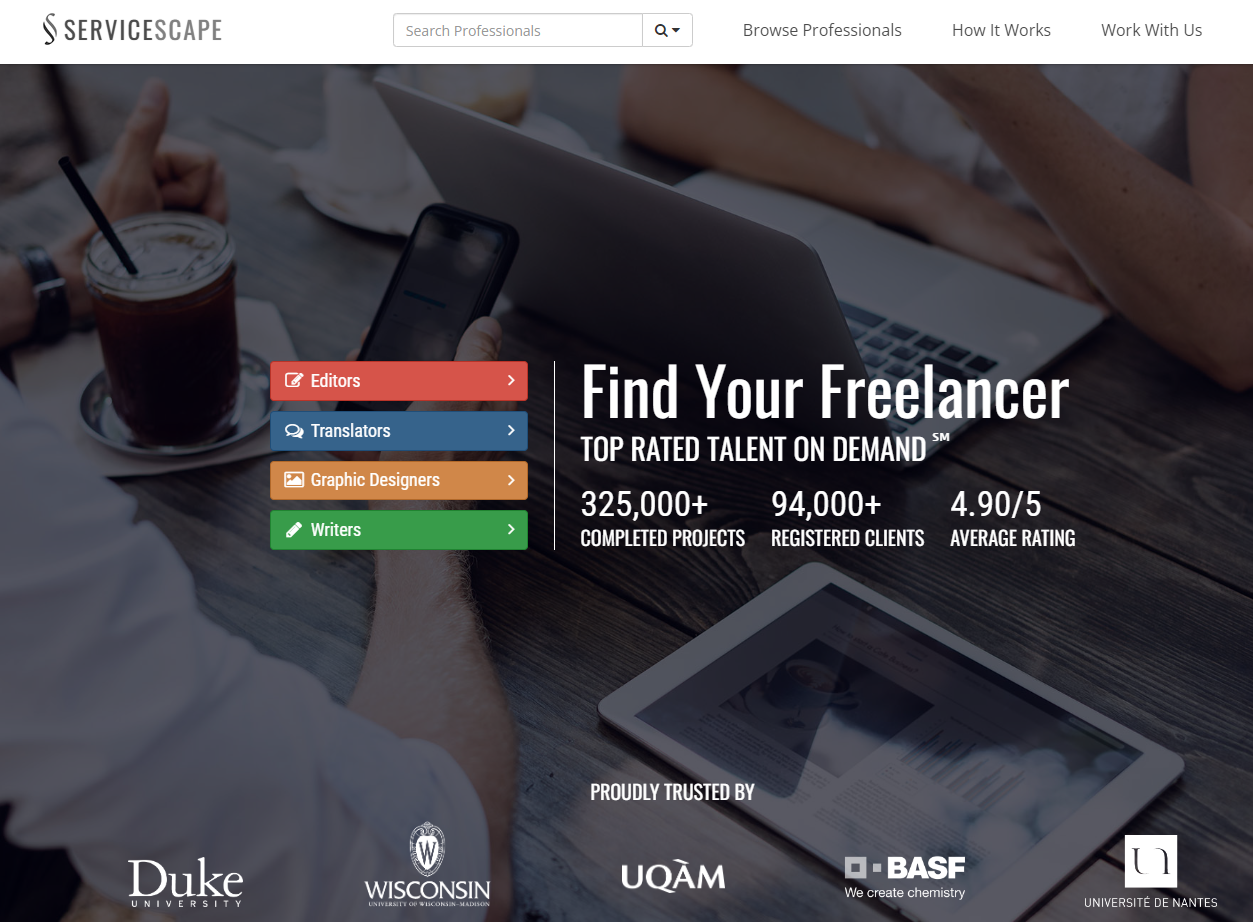 ServiceScape is a platform for freelance editors, translators, graphic designers, and writers. The site markets freelancers and connects them to clients. ServiceScape has been in the business for a while and it has a big client base. This is what makes ServiceScape such a great platform. You don't really need to do anything besides create your profile because ServiceScape will promote your profile to its client base.
On a platform like ServiceScape, it's very important to create and build an engaging profile because the way ServiceScape works is freelancers do not bid on jobs but rather wait to be contacted by a client. To get high-paying projects, it's essential to have a profile that stands out from the rest.
One important thing to note about this platform is that its commissions are 50%. As a freelancer, you can set your own pricing for your services but the 50% commission is still a lot. This is why ServiceScape may be a better platform for experienced freelancers that can charge more for their services.
PeoplePerHour
PeoplePerHour is a platform that helps clients hire freelancers by the hour/project. Freelancers in all fields of work can find work on PeoplePerHour, including software development, writing & translation, design, digital marketing, music & audio, video, photo & image, social media, marketing, etc.
PeoplePerHour uses artificial intelligence to match job postings with freelancers. When a project is submitted, it's analyzed by the company's artificial intelligence system. Based on the analyzed details, it then matches the project with the most suitable freelancer(s).
As a freelancer, you can create your profile for free. The profile will be reviewed by moderators and once it's approved, you can start browsing for jobs.
PeoplePerHour takes commissions based on how much you earn from the project. For projects worth less than $350, PeoplePerHour takes 20%. The more you make from a project, the less you pay in commissions. For example, jobs earning from $350 to $6,000 have a 7.5% commission. A 3.5% commission rate applies to jobs over $6,000. It's worth stressing that if you take multiple jobs worth less than $350, you will be charged 20% for every single one.
TaskRabbit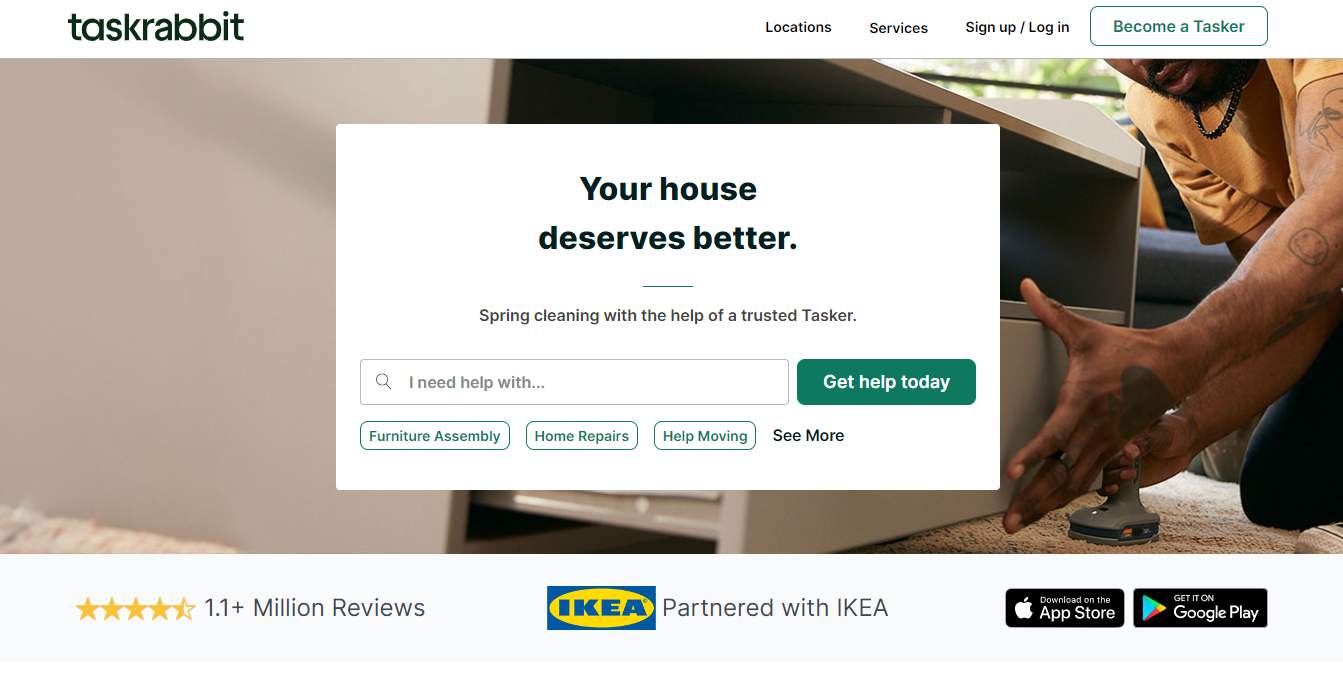 TaskRabbit is a bit different from other platforms mentioned in this list. Instead of remote freelancing, TaskRabbit offers physical labor. It's essentially a platform for those who need help with things like cleaning, gardening, delivery, various installations, moving, etc.
If you specialize in certain areas and can help people with odd jobs, you can create your profile. Creating your profile includes selecting the category, and location, and setting an hourly rate. Your profile would need to be approved by TaskRabbit (also includes a background check), and once that happens, you would also need to pay a $25 registration fee. You can then start discovering and applying for jobs.
One great thing about TaskRabbit is that service fees are charged to the client so you would receive the full amount to your account.
DesignHill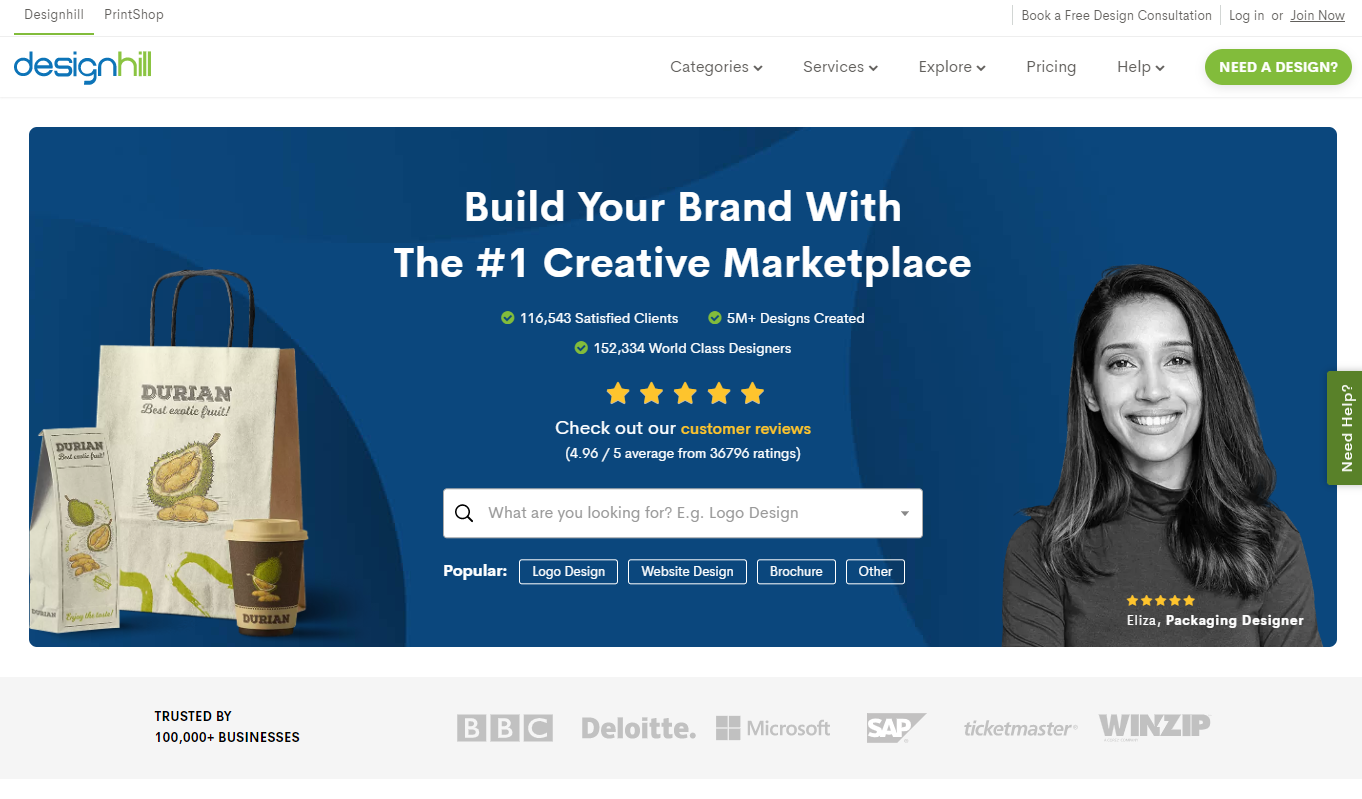 DesignHill is a platform specifically for freelancers specializing in design. It allows clients to create design contests to help them connect to the right designer, as well as post jobs seeking specific services.
To get started, you need to create your profile. You can then start exploring available job offers and connect to clients. DesignHill does not take a percentage of your earnings and instead charges a fee to the client. So once you complete a project, you would be paid the full amount.