What is "Coronavirus Face Mask" email?
With the Corona virus pandemic affecting the lives of everyone around the world, it is not surprising that hackers have found a way to use it to their advantage. The "Coronavirus Face Mask" email has recently appeared online and is now used to spread Agent Tesla malware. The email claims to contain information related to disposable face masks and forehead thermometers, however, its actual content is a Remote Access Trojan. The Trojan exposes your device to cyber criminals, so if your system has been infiltrated, you should delete "Coronavirus Face Mask" email virus as soon as possible.
Screenshot of detections on VirusTotal of the malicious attachment distributed via "Coronavirus Face Mask" spam campaign ("Face Mask Quotation.rar" containing "Face Mask Quotation.exe"):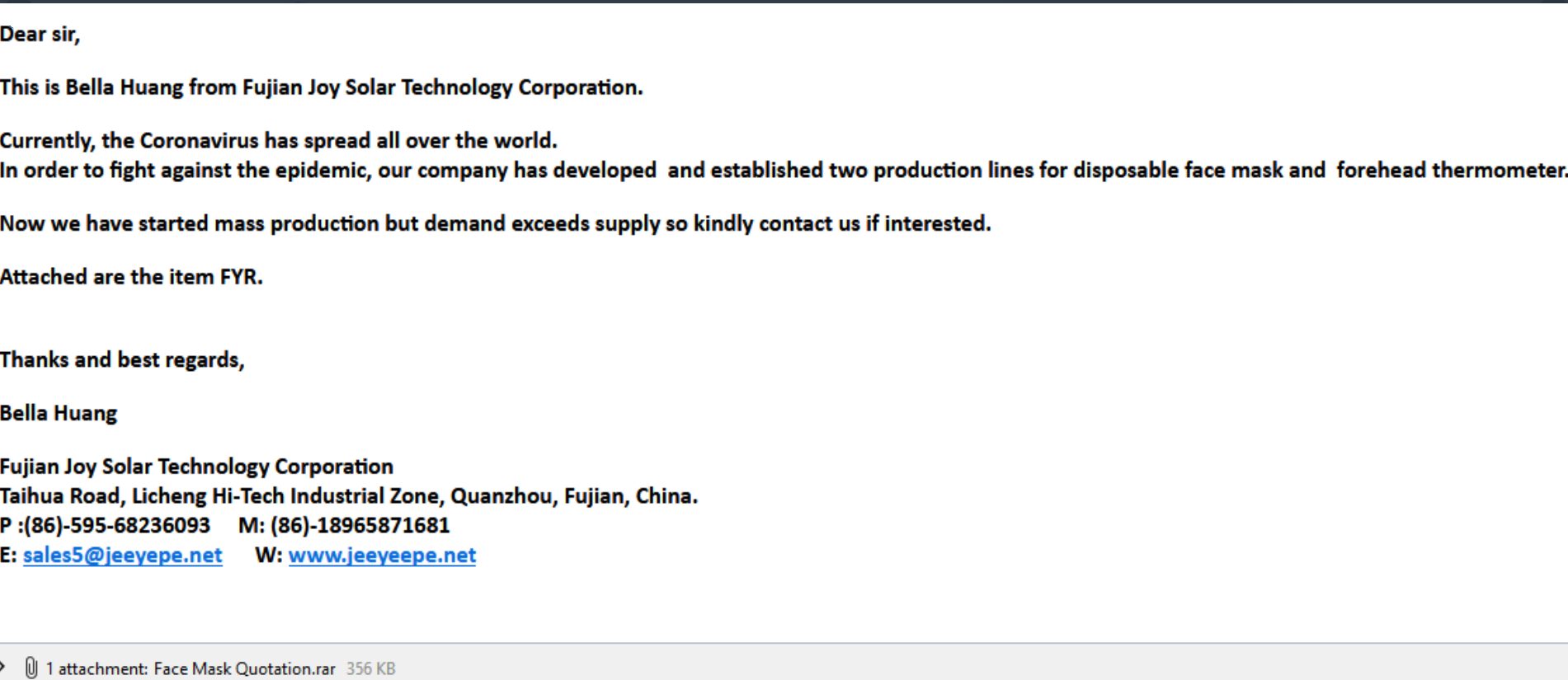 How does "Coronavirus Face Mask" email work?
As you may already know, a number of infections spread through malign email attachments. This one is no different, other than the fact that it plays on people's fears in the current crisis. The message in the email states that it comes from Fujian Joy Solar Technology Corporation, which have supposedly been manufacturing two new products – a face mask and a forehead thermometer – and, of course, they claim that the demand exceeds their supply, so the recipients should make an order without hesitation. This is nothing but a scare tactic used by the criminals. Every word in the email is completely untrue, and is aimed at tricking users into downloading the malware.
Once the user downloads the malign file (which was supposed to contain product details), it executes Agent Tesla RAT. The Trojan provides cyber crooks with remote access to the targeted computer, which allows them to steal your personal information. One of the main functions of RATs is recording all of your keystrokes. This puts at risk your social networking accounts, financial details, personal information, and more. It is clear that hackers having access to such data could result in you experiencing financial losses or even identity theft. The sooner you eliminate "Coronavirus Face Mask" email related malware, the better.
 Text presented in the "Coronavirus Face Mask" email letter:
Dear sir,

This is Bella Huang from Fujian Joy Solar Technology Corporation.

Currently, the Coronavirus has spread all over the world.
In order to fight against the epidemic, our company has developed and established two production lines for disposable face mask and forehead thermometer.

Now we have started mass production but demand exceeds supply so kindly contact us if interested.

Attached are the item FYR.

Thanks and best regards,

Bella Huang

Fujian Joy Solar Technology Corporation
Taihua Road, Licheng Hi-Tech Industrial Zone, Quanzhou, Fujian, China.
P :(86)-595-68236093 M: (86)-18965871681
E: sales5@jeeyepe.net W: www.jeeyeepe.net
How to remove "Coronavirus Face Mask" email?
Unfortunately, Trojans are not that easy to terminate, which is why we do not recommend attempting manual "Coronavirus Face Mask" email removal to users without advanced computer skills. That does mean, however, that you should have any trouble with automatic "Coronavirus Face Mask" email removal option instead. You will need to implement a security utility in order to scan your computer and detect all malicious elements. The anti-malware from our page can help you detect and delete "Coronavirus Face Mask" email related Trojan for good. It will thoroughly clean your system, eliminate "Coronavirus Face Mask" email malware along with other potential threats, and improve your online security. Above all, stay safe and aware on and offline, and do not let scammers make easy money by exploiting the current situation.