I Have To Share Bad News With You E-mail-fidus er klassificeret som en sextortion-fidus, fordi ifølge e-mailen, en privat video af dig ville blive frigivet, hvis du ikke accepterer at betale den ønskede sum penge. Det er et klassisk eksempel på en sextortion-fidus, der har gået rundt i en årrække nu. Selvom det kan virke alarmerende i starten, skal du ikke være opmærksom på indholdet af e-mailen, fordi det ikke er andet end en fidus.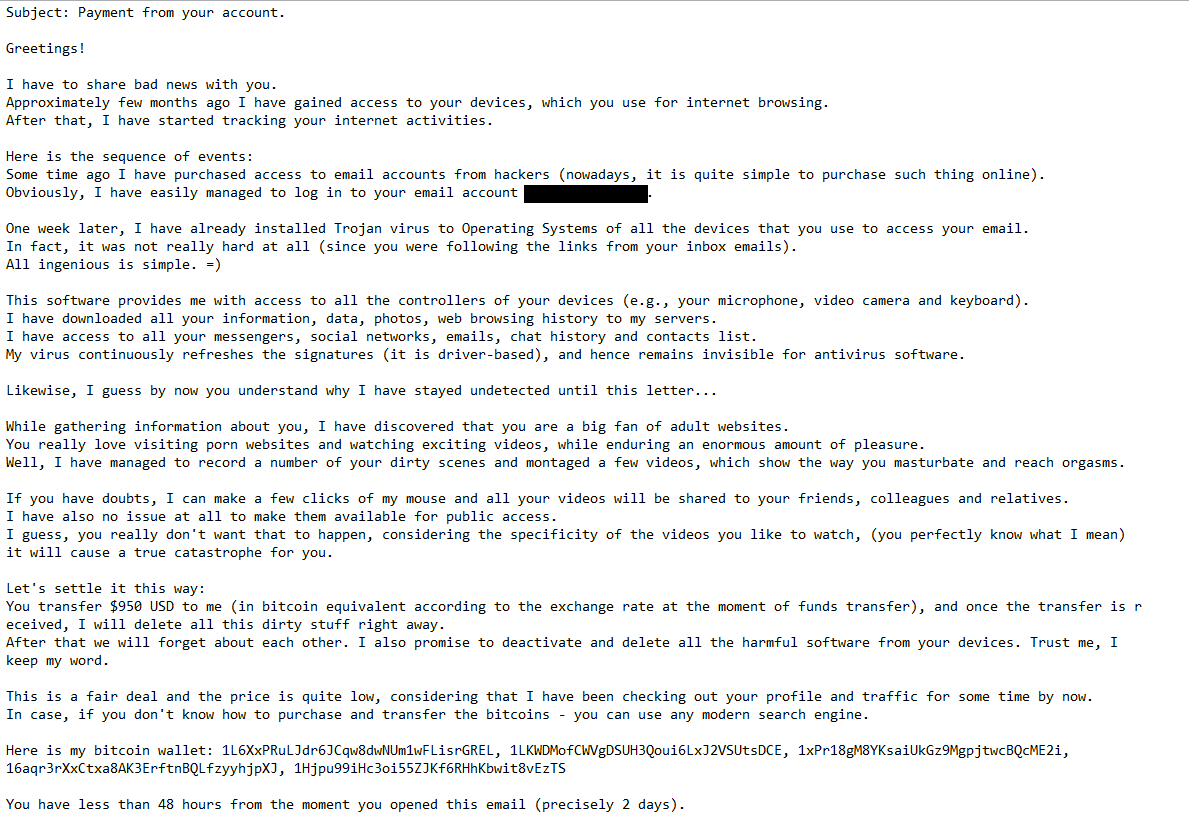 Sextortion-e-mails har normalt iøjnefaldende emnelinjer. For eksempel er emnelinjen i denne særlige e-mail "Betaling fra din konto". Da e-mails normalt ender i junk / spam-mappen i din indbakke, forsøger svindlere at fange din opmærksomhed med pengerelaterede emner.
Når du åbner " I Have To Share Bad News With You " e-mailen, vil afsenderen forsøge at skræmme dig til at tro, at din computer er blevet hacket. Svindlere vil bruge forskellige alarmerende sprog som "For cirka få måneder siden har jeg fået adgang til dine enheder, som du bruger til internetbrowsing", og "Jeg har downloadet alle dine oplysninger, data, fotos, webbrowserhistorik til mine servere". Angiveligt, "hacker" købte din e-mail-adresse, som på en eller anden måde gav dem adgang til din e-mail-konto. De var derefter i stand til at installere malware på alle enheder, du bruger til at logge ind på den e-mail. Angiveligt, malware tillader "hackere" fuld adgang til din enhed, herunder at give dem tilladelse til at tænde / slukke for din mikrofon og videokamera.
E-mailen fortsætter med at hævde, at afsenderen ikke kun var i stand til at stjæle alle dine data, men de lavede også en video af dig, der så pornografi. De truer med at sende en dobbelt video (den video, du så på den ene side og en video af dig på den anden) til alle dine kontakter, medmindre du accepterer at betale den ønskede sum penge, som i dette tilfælde er $ 950 i Bitcoin.
Hvis du ved noget om computere og malware, vil indholdet af e-mailen give meget lidt mening. Først og fremmest, medmindre du har en meget let gættelig adgangskode til din e-mail-konto, kan hackere ikke få adgang til din konto, bare fordi de kender din e-mail-adresse. For det andet, medmindre du klikkede på ondsindede links og vedhæftede filer i e-mails til venstre og højre, er det ikke så let at inficere din computer med malware. Endelig spionerer ondsindede aktører ikke på tilfældige brugere i håb om, at de vil besøge pornografiske websteder, så de kan afpresse dem.
Ingen af påstandene i e-mailen er korrekte. Der er ingen malware på din computer, og der er heller ikke en video af dig, der ser pornografi. Vær ikke opmærksom på sådanne e-mails, og fjern " I Have To Share Bad News With You " E-mail-fidus fra din indbakke, så snart du får den.
Subject: Payment from your account.

Greetings!

I have to share bad news with you.
Approximately few months ago I have gained access to your devices, which you use for internet browsing.
After that, I have started tracking your internet activities.

Here is the sequence of events:
Some time ago I have purchased access to email accounts from hackers (nowadays, it is quite simple to purchase such thing online).
Obviously, I have easily managed to log in to your email account (****@****.com).

One week later, I have already installed Trojan virus to Operating Systems of all the devices that you use to access your email.
In fact, it was not really hard at all (since you were following the links from your inbox emails).
All ingenious is simple. =)

This software provides me with access to all the controllers of your devices (e.g., your microphone, video camera and keyboard).
I have downloaded all your information, data, photos, web browsing history to my servers.
I have access to all your messengers, social networks, emails, chat history and contacts list.
My virus continuously refreshes the signatures (it is driver-based), and hence remains invisible for antivirus software.

Likewise, I guess by now you understand why I have stayed undetected until this letter…

While gathering information about you, I have discovered that you are a big fan of adult websites.
You really love visiting porn websites and watching exciting videos, while enduring an enormous amount of pleasure.
Well, I have managed to record a number of your dirty scenes and montaged a few videos, which show the way you masturbate and reach orgasms.

If you have doubts, I can make a few clicks of my mouse and all your videos will be shared to your friends, colleagues and relatives.
I have also no issue at all to make them available for public access.
I guess, you really don't want that to happen, considering the specificity of the videos you like to watch, (you perfectly know what I mean) it will cause a true catastrophe for you.

Let's settle it this way:
You transfer $950 USD to me (in bitcoin equivalent according to the exchange rate at the moment of funds transfer), and once the transfer is received, I will delete all this dirty stuff right away.
After that we will forget about each other. I also promise to deactivate and delete all the harmful software from your devices. Trust me, I keep my word.

This is a fair deal and the price is quite low, considering that I have been checking out your profile and traffic for some time by now.
In case, if you don't know how to purchase and transfer the bitcoins – you can use any modern search engine.

Here is my bitcoin wallet: 1L6XxPRuLJdr6JCqw8dwNUm1wFLisrGREL, 1LKWDMofCWVgDSUH3Qoui6LxJ2VSUtsDCE, 1xPr18gM8YKsaiUkGz9MgpjtwcBQcME2i, 16aqr3rXxCtxa8AK3ErftnBQLfzyyhjpXJ, 1Hjpu99iHc3oi55ZJKf6RHhKbwit8vEzTS

You have less than 48 hours from the moment you opened this email (precisely 2 days).

Things you need to avoid from doing:
*Do not reply me (I have created this email inside your inbox and generated the return address).
*Do not try to contact police and other security services. In addition, forget about telling this to you friends. If I discover that (as you can see, it is really not so hard, considering that I control all your systems) – your video will be shared to public right away.
*Don't try to find me – it is absolutely pointless. All the cryptocurrency transactions are anonymous.
*Don't try to reinstall the OS on your devices or throw them away. It is pointless as well, since all the videos have already been saved at remote servers.

Things you don't need to worry about:
*That I won't be able to receive your funds transfer.
– Don't worry, I will see it right away, once you complete the transfer, since I continuously track all your activities (my trojan virus has got a remote-control feature, something like TeamViewer).
*That I will share your videos anyway after you complete the funds transfer.
– Trust me, I have no point to continue creating troubles in your life. If I really wanted that, I would do it long time ago!

Everything will be done in a fair manner!

One more thing… Don't get caught in similar kind of situations anymore in future!
My advice – keep changing all your passwords on a frequent basis
Hvordan fik svindlere din e-mail?
Det eneste korrekte krav i denne fidus-e-mail er svindlere, der køber din e-mail-adresse fra hackere. Hvis din e-mail-adresse nogensinde er blevet lækket eller en del af et databrud, sælges den sandsynligvis på forskellige hackerfora. E-mails og andre personlige oplysninger lækkes hele tiden af forskellige årsager, og når oplysningerne er derude, er der ikke meget, du kan gøre. Du kan kontrollere, om din e-mail-adresse er lækket på haveibeenpwned . Hvis dine oplysninger er lækket, kan du i det mindste være på vagt, når du beskæftiger dig med uopfordrede e-mails.
I nogle tilfælde, i et forsøg på at få en e-mail til at virke mere legitim, inkluderer svindlere også brugernes adgangskoder. Adgangskoderne er normalt gamle, men i øjeblikket bruges de også afsløret. Ifølge sextortion-e-mails har svindlere adgangskoderne, fordi de hackede brugernes computere. For nogle brugere kan dette virke overbevisende nok, for hvordan skulle de ellers have det? I virkeligheden opnås adgangskoder på samme måde som e-mail-adresser er. De købes af svindlere fra hackerfora. Når adgangskoder ikke er beskyttet af den tjeneste, du bruger, kan de blive eksponeret. Hvis du nogensinde modtager en sextortion-e-mail, der afslører en adgangskode, du bruger, skal du ikke gå i panik og blot ændre adgangskoden. Og husk, at du aldrig bør genbruge en adgangskode, for hvis den bliver lækket en gang, kan den bruges til at få adgang til dine andre konti. Adgangskoder skal også være unikke for hver konto og indeholde en blanding af store / små bogstaver, tal og symboler. Brug af en adgangskodeadministrator kan også være en god idé.
I Have To Share Bad News With You Fjernelse af e-mail-fidus
Du kan bare fjerne I Have To Share Bad News With You e-mail-fidus fra din indbakke, hvis du får det. De lander normalt i spam / junk-mappen alligevel, så du måske ikke engang bemærker dem. Og husk, at ingen af denne slags e-mails nogensinde er legitime.
Hvis en sextortion-e-mail leveres med en vedhæftet fil, og du åbner den, skal du straks scanne din computer med anti-malware-software, fordi sådanne vedhæftede filer ofte kan indeholde malware. Generelt bør du aldrig åbne vedhæftede filer i e-mails uden at dobbelttjekke dem først. Du kan bruge din anti-malware-software til at scanne dem eller VirusTotal .
Site Disclaimer
2-remove-virus.com is not sponsored, owned, affiliated, or linked to malware developers or distributors that are referenced in this article. The article does not promote or endorse any type of malware. We aim at providing useful information that will help computer users to detect and eliminate the unwanted malicious programs from their computers. This can be done manually by following the instructions presented in the article or automatically by implementing the suggested anti-malware tools.
The article is only meant to be used for educational purposes. If you follow the instructions given in the article, you agree to be contracted by the disclaimer. We do not guarantee that the artcile will present you with a solution that removes the malign threats completely. Malware changes constantly, which is why, in some cases, it may be difficult to clean the computer fully by using only the manual removal instructions.