If you like traveling, you will likely have heard about the instant translator devices that can do translations on the spot. They're small portable devices that you can speak into to get a translation from any language. These devices are especially useful for travelers who do not have the time to learn languages before traveling to a foreign country. But if you have ever used online machine translators, you may not trust these devices to give accurate translations. And truth be told, they are not entirely accurate and likely will never be, but they certainly are a great help in all kinds of situations where the language barrier may be a problem.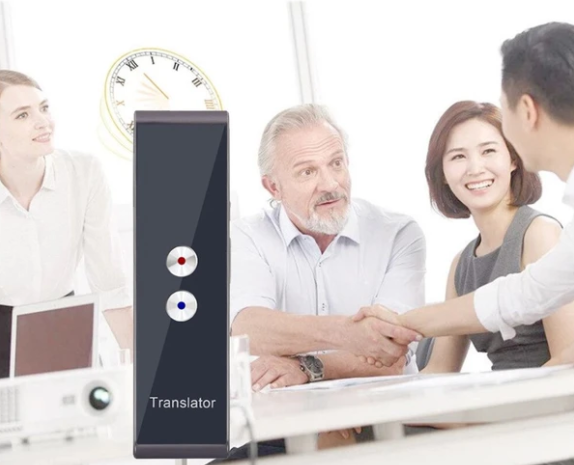 So if you are still skeptical, this article is for you. If you ever wanted to buy a voice translator but were not sure how to choose one, we will help with that.
Do electronic language translators work?
If you have ever had to use Google Translate or any other online translator to translate complex sentences, you may still be having nightmares about how bad the translations were. So based on your past experiences, you may be very skeptical of those portable electronic language translator devices that are speedily becoming more and more popular among travelers and business people.

It's important to know what to expect when using a voice translator device. Many people think of these devices as magic translators that will accurately translate every single thing they say or write, and to some extent, that is true. However, languages are complex, and translating is much more than just finding a match for word in another language. There are many things translators and interpreters need to take into account when doing both spoken and written translations, things machines are not capable of comprehending. But as long as you're not engaging in complex philosophical conversations where you try to find the meaning of life , electronic language translators work perfectly fine.
So how do voice translators work, you ask? It's actually quite simple. These electronic devices come with built-in languages that they can translate to/from. The number of languages it can translate to/from depends on the device, one may offer 40 different languages, while another could have 130. The translation devices either works solely offline or they have an online mode as well.
Translators with only an offline mode do translations using the already built-in languages. If the translation device has an online mode, it uses a combination of both the built-in languages and the Internet to do the translations. Both online and offline real-time translator devices take what someone says in real-time and translate it right then and there. However, the online one relies on the internet to make the translations. No connection to the Internet means the translations will be done using only the built-in languages, or it will not work at all.
So now that we have established that instant translator devices do work and you interested in purchasing it, how do you choose the right one?
How to choose an instant translator?
With hundreds of instant voice translator devices available, how do you choose the one that best suits your needs? When choosing an instant translator, there are many aspects to consider: how much you're willing to spend on it, how would you use it, whether you want it to have WiFi, and such.
The first thing you need to consider is to what purpose you would be using it. For traveling purposes, a basic device would likely be sufficient. If you're going to use it for ordering food, asking for direction and other conversations that don't involve complex sentences about the meaning of life, you won't need a translator with WiFi. However, if you are going to use it for more complex conversations, such as to engage with the locals or in business meetings, paying more for a more sophisticated device with an online mode and more features may be better.
Offline translators, while they do translate in real-time, have limited functionality. They can translate basic phrases and sentences but more complex sentences may be too difficult, and the translation may not seem as natural. They also cannot be updated. Translator devices with WiFi can be updated, and while that may seem like an unnecessary feature, keep in mind that machine translations do get better over time. If your device cannot be updated, it will be stuck with the same old translations. But again, that may not be particularly important to you.
Next, when choosing which translator device to buy, it's also important to take into account which languages you need. Different devices have different number of languages included in them, so if you want a rarer language, the most basic device may not necessarily have it. You can easily check which languages a particular device has from the description.
Lastly but perhaps most importantly, how much money are you willing to pay for a instant online translator. You can buy an instant translation device for as little as $40 or as much as $400, depending on the brand, functionality and design. But paying $400 for a translator if all you would be doing is ordering food and asking for directions would be a waste of money. You would be just as satisfied with a basic one for $40.
When you start searching for the instant translator that best suits your needs, always read the reviews. You will be able to find out the battery life, translation accuracy, response time, durability and much more. Be skeptical of claims of high accuracy in product descriptions. Some devices claim their accuracy is up to 97%, which is mostly not true because then there would be no need to have interpreters/translators.
What is the best instant translator device?
If you're now wondering what's the best language translator device, we have compiled a list of the best voice translation devices to save you some time.
TT Easy Trans Smart Translation Device — the Little White Wonder-Gadget
For the price of $99.99, the TT Easy Trans Smart Translation Device is one of the more popular voice translator devices among travelers. It comes with 52 built-in languages, including Chinese, English, Russian, Spanish, Japanese, Arabic, Portuguese, Dutch, Latvian, Finish and Sinhalese. It has a sleek design, is quite small so fits in a pocket, has Bluetooth to connect to an iPhone or Android device, and has a reaction time of 1-2 seconds.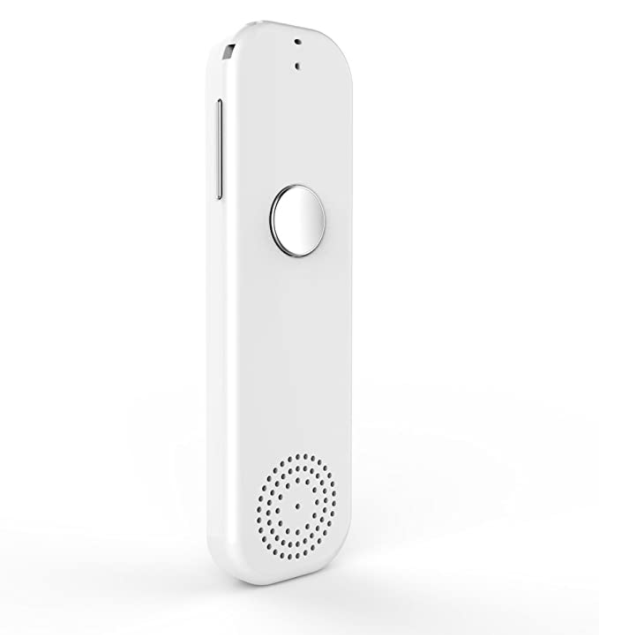 It doesn't have a screen and looks like an old-school recorder. To operate it, you need to first download the app for your smartphone. You connect the device to your smartphone via Bluetooth, select the languages, and it's ready for use. Simply press the voice input button and speak into the device. It will then take a couple of seconds to translate and speak the translation out loud.
The only downside is that the device doesn't have a screen and needs to be connected to your smartphone to work.
WT2 Language Translator
For $199.99, you can buy the WT2 Language translator that supports 40 languages and 93 accents. Included in the 40 languages is Arabic, Chinese, Dutch, English, Finnish, Japanese, Slovak, Russian and many more. The device comes with two ear devices, one for each conversation participant. Unlike other translation devices, the WT2 allows you to speak continuously and the other person will hear the translation without interruption. It's essentially like having an actual interpreter in your ear.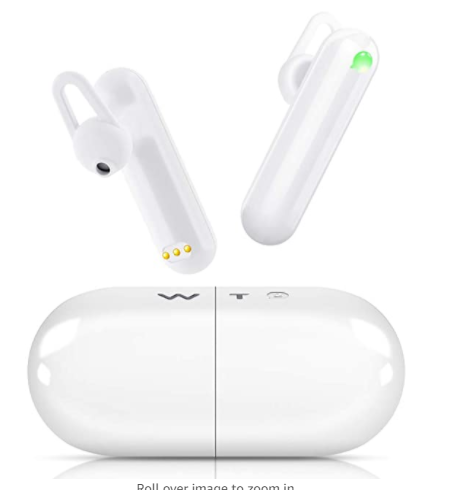 It is compatible with iOS and Android smartphones and can connect via Bluetooth. To operate it and choose the languages, you would need to download the app. Once you set everything up, put in the ear device, press the button and speak. The other person needs to press the button to hear the translation.
It also has a speaker mode where you press the button and speak into the ear device and the translation comes through your phone's speaker. This is useful for brief counters, such as ordering food/drinks or asking for direction.
WT2 is one the expensive side but it does provide features that allow you to have a continuous conversation with someone. But just like TT Easy Trans Smart Translation Device, it needs to be connected to a smartphone to work.
Pocketalk Language Translator
For $199, Pocketalk Language Translator comes with 74 built-in languages, including Arabic, Chinese, Danish, Dutch, Japanese, Latvian, Polish, French, Spanish, etc. The device has a modern design, is small and easy to use. It has a touch screen so you can use it without connecting it to your smartphone. Simply choose the language from the list, press a button and start speaking. The device comes with a 2 year built-in data plan so you will not need to hunt down WiFi hotspots or purchase a mobile carrier plan in order to use it. The SIM card that the device comes with works in 133 countries. It can also connect to WiFi.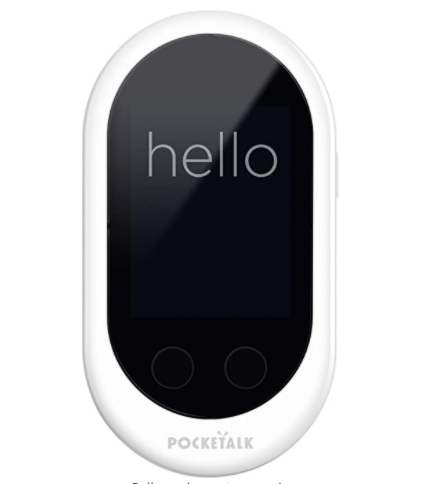 It is quite expensive compared to other devices but it does come with a data plan that allows you to use it anywhere.
AI Smart Language Translator
For $40, the AI Smart Language Translator can translate from 40 different languages, including English, Chinese, Japanese, Korean, Russian, German, French, Thai, Arabic and more. The device does not have a screen, and downloading an app onto the smartphone is necessary. You can choose whether you want the device to speak out the translation or send it your phone for you to read. It also requires a WiFi connection to work.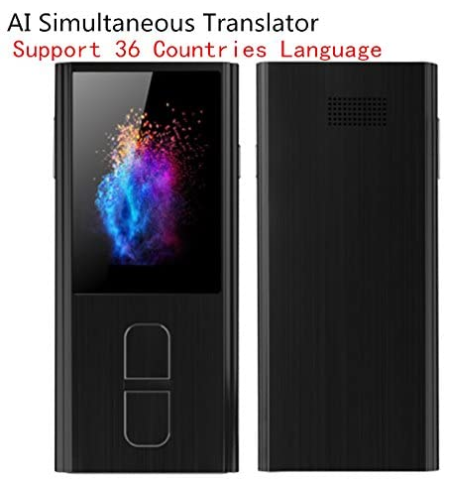 This is more of a budget device. It doesn't have a screen, needs WiFi and an app to work, but costs only $40. Nonetheless, if you're not traveling to a country where WiFi is sparse, the AI Smart Language Translator should be more than enough to get by. However, since it only translates from 40 languages, make sure the one you need is included before buying.
SAULEOO Language Translator Device
Available on Amazon for $96, the SAULEOO Language Translator Device is not only a voice translator. The built-in camera allows you to translate images, such as street signs. It can translate images from 47 languages, as well as do voice translations for 137, including English, Japanese, Korea, Chinese, French, Dutch, Serbian, Portuguese, Russian, etc.  The device has a screen so you don't need to download an app onto your smartphone to use it. It's also quite easy to use.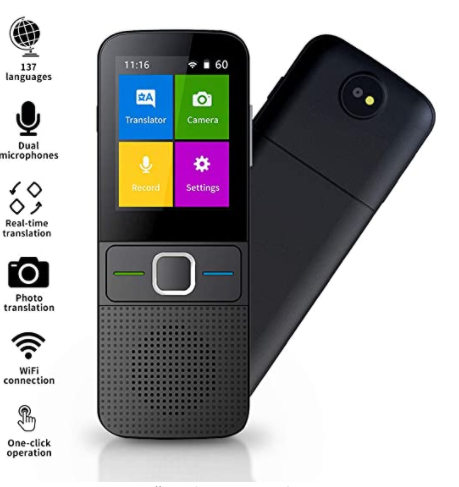 One of the best features of the SAULEOO Language Translator Device is that you don't necessarily need to use WiFi. It supports offline translations to/from English, Chinese, Japanese, Korean, German, Spanish, French, Italian, Dutch, Portuguese and Russian. You also don't need a SIM card to use it.
Language translator devices, are they worth it?
It should be mentioned that if you have a smartphone, you can download instant translation apps which may work just as well. You wouldn't need to purchase a separate device, and since you're already using your smartphone for everything, why not use it for translating as well. Despite all that, it may still be a good idea to buy a pocket instant translator. Modern smartphones aren't exactly known to have great battery life, and constantly using a translation app would drain your phone quite quickly. Not to mention that you would likely be using many different apps at the same time. So if you are planning on doing some traveling and are worried about the language barrier, investing in a language translator device is definitely worth it.
While translator devices will never replace interpreters and translators who have studied all aspects of a particular language, they are a helpful tool in many situations as you can avoid many awkward situations and misunderstanding. But it is important to note that some things do get lost in translation and may be incorrectly translated. Don't expect the translations to be perfect but instant translation devices will definitely take the stress out of communicating when abroad.
For travelers who do not wish to rely on English to get by when traveling, a pocket instant translator is the perfect solution. It will not only be a great help with day-to-day activities but also allow you to see the joy on locals' faces when they realize someone is addressing them in their language.