Developed by Swedish company Amagicom AB, Mullvad is an open-source VPN (virtual private network) tool for Windows, macOS, Android, iOS, and Linux operating systems. The VPN was initially launched in 2009 and has since earned the reputation of one of the most private VPNs on the market.

With so many VPNs available, it can be difficult to choose the right one. This time, we're discussing Mullvad VPN. If you're considering choosing Mullvad to use in 2023, continue reading to find out whether it's a good fit for you.
Mullvad VPN 2023 features
Compared to other VPNs, Mullvad has a pretty low number of servers. Some of the top VPNs offer from 3,000 to 9,000 servers, while Mullvad only has 871 (in 39 countries). However, considering that Mullvad is a budget VPN that focuses on allowing users to browse privately, the server count is not all that unexpected. And for most regular users, this should be more than enough. It also allows up to 5 simultaneous connections. That's a pretty standard amount, though considering that it's half the price of other VPNs, 5 connections are actually quite good.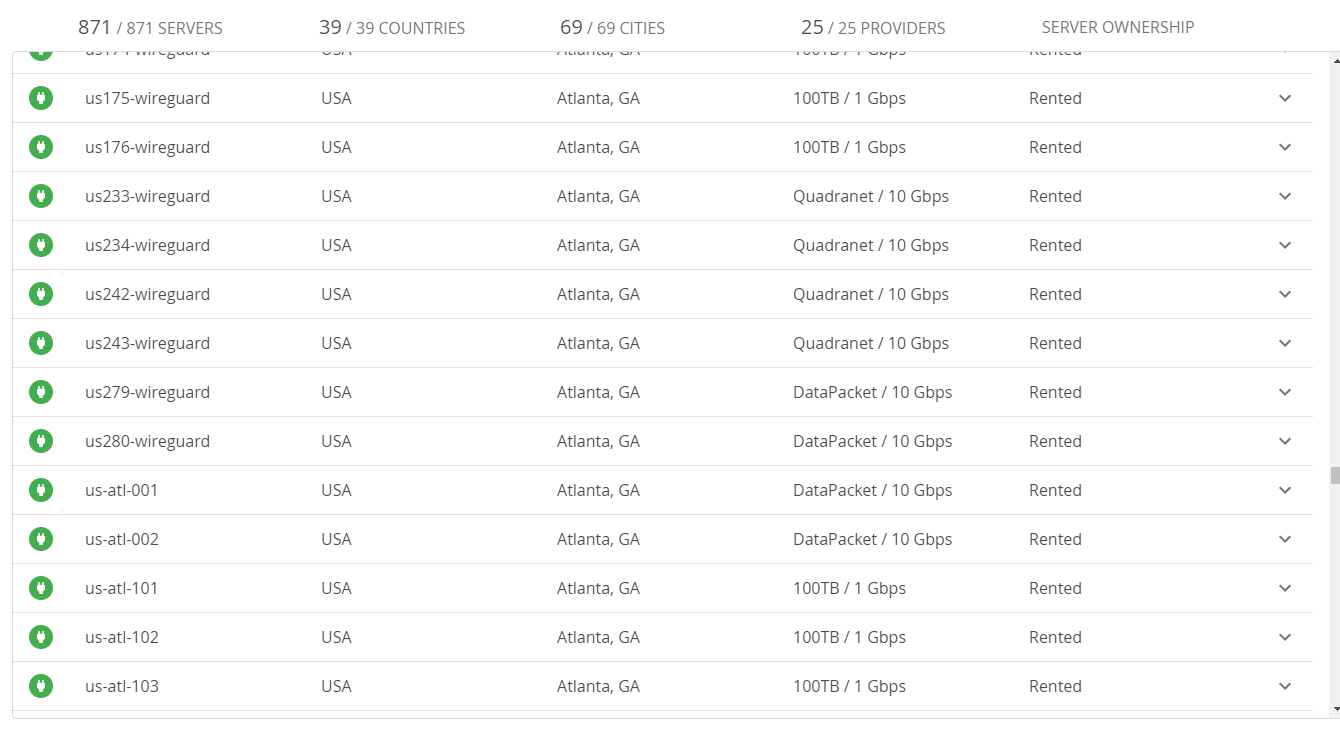 It's worth mentioning that Mullvad has a rather interesting approach to collecting information about users. More specifically, it does its best to not collect any information. This is why it got rid of the typical subscription model. In a blog post, the company announced that in order to collect even less information about users, it will no longer allow users to buy renewable subscriptions. When users purchase a renewable subscription, their information is stored for as long as the subscription is valid. The way Mullvad's current subscription model works is you pay for however months you want to use the program. The fact that Mullvad tries to protect users' privacy to such an extent is quite impressive.
Let's look at Mullvad's offered features.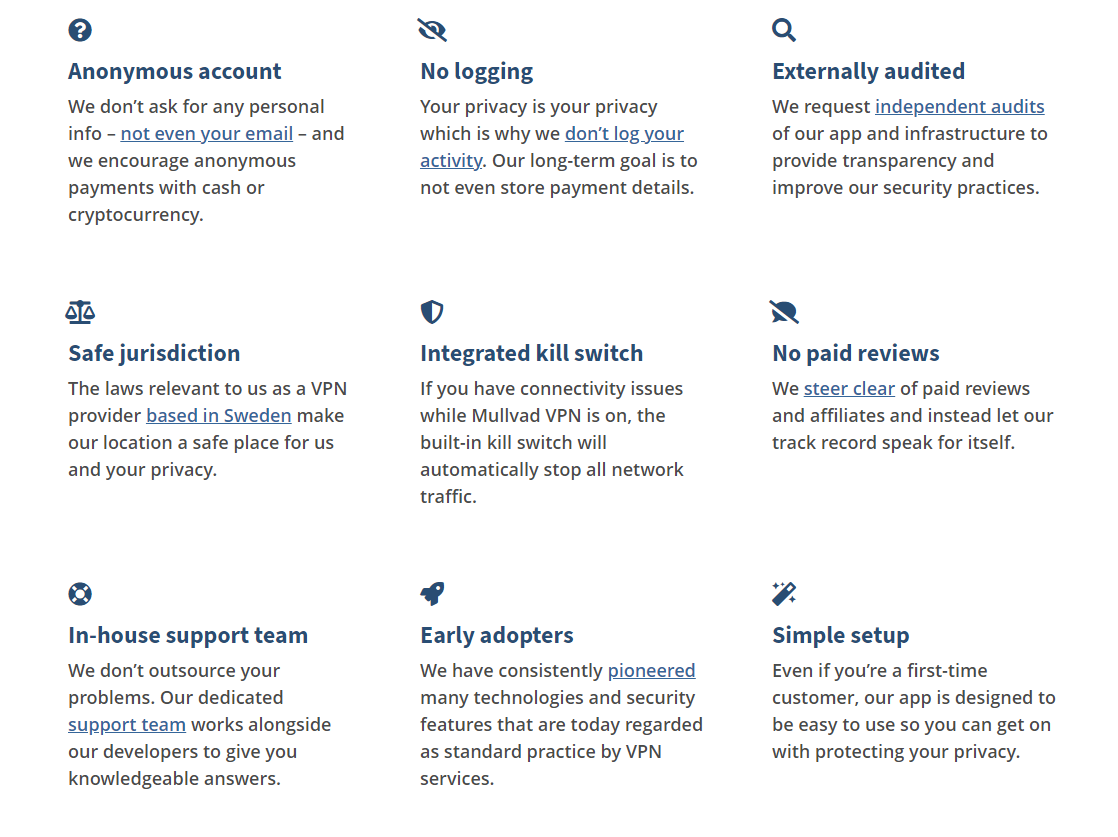 The whole point of a VPN is to make browsing more secure, and that means encrypting all of your web traffic. Considering that it's an essential feature that most trustworthy VPNs have, there's not much to say about it. Mullvad VPN uses strong encryption to encrypt all your data, completely hiding your online activities. When connected to Mullvad, you can safely use public/unprotected WiFi without worrying about someone potentially spying on you.
A no-logs policy means that the VPN does not keep logs of any of your activities. This is essential for users who want to conceal their activities because if logs are kept, that means online activities can be traced back to them. This could have disastrous consequences, if, for example, you're an activist in a country where certain activism is illegal. But while a company may claim that it keeps no logs, you don't really have a way of checking that yourself. This is why it's so important for VPN companies to commit to regular audits by independent parties.
Mullvad VPN has a very strict no-logs policy which is audited on a regular basis. The most recent audit was performed in June 2022. According to the audit report, which was performed by a security consulting firm Assured AB, there is no evidence that customer information is collected by Mullvad. You can find links to audit results on the VPN's official website.
Mullvad has a kill switch as well. When using a VPN, there's always a risk that the connection could be dropped. When this happens, IP addresses and traffic could get leaked. For users for whom privacy is above all else, this could be very dangerous. A kill switch is a necessity for situations like this because it immediately stops all network traffic if your connection is dropped.
VPN users don't necessarily need to use it all the time. Since VPNs often affect Internet speed, users may want to enjoy greater speeds when maintaining anonymity is not a priority. A split tunneling feature is quite useful in situations like this. The feature essentially allows you to split your connections. You can use the VPN for one app while connecting to the Internet directly with another one. For example, if you want to access Netflix's US library from another country, you can stream using the VPN but not use the VPN for other apps at the same time.
Mullvad also has an adblocker, as well as a tracker blocker feature. To prevent data collectors from being able to collect certain data and make profiles of users, Mullvad blocks trackers. The adblocker is quite effective because we did not get any ads during testing when we visited particularly ad-heavy websites.
Can Mullvad VPN unblock Netflix, Disney+, etc. in 2023?
Because VPNs allow users to hide their IP addresses and spoof their location, VPNs are often used to unblock geo-blocked streaming services and their libraries. But streaming services like Netflix have started detecting VPNs over the last couple of years, blocking users from using them. And whether a VPN can unblock a streaming service changes all the time, so just because a VPN works now does not mean it will in two years or even two months.
Mullvad was never advertised as a VPN that can unblock streaming services so it's not surprising that it does not. The official website does not even mention it as a feature. We tried to access Netflix's US library from outside of the US and had no luck. So if you're looking for a VPN to unblock streaming sites in 2023, Mullvad VPN is not it.
Mullvad VPN 2023 price
Mullvad VPN has a fixed price of €5/month, and it hasn't changed in years. So in 2023, Mullvad VPN will cost the same €5/month. The company has a pretty unique subscription model. To be more specific, it doesn't allow subscriptions. Instead, it works like a pre-paid account. You can top up your account and use the VPN however long you paid for. For example, if you pay €15, you can use the VPN for 3 months. You can top up your account for however many months you want. It's worth mentioning that you can pay using cash. You'd have to send the cash via post together with your account number. Paying cash is a good option for those who do not wish to leave any trace of themselves behind.
Mullvad VPN used to have subscriptions but the company recently made the decision to remove this option. According to a blog post on the official website, the decision was made to protect users' privacy to an even greater extent. When users buy a subscription, companies need to keep certain information in order to renew the subscription when it's about to expire. To avoid storing any kind of identifiable information, Mullvad has decided to remove subscriptions. This allows them to delete users' data much quicker.
Mullvad has no free version. According to the official website, this is because the company does not want to subject users to ads, collect their data, or limit their VPN's functionality. There are also no discounts, which is quite unusual for a VPN. But considering that it already costs only €5/month, there's really no necessity for discounts.
If you're not satisfied with the program, you can get your money back within 30-days of your purchase (unless you paid in cash).
Mullvad VPN customer support
The official website has many resources to help users with the most common issues. But if you have a specific question or issue, you'd have to send an email because there is no 24/7 chat option or phone support. Considering that Mullvad is a budget VPN, the lack of 24/7 support is not surprising. Though it's likely to frustrate some users.
Mullvad VPN 2023 interface/design
Mullvad VPN has a pretty minimalistic interface and design, which makes it easy to use. Features can be enabled by simply toggling on their switches, and you can connect to a server with a simple click. Considering that Mullvad is a budget VPN, the simple interface is not surprising. However, the apps for all platforms are fully functional.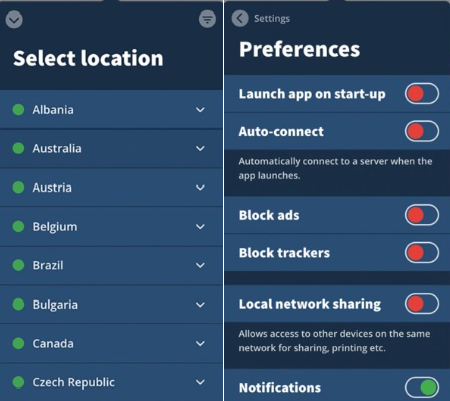 Mullvad VPN performance
Internet speed always goes down when using VPNs but some VPNs are better at maintaining good speeds than others. When we tested out the program, speed was only reduced by around 15%, which is actually pretty good. The speed often depends on location, server, etc., but it shouldn't go down too much.
Is Mullvad VPN a good VPN to use in 2023?
Mullvad targets a rather specific user base that wants privacy, security, and anonymity over additional features. It does not have many additional features, nor is the interface/design particularly fancy. Instead, Mullvad offers great security in the form of a simple, easy-to-use program for a very affordable, unchanging price. Mullvad is a great VPN overall, even with limited server choices and no option to unblock streaming services. Since its no-logs policy is audited regularly (with results publicly available), you can be certain that it protects your privacy. And because it has a user-friendly interface, it's a perfect choice for beginner users.
To conclude, Mullvad VPN is the perfect VPN to use in 2023 for those looking for an affordable VPN that does everything a VPN should.