I Have To Share Bad News With You O E-mail Scam é classificado como um golpe de extorsão porque, de acordo com o e-mail, um vídeo privado de você seria liberado se você não concordasse em pagar a quantia solicitada de dinheiro. É um exemplo clássico de um golpe de extorsão que vem acontecendo há vários anos. Embora possa parecer alarmante no início, não preste atenção ao conteúdo do e-mail porque não é nada mais do que um golpe.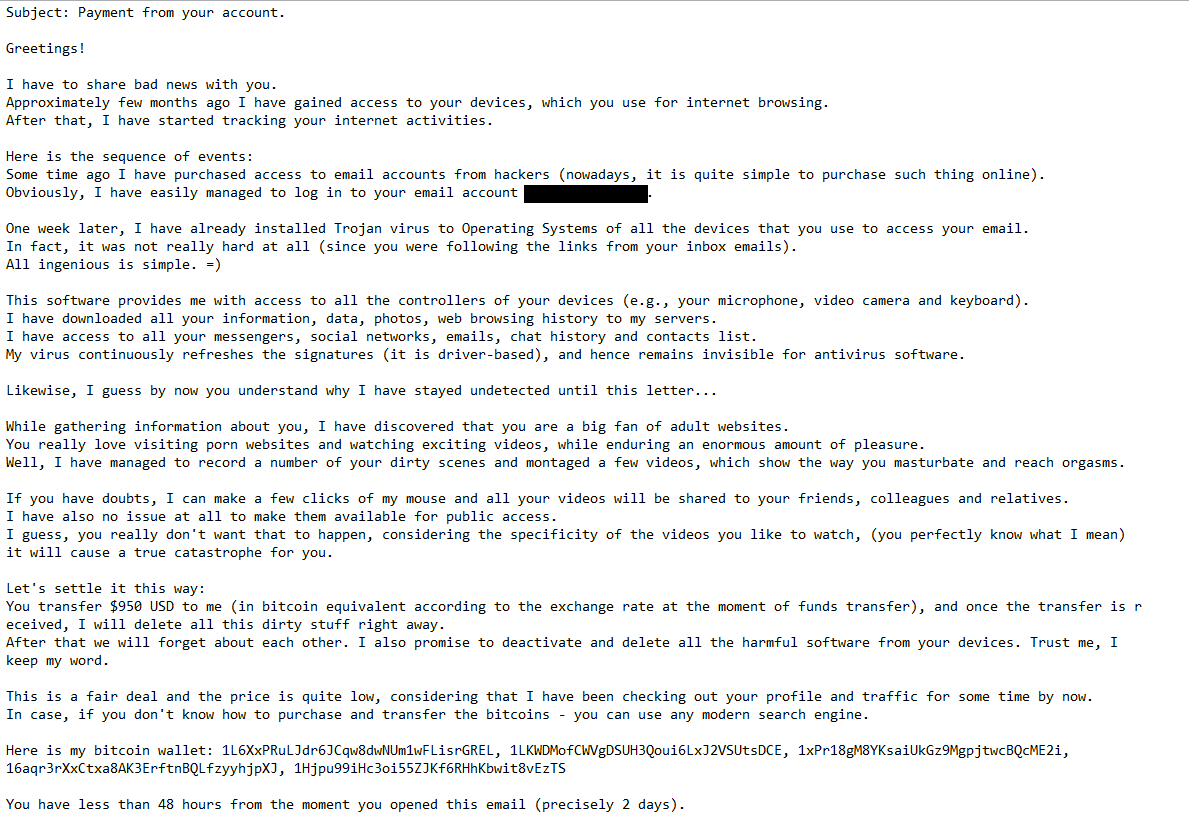 Os e-mails de sextorção geralmente têm linhas de assunto atraentes. Por exemplo, a linha de assunto deste e-mail em particular é "Pagamento da sua conta". Como os e-mails geralmente acabam na pasta lixo/spam da sua caixa de entrada, os golpistas tentam chamar sua atenção com tópicos relacionados ao dinheiro.
Uma vez que você abra o e-mail " I Have To Share Bad News With You ", o remetente tentará intimidá-lo a acreditar que seu computador foi hackeado. Os golpistas usarão vários idiomas alarmantes como "Há cerca de alguns meses, eu ganhei acesso aos seus dispositivos, que você usa para navegação na internet", e "baixei todas as suas informações, dados, fotos, histórico de navegação na web para meus servidores". Supostamente, o "hacker" comprou seu endereço de e-mail que de alguma forma lhes deu acesso à sua conta de e-mail. Eles foram então capazes de instalar malware em todos os dispositivos que você usa para fazer login nesse e-mail. Supostamente, o malware permite que os "hackers" tenham acesso completo ao seu dispositivo, incluindo dar-lhes permissão para ligar/desligar seu microfone e câmera de vídeo.
O e-mail continua afirmando que não só o remetente foi capaz de roubar todos os seus dados, mas também fez um vídeo de você assistindo pornografia. Eles ameaçam enviar um vídeo duplo (o vídeo que você estava assistindo de um lado e um vídeo seu do outro) para todos os seus contatos, a menos que você concorde em pagar a quantia solicitada de dinheiro, que, neste caso, é de US $ 950 em Bitcoin.
Se você sabe alguma coisa sobre computadores e malware, o conteúdo do e-mail fará muito pouco sentido. Em primeiro lugar, a menos que você tenha uma senha muito facilmente adivinhável para sua conta de e-mail, os hackers não poderão acessar sua conta apenas porque conhecem seu endereço de e-mail. Segundo, a menos que você estivesse clicando em links maliciosos e anexos de e-mail em e-mails à esquerda e à direita, infectar seu computador com malware não é tão fácil. Finalmente, atores mal-intencionados não espionam usuários aleatórios na esperança de que eles visitem sites de pornografia para que possam chantageá-los.
Nenhuma das alegações no e-mail estão corretas. Não há malware no seu computador, nem há um vídeo de você assistindo pornografia. Não preste atenção a esses e-mails e remova " I Have To Share Bad News With You " E-mail Scam da sua caixa de entrada assim que você obtê-lo.
Subject: Payment from your account.

Greetings!

I have to share bad news with you.
Approximately few months ago I have gained access to your devices, which you use for internet browsing.
After that, I have started tracking your internet activities.

Here is the sequence of events:
Some time ago I have purchased access to email accounts from hackers (nowadays, it is quite simple to purchase such thing online).
Obviously, I have easily managed to log in to your email account (****@****.com).

One week later, I have already installed Trojan virus to Operating Systems of all the devices that you use to access your email.
In fact, it was not really hard at all (since you were following the links from your inbox emails).
All ingenious is simple. =)

This software provides me with access to all the controllers of your devices (e.g., your microphone, video camera and keyboard).
I have downloaded all your information, data, photos, web browsing history to my servers.
I have access to all your messengers, social networks, emails, chat history and contacts list.
My virus continuously refreshes the signatures (it is driver-based), and hence remains invisible for antivirus software.

Likewise, I guess by now you understand why I have stayed undetected until this letter…

While gathering information about you, I have discovered that you are a big fan of adult websites.
You really love visiting porn websites and watching exciting videos, while enduring an enormous amount of pleasure.
Well, I have managed to record a number of your dirty scenes and montaged a few videos, which show the way you masturbate and reach orgasms.

If you have doubts, I can make a few clicks of my mouse and all your videos will be shared to your friends, colleagues and relatives.
I have also no issue at all to make them available for public access.
I guess, you really don't want that to happen, considering the specificity of the videos you like to watch, (you perfectly know what I mean) it will cause a true catastrophe for you.

Let's settle it this way:
You transfer $950 USD to me (in bitcoin equivalent according to the exchange rate at the moment of funds transfer), and once the transfer is received, I will delete all this dirty stuff right away.
After that we will forget about each other. I also promise to deactivate and delete all the harmful software from your devices. Trust me, I keep my word.

This is a fair deal and the price is quite low, considering that I have been checking out your profile and traffic for some time by now.
In case, if you don't know how to purchase and transfer the bitcoins – you can use any modern search engine.

Here is my bitcoin wallet: 1L6XxPRuLJdr6JCqw8dwNUm1wFLisrGREL, 1LKWDMofCWVgDSUH3Qoui6LxJ2VSUtsDCE, 1xPr18gM8YKsaiUkGz9MgpjtwcBQcME2i, 16aqr3rXxCtxa8AK3ErftnBQLfzyyhjpXJ, 1Hjpu99iHc3oi55ZJKf6RHhKbwit8vEzTS

You have less than 48 hours from the moment you opened this email (precisely 2 days).

Things you need to avoid from doing:
*Do not reply me (I have created this email inside your inbox and generated the return address).
*Do not try to contact police and other security services. In addition, forget about telling this to you friends. If I discover that (as you can see, it is really not so hard, considering that I control all your systems) – your video will be shared to public right away.
*Don't try to find me – it is absolutely pointless. All the cryptocurrency transactions are anonymous.
*Don't try to reinstall the OS on your devices or throw them away. It is pointless as well, since all the videos have already been saved at remote servers.

Things you don't need to worry about:
*That I won't be able to receive your funds transfer.
– Don't worry, I will see it right away, once you complete the transfer, since I continuously track all your activities (my trojan virus has got a remote-control feature, something like TeamViewer).
*That I will share your videos anyway after you complete the funds transfer.
– Trust me, I have no point to continue creating troubles in your life. If I really wanted that, I would do it long time ago!

Everything will be done in a fair manner!

One more thing… Don't get caught in similar kind of situations anymore in future!
My advice – keep changing all your passwords on a frequent basis
Como os golpistas obtiveram seu e-mail?
A única reivindicação correta neste e-mail de golpe é golpistas comprando seu endereço de e-mail de hackers. Se seu endereço de e-mail já vazou ou parte de uma violação de dados, provavelmente será vendido em vários fóruns de hackers. E-mails e outras informações pessoais são vazados o tempo todo por várias razões, e uma vez que as informações estão lá fora, não há muito que você possa fazer. Você pode verificar se seu endereço de e-mail foi vazado em haveibeenpwned . Se suas informações vazaram, você pode pelo menos estar atento ao lidar com e-mails não solicitados.
Em alguns casos, na tentativa de fazer um e-mail parecer mais legítimo, os golpistas também incluem senhas dos usuários. As senhas geralmente são antigas, mas atualmente as usadas também são reveladas. De acordo com os e-mails de extorsão, os golpistas têm as senhas porque invadiram os computadores dos usuários. Para alguns usuários, isso pode parecer convincente o suficiente porque de que outra forma eles teriam? Na realidade, as senhas são obtidas da mesma forma que os endereços de e-mail são. Eles são comprados por golpistas de fóruns de hackers. Quando as senhas não estão protegidas pelo serviço que você usa, elas podem ser expostas. Se você receber um e-mail de extorsão que revele uma senha que você usa, não entre em pânico e simplesmente mude a senha. E tenha em mente que você nunca deve reutilizar uma senha, porque se ela vazar uma vez, ela pode ser usada para acessar suas outras contas. As senhas também devem ser exclusivas de cada conta e conter uma mistura de letras, números e símbolos maiúsculas e minúsculas. Usar um gerenciador de senhas também pode ser uma boa ideia.

I Have To Share Bad News With You Remoção de golpe de e-mail
Você pode remover I Have To Share Bad News With You o E-mail Scam da sua caixa de entrada se você obtê-lo. Eles geralmente aterrissam na pasta de spam/lixo de qualquer maneira, então você pode nem notá-los. E lembre-se, nenhum desses tipos de e-mails são legítimos.
Se um e-mail de sextorção vem com um anexo e você o abre, você precisa digitalizar imediatamente seu computador com software anti-malware, porque esses anexos podem muitas vezes conter malware. Em geral, você nunca deve abrir anexos de e-mail sem que verifique-os duas vezes primeiro. Você pode usar seu software anti-malware para digitalizá-los ou VirusTotal .
Site Disclaimer
2-remove-virus.com is not sponsored, owned, affiliated, or linked to malware developers or distributors that are referenced in this article. The article does not promote or endorse any type of malware. We aim at providing useful information that will help computer users to detect and eliminate the unwanted malicious programs from their computers. This can be done manually by following the instructions presented in the article or automatically by implementing the suggested anti-malware tools.
The article is only meant to be used for educational purposes. If you follow the instructions given in the article, you agree to be contracted by the disclaimer. We do not guarantee that the artcile will present you with a solution that removes the malign threats completely. Malware changes constantly, which is why, in some cases, it may be difficult to clean the computer fully by using only the manual removal instructions.