What is Your iPhone is highly damaged by 5 viruses! scam
Your iPhone is highly damaged by 5 viruses! scam refers to a fraudulent pop-up that claims your iPhone device has been infected by viruses that are stealing your social media login credentials and data, as well as your private files. The pop-up claims that you need to install the offered "security" app, which will supposedly get rid of the virus. However, if you were to actually download whatever is offered, you'd end up with some kind of potentially unwanted app. The pop-up itself isn't harmful as long as you don't interact with it. However, you should definitely not download whatever has been offered because it would be harmful.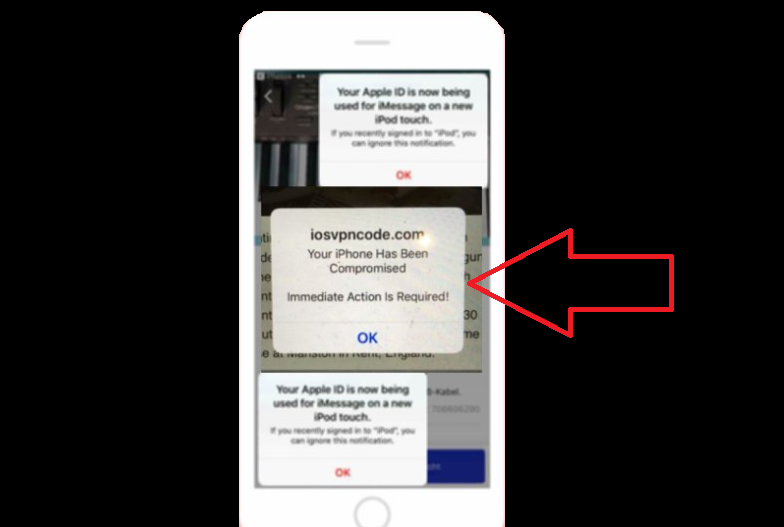 If you start seeing this pop-up in your iPhone, it's more than likely that you were simply redirected when browsing somewhat questionable websites. To prevent such redirects in the future, you should avoid visiting high-risk websites, and change a few Safari settings. The changes you should implement will be explained in the last section of this report. Fortunately, since you're not dealing with an infection, you don't need to delete "Your iPhone is highly damaged by 5 viruses!" scam, you can simply close the window.
Why are you seeing the pop-up on your iPhone?
All operating systems, whether it's Windows or iOS, they all have their own versions of these fake virus alerts, though they're more or less the same. These kinds of alerts usually appear when users visit high-risk websites and click on something that triggers the redirect. It can be brought about by adware but that does not apply to iPhones.
Certain sites are considered to be high-risk because of the content they show and the ads they have. It's usually sites that host pornography or pirated content that trigger these kinds of redirects, so as long as you avoid browsing such sites, you should be fine. But like we said above, the redirects aren't harmful by themselves, as long as you don't interact with them.
Is "Your iPhone is highly damaged by 5 viruses!" scam dangerous?
The redirect will happen out of the blue, when users click on something when browsing certain websites. The window that pops up will display an alert claiming that "Your iPhone is highly damaged by 5 viruses!" and that your "browser is damaged by browser trojan viruses picked up while attending recent corrupted sites". Supposedly, the virus that you picked up is trying to steal your sensitive data, including logins to social media, as well as private photos and other data. Whatever the alert is claiming is not true, and your device isn't infected with anything. It's merely trying to pressure you into downloading a questionable app. The best course of action when faced with such pop-up and alerts is to close the window without interacting with it. Like we said before, the fake pop-up alert itself isn't harmful.
Your iPhone is highly damaged by 5 viruses! scam removal
Since this isn't an actual infection on your iPhone, all you need to do is close the window. We also recommend changing a few settings on iPhone to prevent pop-ups from appearing on your screen in the future.
Click on Settings and access Safari, toggle on the "Block Pop-ups" and "Fraudulent Website Warning" settings. Scroll down and select Advanced, then Website Data, scroll down and click "Remove All Website Data".
Incoming search terms: