Facebook Security Virus is a serious threat that has been spreading on the facebook social network for a while now. It may reach you in the form of a private message, a post on your wall, or a notification. It may also be sent to you via a spam email. The fake message contains the following text: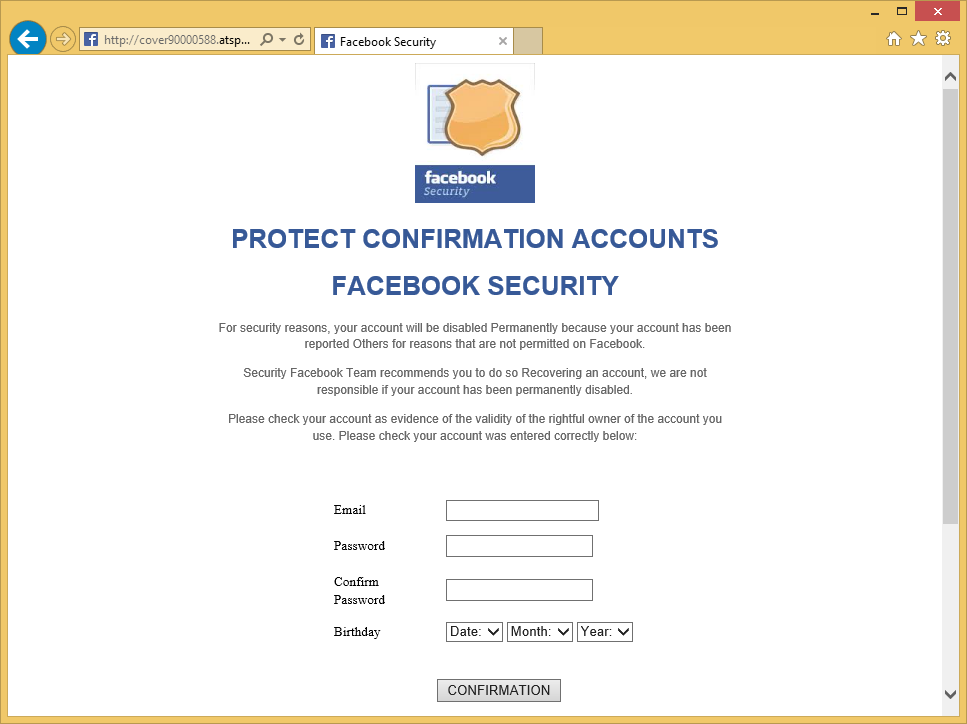 "Notification !!!!
YOUR ACCOUNT WILL DISABLE!!!Your Facebook account has been reported by others about. Using a fake name and you write offensive content (coarse). Using images of pornographic images and Disturbing other users or irritated.
Please re-confirm your account to avoid blocking. This is due to many hackers, violate our terms of service. If you are the original owner of this account, please re-confirm your account to avoid blocking. To complete the account page you can visit our FAQ page:
 http:// cutt.us/facebook-cover-me
============================
"Attention"
If you do not confirm, our system will automatically block your account and you will not be able to use it again.
Thanks for your cooperation to help improve our service.
The Facebook Team"
Needless to say, the notification does not actually come from the Facebook Team. The multiple grammatical errors that it contains should be reason enough for you to suspect that there is something off about it. You should not click on the link provided in the notification under any circumstance. If you do, you will get rerouted to the fake page that will ask you to share your personal details. More than that, you will also run the risk of infecting your PC with malicious applications.
The http://cutt.us/facebook-cover-me and http://cover90000588.atspace.co.uk/FACEBOOK-COVER-ME/ links both lead to a website that was created by cyber criminals. This site states that in order to stop Facebook from permanently disabling your account, you will need to confirm your email address, password, and date of birth. The page threatens that if you fail to enter these details in 24 hours, your account will be permanently closed. This is nothing but a scare tactic used to convince you to disclose your personal information. If you actually share your data on the fake website, it will be sent to cyber criminals and you will lose access to your Facebook account.
If you have fallen victim to this scam, you should visit Facebook Help Center and follow the provided instructions on how to secure your account. You should also scan your computer with a reliable anti-malware utility, in case the corrupted link has also infected your system with malicious programs. If the security software detects any harmful threats, you should terminate them immediately. In general, it is always a good idea to express caution while surfing the Web and have a powerful malware prevention and removal tool installed and updated.