Installing updates for your Windows is highly important because Microsoft is constantly improving the operating system's performance and security. The company is also regularly being made aware of security flaws, which are fixed in updates. If you are unsure about how to install updates for your Windows, we have prepared guidelines, depending on which version you have.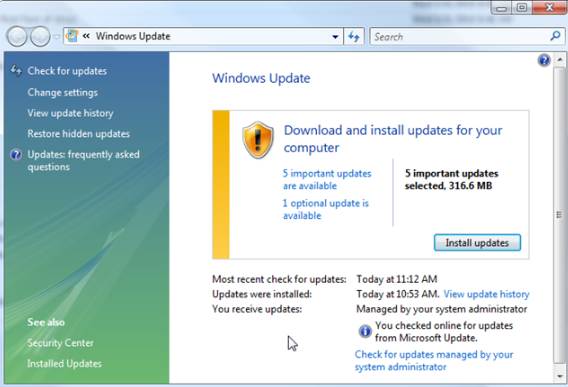 Update Microsoft Windows
Windows 10
You don't have to install updates for Windows 10 because it is done automatically. And you cannot turn this feature off. Windows 10 for Business allows you to delay updates, but they are still automatic. Windows will regularly check for updates, and when something becomes available, it will install. However, you can check what updates have been installed by going to Start -> Settings -> Update&Security -> Windows Update.
Windows Vista, Windows 7, Windows 8 and Windows 8.1
Open Control Panel, select Windows Update or System and Security and then Windows Update.
Alternatively, you can press Windows key + s, type Windows Update in the search, select Windows Update settings.
You can check what updates are available there. If automatic updates are turned on, they will install automatically. You can turn this feature off if you prefer to control when updates are installed. If you do have automatic updates turned off, check whether any important updates are available. If there are, we recommend you install them right away, as it could be fix for some kind of major vulnerability. It could also be an update that will improve your device's performance. We recommend you regularly check for updates as they could be important.