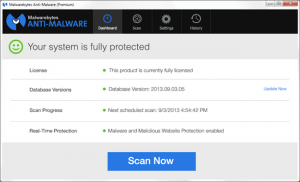 While the creators of MalwareBytes anti-malware have not been in this business for long time, they make up for it with their enthusiastic approach. Statistic from such websites like CNET shows that this security tool is one of the most popular downloads at the moment. Even though there are many much more popular anti-malware applications out there, MalwareBytes steadily gains loyal customers who are attracted to it by the user-friendly interface and its compatibility with other anti-virus programs. The multilingual software (available in over 30 languages) has already been downloaded more than 100 million times. In the following report, we will present you a more detailed description of MalwareBytes.
Although MalwareBytes has not yet been tested by the better known test labs like AV-Comparatives, VB100 or AV-Test, the word is spreading about this application because of its free version. Like Avira and AVG, MalwareBytes uses this version to introduce itself to the users and it looks like this tactic is working. The received reviews are generally positive and praise the application's ability to work despite attempts to block it, the speed of its scans, and its simple interface. Also, this software seems to work especially well against zero-day-attacks.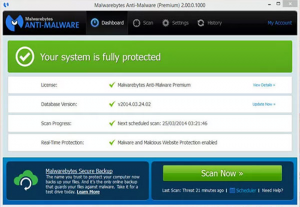 In the majority of cases, MalwareBytes protects the system well and successfully removes malware from heavily infected computers. It is usually very effective in removing the malicious software that writes itself in registries and hides its features. This means that if you scan the infected PC, MalwareBytes will most likely delete the threat and boost your system's performance. This anti-malware provides users with the following features upon installation:
Works Well With Others – compatibility
Nitty Gritty – command line support for quick scanning
RPP, Yeah You Know Me – real-time Proactive Protection Module
Puts Malware in the Slammer – keeps threats in quarantine
Hablamos Everything – multilingual support
For Your Pleasure – possibility to personalize settings
Flash – fast scans
Lock It Down – protects key settings with a password
Thorough – scans all drives fully
Toolbox – helps to delete malware manually
Talk to the hand – possibility to create a list which will be ignored by the scanner and
Protection Module
Chameleon – starts MalwareBytes, even if malware tries to block it
Puts you first – priority database updates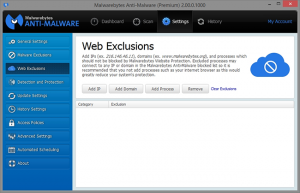 Of course, no anti-malware is able to remove all threats. MalwareBytes usually fail when the system is so infected that it is unable to run properly. In this case, we recommend to run the application alongside another signature based anti-virus software. The combined efforts of two such programs should be enough to clean even the most infected PC.
The only technical support provided by this intruder is via email or an online ticket based system. User's inquire is usually addressed within one business day. However, most users use numerous forums where the community is very active and quickly provides answers to various questions. Also, know that if you buy the premium version of this software, you will be guaranteed live technicians support 24/7.
Even though the software is not the top product at the moment, it steadily gains customers and spreads a word about itself. However, bearing in mind that the application has not been tested by the reputable test labs yet, it is almost impossible to measure its effectiveness. Still, we recommend to let this relatively new company a chance to prove the usefulness of its product by giving MalwareBytes a try. The anti-malware works with Windows 2000, XP, Vista, 7 and 8 (32-bit and 64-bit).
Download Link – Download Malwarebytes
Save
Save