What is Norton by Symantec and how does it work?
While some inexperienced computer users might get lost in a sea of many different products suggested by multiple companies, Norton by Symantec presents all different features in one, extremely effective and beneficial package. While the unit is certainly not cheap, we believe that after reading this article you will agree that it is worth your money, especially considering the that all those numerous features provide the highest level of protection for your system.
Pros & Cons
Perhaps the biggest disadvantage of this computer security tool is its that it slows down the system considerably. When the user is visiting websites or downloading software, the application reduces the speed of the process by four seconds. However, for that you will get perfect protection from malware. According to the tests performed by an independent test lab AV Test, this anti-virus found and protected computers against all known viruses to which it was exposed. The even greater news is that it also managed to neutralize all the zero-day-malware which is usually the greatest source of concern for security experts. This clearly shows that while your system will be slower, as long as your have Norton Anti-virus, it will be safe.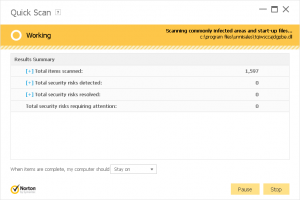 Unfortunately, no computer security tool can guarantee 100% protection. Norton, however, comes close to it, by providing totally free virus removal to its users. It means that that if you have this software in your computer and it failed to protect your PC from some kind of threat, Norton's technicians will remove the infection for free. Furthermore, if they fail to clean your system, they will provide you a full refund for their product.
Best Features of Norton by Symantec
As we said, this security application will provide you with many different features. Firstly, one service will protect up to five devices like Macs, PCs, etc. The company also guarantees that in addition to the protection against viruses and other kinds of malware, the software will safeguard your devices against privacy violations too. The anti-virus will keep you safe by preventing entrance to suspicious and malicious pages as well. Furthermore, it will let you move protection from one device to another or to add more protection, when you start using new device. Another convenient feature is its ability to locate lost smartphones and tablets.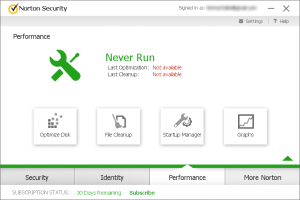 It is clear, that Norton security application is very useful and powerful. While it slows down the computer and is quite expensive, the user receives the nearly perfect protection against all kinds malware. Besides, for one price, you get protection to up to five devices and a guarantee that Norton's technicians will keep those devices safe at any cost. Below this report, we provide system's requirements for users who decide to purchase Norton Security 2015. Before paying the money, make sure that your devices will be able to support the software.
Norton by Symantec System Requirements
Microsoft® Windows® XP (32-bit) Home/Professional/Tablet PC/Media Center (32-bit) with Service Pack 3 (SP 3) or later
Microsoft Windows 7 (32-bit and 64-bit) Starter/Home Basic/Home Premium/Business/Ultimate with Service Pack 1 (SP 1) or later
Current and previous two versions of Mac OS® X
iOS® 6 or later
Microsoft Windows Vista® (32-bit and 64-bit) Starter/Home Basic/Home Premium/Business/Ultimate with Service Pack 1 (SP 1) or later
Microsoft Windows 8.1/8.1 Pro (32-bit and 64-bit)
Microsoft Windows 8/8 Pro (32-bit and 64-bit)
Operating Systems Supported
Android™ 2.3 or later (must have the Google™ Play app installed)