What is Proxycheck.exe
Proxycheck.exe is a process that appears in Task Manager if the computer has AnonymizerGadgett PUP installed. AnonymizerGadgett is classified as a potentially unwanted programs (PUP) for multiple reasons, primarily because it installs without users' permission and uses a lot of computer resources, to the point that the computer becomes noticeably affected. You likely became aware of this PUP when you noticed your computer acting slow and opened Task Manager to check what's using up all the resources. Proxycheck.exe likely appeared near the top, using up more than 40% of CPU and more then 50% of memory.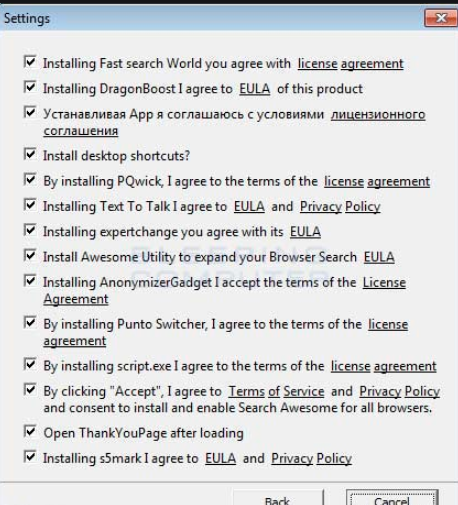 Programs that are classified as PUPs are not serious infections, though they do come with their own issues. The PUP that Proxycheck.exe belongs to is a program that is supposed to ensure the computer is connected to a certain proxy. You may see multiple processes running in Task Manager at the same time. This could really slow down your computer. But there's really no reason why you should put up with this. Just delete Proxycheck.exe with anti-virus software and go back to normal computer use.
If you are curious about how the program managed to install exactly, continue reading.
How do users install PUPs?
Potentially unwanted programs are not viruses, and users need to permit their installations. In most cases, users grant that permission without even knowing. PUPs use software bundling to install, and this method allows them to install without users needing to permit it. What happens is PUPs often come attached to free software as extra offers, and when users install that freeware, they end up installing the attached PUPs as well. Whatever comes attached to free programs is permitted to install alongside automatically, unless users are attentive enough to notice and deselect it/them. It's easy to prevent the installation of added offers, as long as users pay attention to how they install freeware.
When installing free programs, it's important that users pay attention to the process and read the provided information. Most importantly, it's important to opt for Advanced (Custom) settings when given the option. The reason many users end up installing PUPs is because they use Default settings. Those settings hide whatever has been added and allows those items to install alongside. Advanced, on the other hand, would make all added offers visible, and users would be able to deselect it. If Advanced settings show that something has been added to the program you are installing, uncheck the boxes of those offers and only then proceed with the installation. Deselecting the offers is enough to prevent their installations.
It's recommended to do this with all free programs. The majority of them will come with these extra offers, and while some of they may seem useful at first, they will only clutter the computer. And it's much easier to prevent their installation from the very beginning than it is to later have to uninstall them.
What does Proxycheck.exe do?
The most obvious sign that the AnonymizerGadgett PUP is present on the computer is Proxycheck.exe being active in Task Manager. It may not only be just one process, multiple ones may start appearing. The Proxycheck.exe process would be very noticeable because it uses a lot of computer resources. It's possible that the process would be using more than 60% of your CPU and memory. This kind of resource usage will have a very noticeably negative affect on the computer. Your computer will be very slow, programs will crash or not launch properly, etc. This could essentially make the computer unusable.
AnonymizerGadgett, to which Proxycheck.exe belongs to, is meant to ensure that your computer is connected to a particular proxy. It's available for download from the Internet and is advertised as a program that would make your browsing anonymous when online. However, in reality it will just connect to various websites. In short, you have no for this program. Fortunately, it shouldn't harm your computer directly. Nonetheless, the sooner you remove Proxycheck.exe, the better.
Proxycheck.exe removal
We strongly suggest using anti-virus software to uninstall Proxycheck.exe. According to VirusTotal, Proxycheck.exe is detected by 4 anti-virus programs.
Adware.Zaxar.110 by DrWeb
PUA.NotToTrack by Ikarus
A Variant Of Win32/Adware.NotToTrack.B by ESET
Suspicious_GEN.F47V0516 by TrendMicro
Once you delete Proxycheck.exe, your computer should go back to normal.