What you need to know about Spyhunter 5?
Cybersecurity company Enigma Software has just released SpyHunter 5, the newest version of their anti-malware software. With the new release comes more advanced detection and removal functionalities, increasingly sophisticated online protection and security, as well as the same user-friendly interface.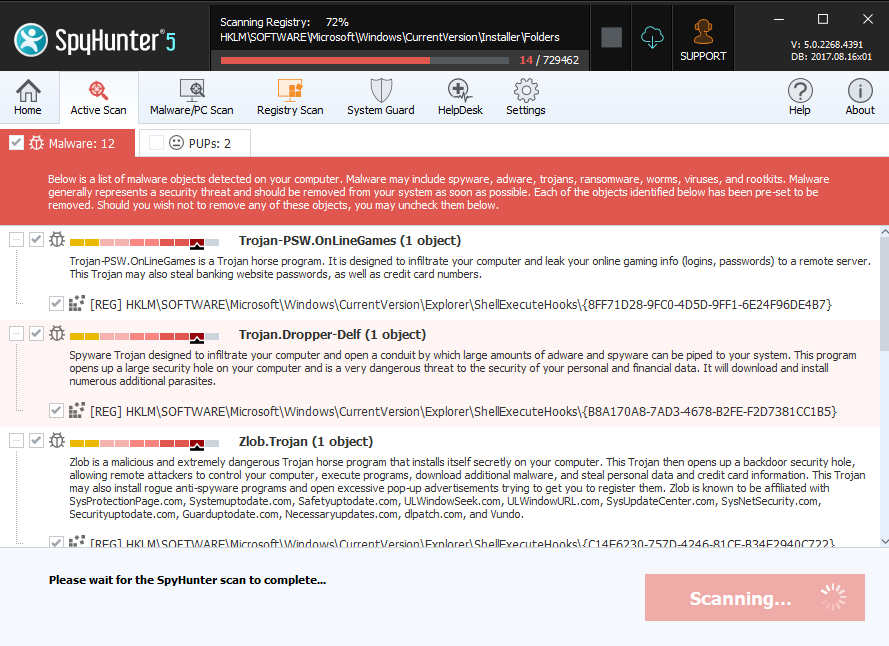 Just like its predecessor SpyHunter 4, the new version continues to protect computers against threats like ransomware, Trojans, worms, rogue anti-spyware, potentially unwanted programs (PUPs), adware, rootkits, etc. However, SpyHunter 5 not only uses advanced detection technology but it also works without putting a strain on the computer. In other words, it does not affect the computer's performance in a negative way. We didn't notice any significant computer slowdown while the scanning was in progress, which cannot be said about a lot of other anti-malware programs.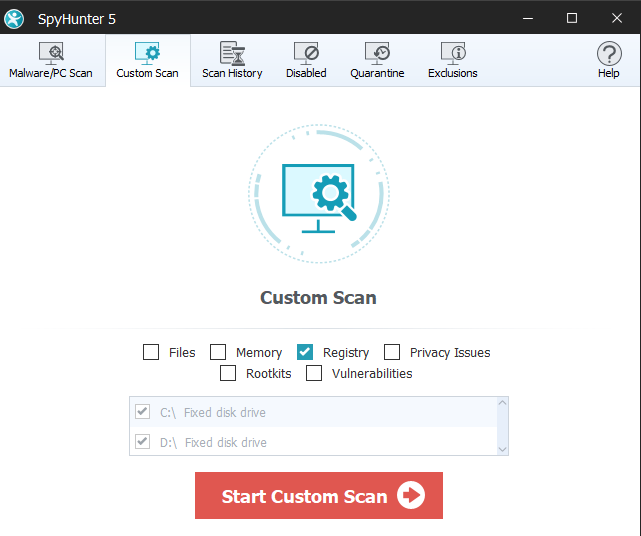 Just like SpyHunter 4, the new version keeps the user-friendly interface, which is always a plus. There are no overly complicated features, and you have clear sections for scanning, settings, help desk, etc. And in settings whose customization requires more advanced knowledge, it clearly says they are for advanced users. We find that interface is everything to an anti-malware program, and SpyHunter 5 certainly won't lose any users for theirs.
SpyHunter 5 Features
Main features

When users initiate a scan, SpyHunter 5 will scan the device for any kind of malicious activity, as well as vulnerabilities, privacy issues and unknown items. It seems to be able to detect threats ranging from less severe ones like adware and hijackers, to serious infections such as ransomware and Trojans. There is also a scan option that scans for unusual activity. Items may not be malicious themselves, but if they behave strangely, SpyHunter 5 would pick up on it and inform you. This adds an extra layer of security. You may also perform custom scans, review quarantined items as well as check what items have been deleted previously. Customized scans allow users to scan memory, registry, cookies and rootkits.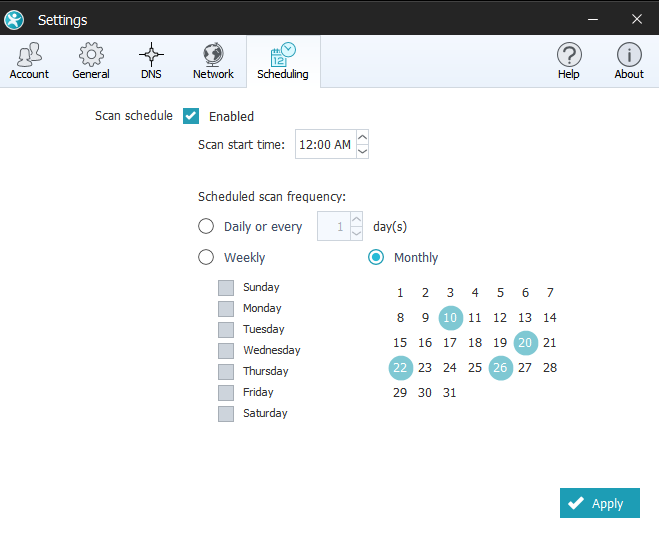 SpyHunter 5 allows you to customize your scans and set up regular scanning. If you access Scheduling settings and enable scan schedule, you will be able to set up a time to start the scan, and its frequency. There are various options you can choose from. For example, you can set up a daily, weekly or a monthly scan, or customize it to scan every other day, every couple of days, etc. This is a convenient feature as many of us simply forget to do regular scans. In addition to the convenient scheduling settings, SpyHunter 5 has a whitelist feature that prevents the security tool from continuously showing a program you wish to keep in the scan results. Most programs of this kind have a whitelist feature so it is nothing new, but nevertheless, it's nice see.
Generally, it is very noticeable when anti-malware is scanning the computer due to the dip in your computer's performance. This is not unusual, and something we usually have to just put up with. However, it can be quite annoying when a scan starts in the middle of a busy workday. We noticed that when running a scan with SpyHunter 5, the performance dip was minimal. Although it was still noticeable, it did not affect the device in a way that would be annoying.
The program's malware database seems to be frequently updated, which is essential to any good anti-malware program, seeing as new malware is released every day. This means users will be protected even from the newest threats.
Customer Support
For situations when for one reason or another SpyHunter 5 is unable to delete an infection, a help desk option is available. Paid users can choose to contact customer support technicians who will help with solving the problem.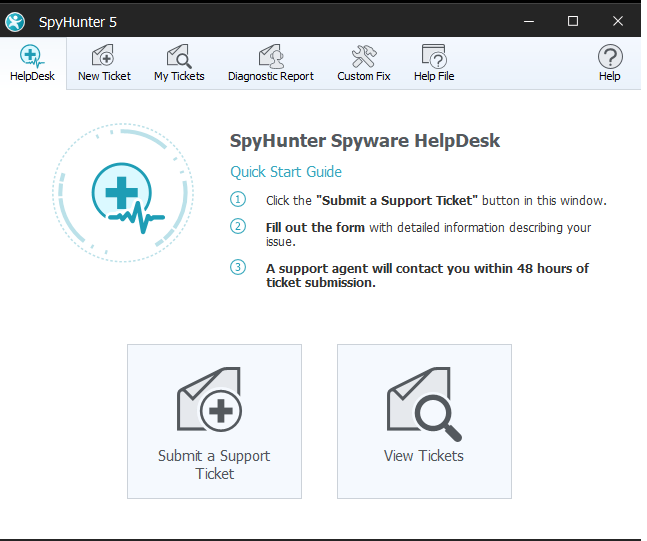 They would apparently look into the specific issue a user may be having and provide a custom fix if necessary. Technical support could connect to the user's computer and fix the problem themselves. This is a rather convenient feature, particularity to those users who have little experience with computers. And these custom fixes are included in the initial subscription price so that's a plus.
Network and DNS settings
If you open Settings and go to Network, you will notice that it allows you to secure incoming and outgoing Internet traffic. And if you go to the DNS tab, you can also customize your DNS settings. SpyHunter 5 would also notify you if there are any unauthorized changes. These settings are for more advanced users, so if you do not have a clear understanding of what they do, it's better to just avoid those sections.

System Requirements
The file size is only 96.3 MB, and the program is available for all versions of Microsoft Windows:
Microsoft Windows (32-bit)
Microsoft Windows Vista (32-bit and 64-bit)
Microsoft Windows 7 (32-bit and 64-bit)
Microsoft Windows 8, Windows 8.1 and Windows 8 Pro (32-bit and 64-bit)
Microsoft Windows 10 (32-bit and 64-bit)
Minimum Hardware Requirements:
1 GHz CPU or faster
1 GB of RAM or more
200 MB of available hard disk space or more
Spyhunter 5 Conclusion
While it does not provide features we have not seen in other anti-malware programs, SpyHunter 5 is a great security tool. It allows users to customize various options, and does not put a noticeable strain on the system. The scan engine detects all kinds of malware on a computer, from adware to ransomware, as well as unusual behavior. The program's Customer Support offers customized solutions to malware problems that SpyHunter 5 cannot fix for one reason or another. The interface has not changed much from the previous version but that's not a problem as there is no need to fix something that is not broken. The program is easy to navigate, which means that SpyHunter is suitable for both regular users and professionals. And if something is not clear, there's always technical support that is included in the subscription price. Overall, SpyHunter 5 is a recommended program, and is completely safe to use.