With malware threats lurking on every corner of the Internet, having anti-malware protection is essential. But considering the number of security programs available, choosing the one that best suit ones' needs can seem impossible. For the purpose of helping users pick the best available protection, we have prepared an evaluation of two anti-malware tools, SpyWarrior and Malwarebytes. This report will discuss some of the most important aspects of an anti-malware program, including protection against malware features, impact on system performance, design and interface, as well as price.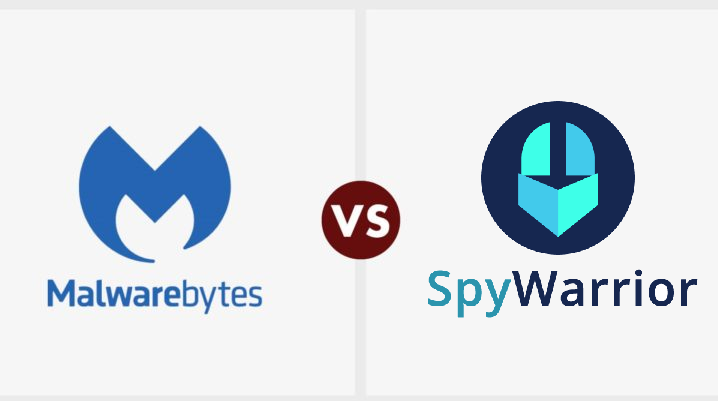 Hopefully, it will be of use to users looking for a new anti-malware program.
SpyWarrior
SpyWarrior is an anti-malware program developed by Lithuania company Kibernetinio Saugumo Sistemos. It's a very new program but it has already proven to be an equal player in this field. It protects computers from adware, browser hijackers, spyware, trojans, viruses, malicious toolbars, keyloggers, ransomware, and other malware.
Protection against malware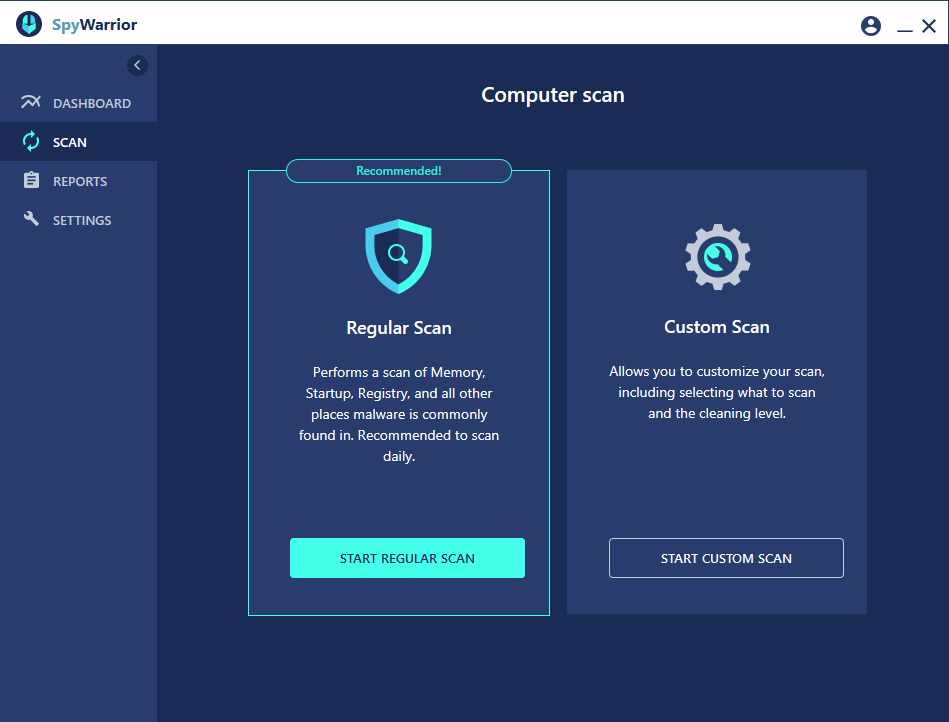 An anti-virus program's ability to deal with malware is its most important feature. SpyWarrior's extensive threat database allows it to detect a wide range of malicious infections. During tests, it had no trouble detecting infections like adware, hijackers, trojans, keyloggers, and other malware. One noteworthy feature is anti-ransomware protection. The feature allows SpyWarrior to instantly detect suspicious processes that attempt to encrypt users' files, stopping ransomware in its tracks.
The program is also particularly effective against often-overlooked threats like adware, browser hijackers, and potentially unwanted programs. While they're not serious infections, they are very annoying, and it's great that SpyWarrior can effectively get rid of them.
It should be noted that currently, SpyWarrior is only available for Windows computers.
Impact on system performance
Anti-virus processes use a significant amount of system resources, and this can sometimes result in some negative impact on the system. That could mean slowdowns and/or interruption. SpyWarrior isn't a particularly heavy program and does not appear to hog system resources. It may cause slight disruption when it launches or does a whole system scan but the negative impact is very short-term. Overall, there should be very little interruption.
SpyWarrior has a fairly typical design for an anti-virus program. It looks modern, clean, and easy to use. The interface is quite simple and user-friendly, both of which are very important aspects of such a program. All features are sectioned, and the program is easy to navigate. Launching a scan is simple, turning features on/off can be done via the Settings tab, and detected issues are explained. For users who may struggle setting up an account, purchasing a license, and/or using the program, there are detailed instructions provided on the official website with links to them in the program.
SpyWarrior's free version only allows users to scan the computer for threats. To remove whatever is detected, users need to either activate the free trial or purchase a license. There is a 1-month plan for €10/month, a 1-year plan for €59/year, and a 2-year plan for €79. With all plans, users can use SpyWarrior on up to 5 devices. As usual, subscriptions renew automatically so users need to cancel before they're charged again if they no longer want to use the program.
Overall, SpyWarrior is an excellent anti-virus program. Despite being one of the newest anti-virus programs to be released, it's fully capable of providing protection. It's a lightweight, easy-to-use security program with a clean, modern design. While it may lack some additional features other ant-virus programs have, it's likely only a matter of time until SpyWarrior starts offering more than just protection against malware. SpyWarrior is a great choice for everyday computer protection.
Malwarebytes
Developed by American Internet security company Malwarebytes Inc., Malwarebytes is an anti-malware program. The program was initially released in 2006 and has since been developed into one of the best security programs in the business.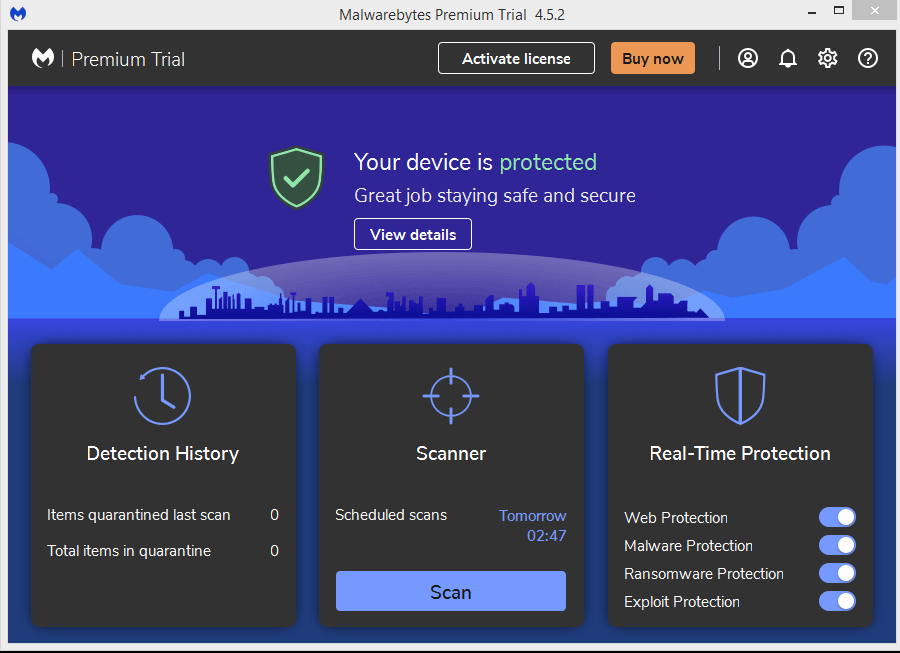 Protection against malware
Considering that Malwarebytes is often included in the lists of top anti-virus software, it's certainly more than capable of providing protection against malicious threats. During tests, it was able to detect all kinds of malicious threats, including trojans, spyware, keyloggers, rootkits, ransomware, and more. That's not surprising considering that Malwarebytes has a huge malware threat database. The ransomware protection feature is also great as it's able to stop file-encrypting malware in its tracks. And the web protection feature will warn users about unsafe sites.
One gripe we have about Malwarebytes is its tendency to detect safe programs as potentially unwanted. While these detections are not automatically removed, users may accidentally uninstall perfectly safe programs.
Impact on system performance
Compared to other anti-virus programs, Malwarebytes can feel a little heavy on the system. When it's not actively scanning the device, no negative effect will be noticeable. However, it can consume quite a lot of resources when doing a scan. But it's certainly nothing major, and whether that actually interrupts normal computer use depends on users themselves and their device capabilities.
Malwarebytes has a pretty simple interface which makes the program easy to use. Launching a scan and turning features on/off can be done directly from the dashboard. Accessing and changing settings is also quite easy. The user-friendly interface will allow users of all skill levels to use the program so Malwarebytes is perfect for users who do not want anything overly complicated.
Design-wise Malwarebytes is clean. It even allows users to customize the program to some extent, as users can choose between a light and a dark theme, as well as change the background. While it's nothing major, some users will certainly appreciate the option.
For home users, Malwarebytes offers two plans that differ to some extent. The base features are the same but the more pricey plan offers a bit more. The Malwarebytes Premium plan is €39.99/year for 1 device, and €79.99/year for 5 devices. It provides protection against malware, as well as offers ad-blocking features. The Premium + Privacy plan is €84.99/year for 5 devices. In addition to protection against malware and ad-blocking features, this plan also offers an unlimited VPN. As usual, subscriptions renew automatically so users need to cancel before they're charged again if they no longer want to use the program.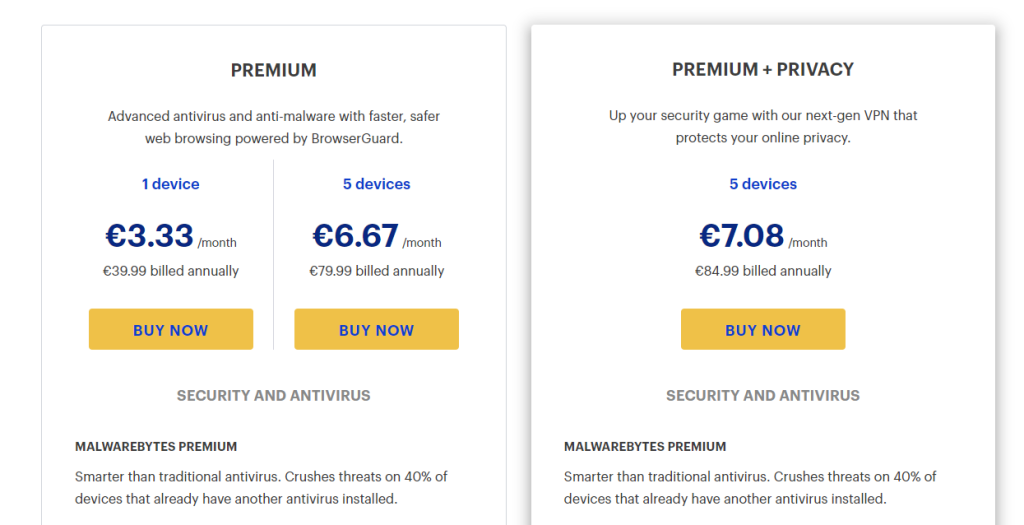 Malwarebytes certainly lives up to its great reputation. It's a reputable anti-virus program that can protect computers from a wide range of threats, as well as keep users safe when they're browsing. It's an easy-to-use program with a customizable design. While a little heavy on the system, it's nothing particularly serious or very noticeable. Overall, Malwarebytes offers great protection for an affordable price.
FINAL VERDICT
 Overall, SpyWarrior may be a better option for users looking to protect their computers from malware threats. It outperformed Malwarebytes in ransomware detection especially, detecting 50 out of 50 ransomware threats against Malwarebytes' 46 out of 50. Price-wise, SpyWarrior is also the cheaper option for 5 licenses.