Why you need to download WiperSoft?
Staying safe online and making sure that you do not have any unwanted applications on your computer slowing it down or lowering your online security is (or at least should be) a concern for all computer users. With the growing number of Internet-based infections, simple tips like avoiding suspicious sites, not clicking on unknown links or ads, downloading software only from reliable sources, and even having a reputable anti-malware utility installed and up-to-date may still not be enough to safeguard your PC. If you are looking for an additional layer of security and an easy way to remove all possible threats that may already be residing in your system, we suggest checking out WiperSoft.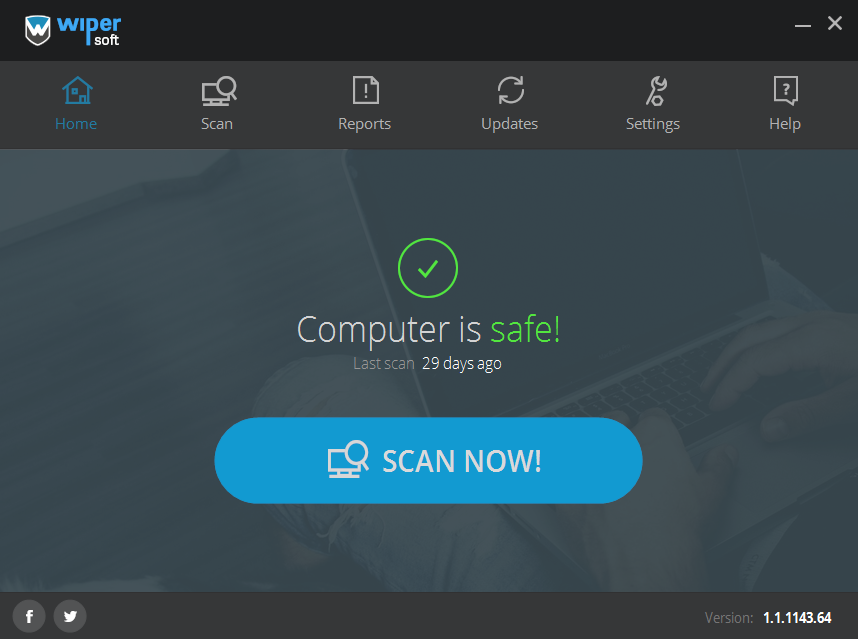 WiperSoft is a real-time anti-spyware application that first appeared in 2015. It was developed by WiperSoft LLC and designed to help users keep their systems protected from various threats including adware, browser hijackers, potentially unwanted programs, useless toolbars, and worms. WiperSoft is available in a number of languages including English, Spanish, Russian, German, French, Italian, and others. It is compatible with all versions of Microsoft Windows starting with Windows XP. It was tested by Softpedia and is 100% clean. The application is used worldwide in over 100 countries by more than 1 million users.
Here are some of the most valuable features of the security tool:
User interface
Wipersoft has a user-friendly interface, which makes it easy to navigate even for novice users. It is also easy to download, install, and register. The intuitive layout includes such buttons as Home, Scan, Reports, Update, Settings, and Help.
System scan
One of the main features of the security application is its scanner. As WiperSoft is a lightweight program and does not use up much CPU resources, the scans are fast and they do not slow down your system. In addition to the traditional scanning, WiperSoft also uses heuristic monitoring to spot zero-day malware. The application has a high detection ratio, allowing it to find adware, hijackers, unwanted toolbars, junk apps, and more. As an extra measure of security, Wipersoft sends suspicious files to their company servers for further analysis.
Removal
The anti-spyware tool detects even the smallest threats and eliminates them completely, so that the user is sure that nothing gets left behind. It also provides users with the option of a custom fix. If, for some reason, the tool cannot terminate the threat immediately, the technical support team will present you with a solution to your specific issue. For other questions, you can also contact the free helpdesk via email or on the official page of the utility: www.wipersoft.com/contact-us/
Updates
Another important aspect of any anti-spyware nowadays is database updates. WiperSoft regularly updates its database, which allows it to detect even the newest parasites that could go undetected by other security apps. It also allows the user to stay one step ahead of the latest inventions of cyber crooks.
Potentially unwanted programs
WiperSoft puts a special focus on potentially unwanted programs including browser hijackers and adware. Although these may not be the most dangerous threats, they are certainly bothersome. Moreover, they could lead to more serious infections like malware, ransomware, crypto-currency miners, and others. Potentially unwanted apps often enter computers unnoticed by users via bundled freeware and shareware. They are presented as additional offers in free software wizards and are usually promoted as useful programs that can improve your online surfing or optimize your computer. Once installed, the apps are starting to cause various troubles including slowing down your system, interrupting your browsing, exposing you to unreliable or even harmful content online, modifying your settings without your permission, and more. In some cases, the apps are not detected by antivirus, so they continue to reside in the system posing a potential risk. WiperSoft eliminates these unwanted apps with ease making your Web browsing and PC functioning much safer and smoother in the process.
WiperSoft Download
WiperSoft has an official webpage (www.wipersoft.com), where you can download the security tool. You can also acquire it on some third-party software hosting sites, although it is always best to get software from its official page. There are two versions of the utility available online: the free and the paid version. The free version comes with the system scan and the spyware detection feature. In addition to that, the paid version also includes spyware, adware, and other threat removal feature, free helpdesk services, and the free custom fix feature. Both versions of the utility guarantee user privacy. If you are a new user, you can also try the free WiperSoft trial. The free trial allows you to clean your PC from all threats detected by the utility one time. There is, however, a 48-hour wait for the trial to become active after the request. You can request the trial within the application after it completes the system can. First, you will have to click on the "Remove threats" button, which will lead you to the "Register for full version of WiperSoft" tab. On it, you can click on the "Get Free Trial" button for the trial or the "Register" button to purchase the product.
WiperSoft LLC may be a relatively young company, however, WiperSoft has proven to be a successfully operating utility that safeguards systems all over the world. It eliminates the latest and smallest threats, provides users with custom solutions, and guarantees your privacy.
Links to download and purchase WiperSoft: