There is no doubt that Internet can be a dangerous place for computer users, especially if they visit unreliable websites or download software from unofficial sources. Cyber criminals use various tricks to distribute their "products" including sending out spam emails with malicious attachments, creating fake adverts that lead to corrupted pages, and more. Unfortunately, nowadays even social networking websites can be the reason you end up with a potentially unwanted or a harmful program.
Here is an example of facebook virus – video nutella + bit.ly links that lead to a buzz video:
One of the scams that are used by cyber crooks in order to add a malicious extension to your Internet browser involves Facebook, a popular online service with over a billion of active users. The way the scam works is actually rather simple. It starts with a post from a friend containing a link to a video. The title of the video is usually something relevant at the time or shocking in some way. This is understandable since the point of the post is to interest users enough for them to click on the link. If they do, they get rerouted to a website that contains the video, however, in order to watch it, they need to install a browser extension.
Another example of facebook scam here:
That is where the trouble begins. If users agree to installing the suspicious extension, they start propagating the spam themselves. The posts are added to their Facebook page without their knowledge and they contain the same scam. The developers of this scam make money every time someone clicks on the link to view the video because of the ads that are shown on the page to which they get rerouted. Needless to say, if you have fallen for this trick, you need to get rid of the so-called Facebook virus as soon as possible.
A fake message on facebook that prompts download the divx codec to view the video: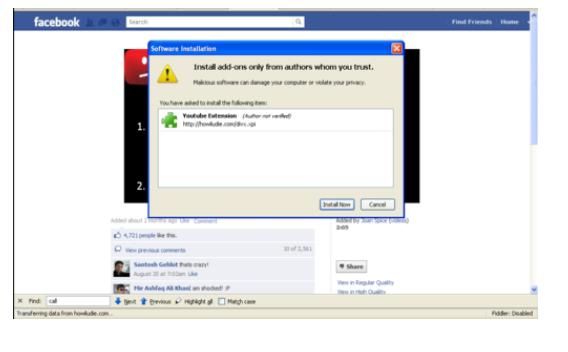 Firefox extension on facebook:

How to remove Facebook scam/virus from computer?
Luckily, it is not that difficult to remove the unwanted extension from your browser.If you are using Mozilla Firefox, all you need to do is Click on the menu, select Add-ons and go to Extensions section. Google Chrome users, on the other hand, should open their browser menu and choose More tools → Extensions. As for Internet Explorer users, you should simply click on the Gear icon and select Manage add-ons → Toolbars and Extensions. Once you open the list of browser extensions, look for suspicious entries and eliminate them. In case you are not sure which extension is the malicious one, you can try disabling it at first, and if that stops the unwanted posts, remove it altogether.
How to prevent such kind of spam?
It is important to be attentive while surfing the Web, even if you only visit legitimate pages. You should be especially careful with any software or files that you download. It also never hurts to have a powerful anti-malware tool installed. The malware prevention and removal utilities can help you keep your PC protected from various online parasites. They can also help you clean your system in case it has already been infected.