Spyhunter 4 is an adaptive malware detection and removal tool. It has a variety of useful features that will help you clean your PC and keep it safe and protected from various Internet-based parasites. The security tool has a user-friendly interface, which means that even inexperienced computer users will have to difficulties completing various tasks with it. At the moment, Spyhunter has two different versions – Spyhunter Free and Spyhunter Registered version.
The free version of the utility provides a powerful scanner that allows you to check the status of your system. Spyhunter Registered version, on the other hand, includes multiple features including System Guards, Network Sentry, Spyware HelpDesk, and more. Below you will find a more detailed description of these beneficial features, which should help you decide whether you want to download Spyhunter onto your PC.
Spyhunter 4 Scanner
Scanner comprehensively scans your computer's files, registry, cookies, and memory. It shows you the list of all potentially harmful files, once the scan is complete. You can view detailed information about these threats or you can delete them by clicking on "Start Remove". Another useful aspect of the scanner is that it allows you to choose specific sections on your computer, so you do not have to perform the full scan every time.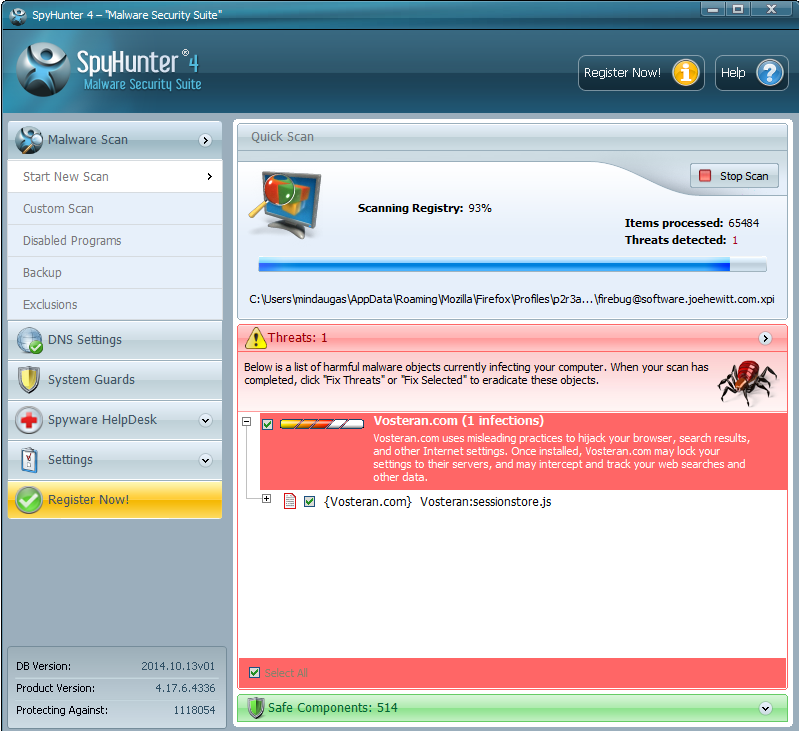 Spyhunter System Guards
System Guards includes such protection components as Active X control, Process control and Registry protection and uses them to fully protect your system from malware, Trojans, rootkits, adware, rogue anti-spyware, and other potentially unwanted and malicious programs. It blocks all unauthorized processes in order to stop malware from infecting your PC. It also allows you to monitor and control all system processes and make decisions on how the utility should deal with them.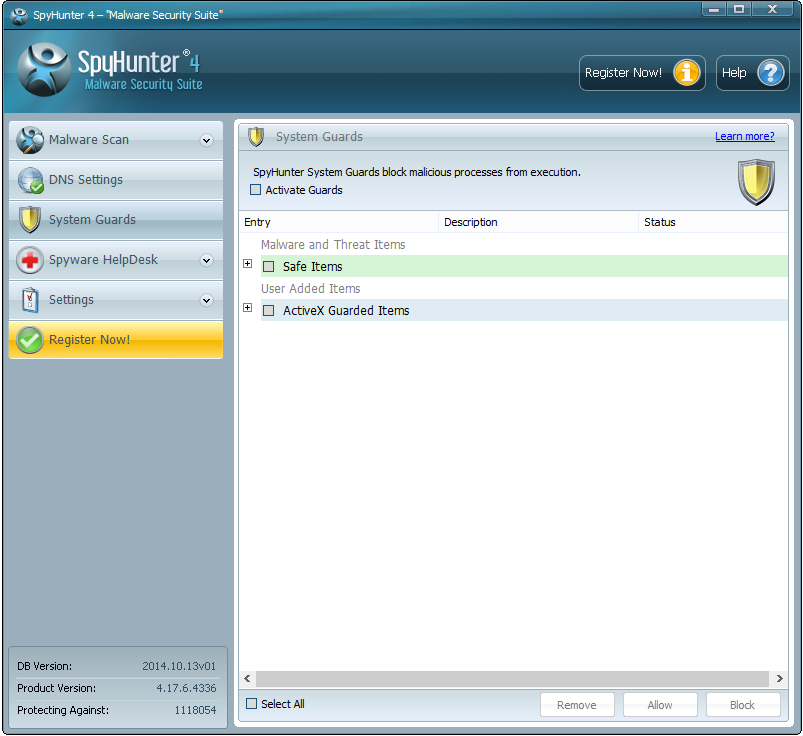 Network Sentry by Spyhunter
Network Sentry is a yet another important feature, which provides you with full control over your network settings and prevents malicious attacks on your Internet connection. This feature also protects your hosts file as well as other Windows system files from being modified by malign applications.

Spyware Helpdesk
Spyware HelpDesk is one of the most important Spyhunter features. With its help you can connect to computer experts that will help you remove all issues, which could not be removed automatically. The HelpDesk has two services: the Custom Fix System, which allows technicians to create a custom malware fix and terminate the specific infection, and the Spyhunter Support Ticket System, which brings your requests, comments, or questions directly to the tech support team.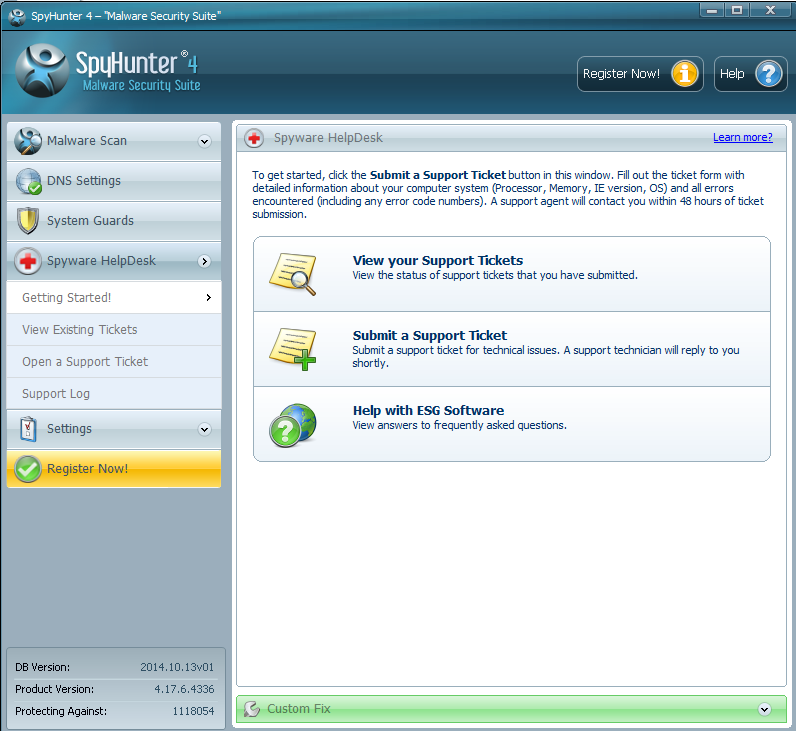 Spyhunter comes with a variety of other useful features including Scan Scheduler, Exclusions, BackUp, and more. Some of the other features may be especially relevant to more experienced computer users. In general, it must be stated that Spyhunter-4 is one of the leaders in today's market of anti-malware tools. It has been mentioned in such respectable sources as Forbes, CNBC, CNN.com, and others. The security program has been tested and validated by West Coast Labs and secured and encrypted by GeoTrust. You can download Spyhunter from our page and start taking advantage of its benefits right away.
Works with: Windows XP (32-bit)(SP2), Windows Vista (32-bit and 64-bit), Windows 7 (32-bit and 64-bit), Windows 8 (32-bit and 64-bit)
Spyhunter 4 Malware Removal Tool – Download Spyhunter