Are you trying to choose the best VPN option for your browser in 2023? If so, you've come to the right place. It's commendable that you're worried about your privacy enough to search for ways to make browsing more secure. But you are likely finding it difficult to make a decision because of the number of options available.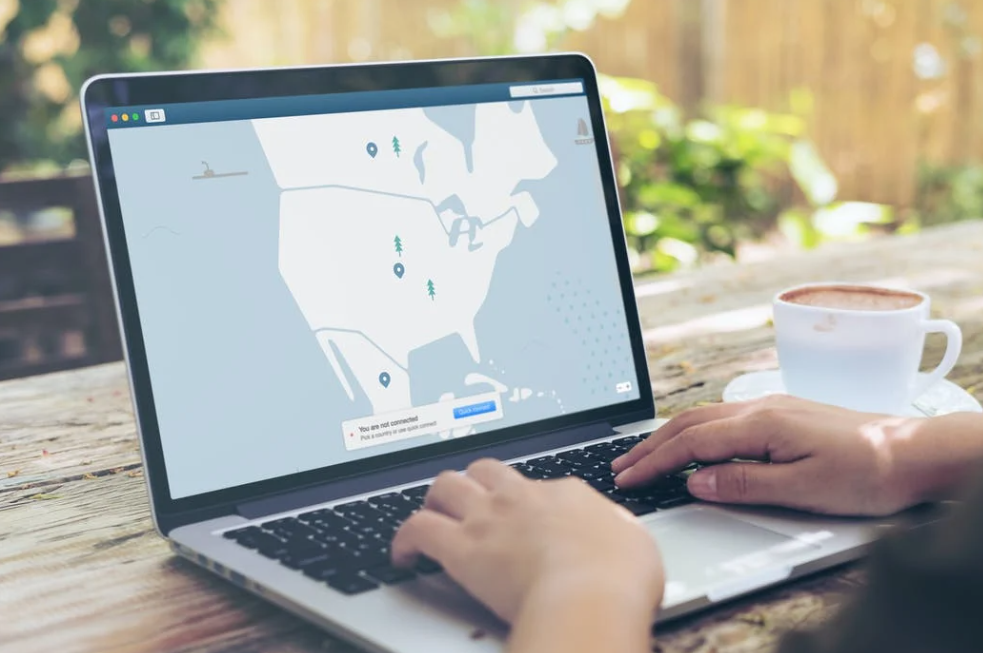 There are many important things to consider when choosing a virtual private network (VPN) option. Whether browsing logs are kept, general privacy policy, how many servers/locations you get access to, extra security features, etc. You also need to consider whether you need a VPN browser extension or a browser with a built-in VPN. Both options are great for users who are simply looking to browse more privately.
This report is meant to help you decide between VPN extensions and browsers with built-in VPNs. We provide you with the best options for both, which will hopefully make your decision easier.
Best VPN extensions to use in 2023
The list contains the best VPN browser extensions that provide more security and privacy when browsing. All VPNs in this list are safe to use.
NordVPN
Developed by cybersecurity company Nord Security, NordVPN is one of the best VPN services. It's constantly at the top of lists of best VPNs for a reason. NordVPN's browser extension encrypts your traffic, hides your IP address by replacing it with one of its thousands of servers, and blocks ads. The extension also includes an option that disables WebRTC, a protocol that could expose your actual IP address. It also unblocks geo-blocked streaming services like Netflix, Hulu, Disney+, etc.
It's fairly easy to use, and you can just click "Auto connect" when you open your browser. It will connect to the best available server and you won't have to choose it yourself. Using the extension does not impact speed so you should not notice any slowdowns.
Unfortunately, the NordVPN browser extension does not come separate from the app. In order to use it, you'd have to buy a subscription for the full program. NordVPN currently costs $11.99/month, $59.88/year ($4.99/month), or $95.76/two years ($3.99/month). There is a 30-day money-back guarantee if you're not happy with the services. But it does not appear that there is a free trial.
Pros:
Very fast.
WebRTC protection and no-logs policy.
Easy to use.
Cons:
You cannot choose a specific server.
The browser extension is not free.
Surfshark
Surfshark is operated by a company going by the same name, a subsidiary of Nord Security. Since its release in 2018, Surfshark has gained a reputation for being one of the best VPNs available. Surfshark's browser extension offers access to more than 1,700 servers in 60+ countries. It encrypts your browsing data, hides your IP, prevents data collection and tracking, and even unblocks geo-restricted content. The WebRTC protection feature prevents your IP address from leaking, while the kill switch will stop your data from leaking if your connection to the VPN is dropped for some reason. It also keeps no logs of your activities, so you can enjoy completely anonymous browsing.
When connected via the VPN, you should not notice any slowdowns because Surfshark has great speeds. Operating the extension is also pretty easy as the interface is not cluttered with extra features.
Like NordVPN, Surfshark's browser extension is not free. It currently costs $12.95/month, $47.88/year ($3.99/month), or $59.76/2 years ($2.49/month). You can use the 30-day money-back guarantee to get your money back if you're not satisfied with the program. There's also a 7-day free trial.
Pros:
Fast.
Unlimited connections.
WebRTC protection and no-logs policy.
Free trial.
Cons:
The browser extension is not free.
Cyberghost
Owned by software provider Kape Technologies, Cyberghost offers a free browser extension. Adding Cyberghost to your browser will allow you to browse anonymously because the extension will encrypt your traffic, and hide your IP address. The free Cyberghost browser extension does not limit traffic but it does limit server access. You only get access to 4 locations for free but you also do not need to worry about data allowance. Cyberghost has a strict no-logs policy so none of your data will be logged. However, the free Cyberghost extension does not have WebRTC protection, which could lead to your IP address being leaked.
The free version allows you to connect to servers in four countries only (the United States, Romania, the Netherlands, and Germany). You also cannot choose the server. Furthermore, it's unlikely that you'd be successful in unblocking streaming services with the free version. But considering that it's free, Cyberghost is still a great extension.
If you want to get more features, access to more servers, etc., consider buying Cyberghost's premium version. It costs $12.99/month, $51.48/year ($4.29), $78/two years ($3.25/month), or $89.31/three years plus 3 months ($2.29/month). You can refund the purchase within 45 days if you're not happy with the program.
Pros:
Free but ensures privacy and anonymity when browsing.
Fast.
Cons:
No WebRTC protection in the free version.
You cannot choose servers.
Browsers with built-in VPNs to use in 2023
You also have the option to use a browser with a built-in VPN of a sort. Browsers with built-in VPNs are a good option if you do not want to download an additional program. It may also be a better option for less tech-savvy users who want to browse more privately but find operating VPN programs to be too complex. Though it should be said that browser VPNs can't be compared to premium VPNs like NordVPN. You shouldn't expect to get access to thousands of servers, unblocked streaming services, or amazing speeds, but browsers with built-in VPNs do provide much more privacy than you would normally get while using regular browsers.
Epic browser in 2023
Developed by software company Hidden Reflex, Epic is a browser created using the Chromium source code. It was initially released in 2013 and has since become very popular among users because it's usually advertised as a privacy-oriented browser. Not only does it have a no-logs policy, and block ads/trackers, but is also free. It also comes with many features that make browsing a much more private experience.
Epic browser clears all browsing data (cookies, history, web cache, etc.) when closed, so it's like browsing in incognito mode at all times. It also blocks tracking cookies and scripts, cryptocurrency mining scripts (e.g. Coinhive), third-party widgets, etc. It also blocks all websites from tracking you, stops your IP address from leaking, and most importantly, hides your browsing from all data collectors.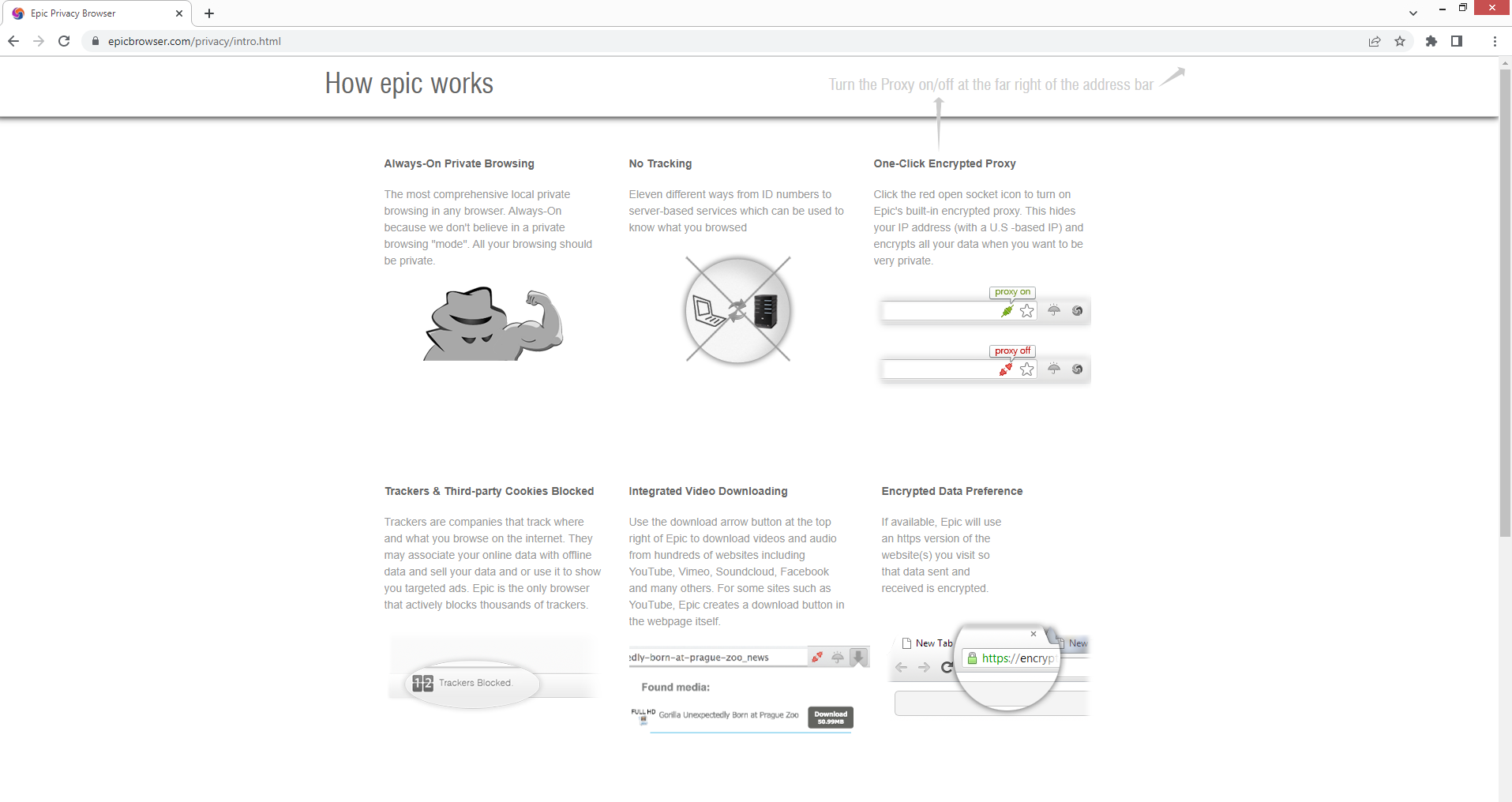 One of Epic browser's most important features is the "One-Click Encrypted Proxy". When it's enabled, it hides your IP address and encrypts your traffic. This means that your internet service provider (ISP), employer, or any other entity that collects data will not be able to see what you're doing. The proxy is easily enabled by simply toggling on a switch so even if you're very much not a tech-savvy person, you will be able to do it without issues.
Epic browser is also an open-source project, which essentially means that anyone can audit its code, though you'd need to contact them to get access.
Epic browser does have some premium features but all of its main features are free. And while it's not more secure than a premium VPN, the Epic browser is a great choice for users looking to make their browsing more private.
Avast Secure Browser in 2023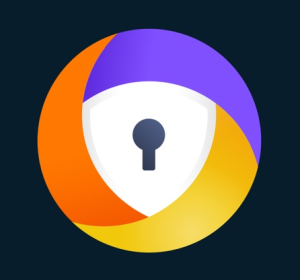 Avast Secure Browser is a Chromium-based open-source web browser developed by anti-virus vendor Avast Software. Avast antivirus software is one of the most reliable security programs, so when using Avast Secure Browser, you can be sure that the company will protect your privacy.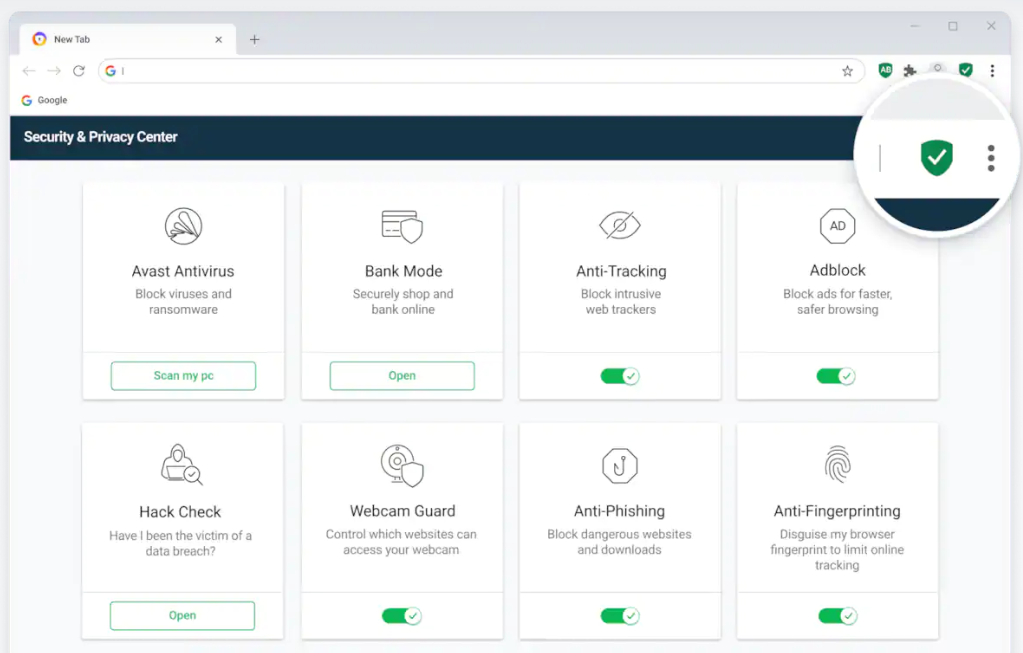 Avast Secure Browser allows you to browse more privately by preventing third parties from tracking you, blocking attempts to identify you based on your unique browser profile, and blocking intrusive ads. However, traffic encryption and access to worldwide locations are paid features. The current prices are $5.99/month, $49.99/year ($4.17/month), or $69.99/two years ($2.92/month). Premium features allow you to browse anonymously because your online traffic would be encrypted, preventing your ISP and other data collectors from being able to see what you're doing. While it's not free, the Avast Secure Browser is more affordable than buying a VPN program. If you do not want to invest in a VPN, the Avast Secure Browser is a good alternative.
Opera browser in 2023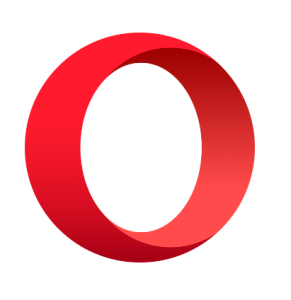 Chromium-based web browser Opera is operated by the Norwegian company Opera. Opera has been around for almost three decades and has earned the reputation of a trustworthy browser. It may not be as popular nowadays as it was in the past but it's still a very good product.
The Opera browser comes bundled with all kinds of built-in features so installing anything additionally is not necessary. All features are also free and require no additional registration.
Opera doesn't have the same capabilities as premium VPNs but it does protect your privacy and hide your browsing activities from data collectors, your ISP, etc. It only allows you to choose from three approximate locations (North/South America, Europe, and Asia) and then automatically chooses a location for you. If you need a VPN for unblocking streaming services, it's not an ideal choice, but for privacy, Opera is great.
Opera has pretty good speeds for this type of tool (around 30Mbps) but you shouldn't expect it to reach the speeds of premium VPNs (300+Mbsp). It's still a free web browser, not a full-on VPN.