If you use torrents, it's important that you conceal your IP address with a VPN. This is especially important if you download copyrighted content, which is technically illegal and authorities do take action sometimes. Below, you will find the 3 best VPNs for torrenting safely in 2023
Why VPNs are necessary when using torrents
Users torrent all kinds of things, though in most cases, it's copyrighted content. A lot of users download movies, TV series, video games, ebooks, etc., for free using torrents. This is technically content theft and is illegal. In some countries, authorities track down those who pirate copyrighted content and fine them. Authorities can easily access users' IP addresses so users are trackable. It's pretty rare for authorities to do that, however. We do not encourage users to pirate copyrighted content because it is theft but if you were to do it, using a VPN to conceal your IP address would be beneficial.
Even if you're not downloading copyrighted content via torrents, you should still use a VPN to conceal your IP address. There is no reason why it should be left exposed for anyone to see.
How to choose the best VPN for torrenting
If you're looking for a VPN specifically because you intend to torrent, there are some things you should pay specific attention to. That includes specialized P2P servers, protection against malware, an integrated kill switch, a strict no-logs policy, tunneling protocols, speed, and encryption. The majority of popular VPNs have all those features so there are plenty of options. In this report, we've highlighted 3 of the best VPNs that you can use for torrenting in 2023.
Top 3 VPNs for torrenting in 2023
NordVPN
Not only for torrenting, NordVPN is often considered to be the best VPN currently in the market. It will protect your traffic by encrypting it with AES-256 encryption, making your traffic essentially unreadable to anyone, including your Internet Service Provider (ISP) and even malicious parties. NordVPN does not keep any logs of your online activities, so not even NordVPN will keep track of what you do online.
NordVPN has 5,800+ servers in 60 countries. A large server network means users will be distributed throughout the servers more evenly, reducing server congestion. NordVPN servers are optimized for P2P so you will have a lot of options for torrenting. NordVPN uses its custom NordLynx tunneling protocol, which is very fast. There's no noticeable dip in Internet speed if you normally have good speeds, so you will be able to torrent with no issues.
NordVPN also comes with an integrated kill switch that disconnects users from the Internet if their connection to the VPN is dropped. This prevents users' IP addresses from leaking because otherwise, they would become visible if they were connected to the Internet when the VPN connection is dropped. If this, for example, were to happen when you are torrenting, your IP address would become visible and you would be trackable. But when connected to NordVPN, you would be disconnected from the Internet immediately to prevent the IP address from leaking. What's more, NordVPN also has a Threat Protection feature that guards your devices from malware. This feature is very important because torrents are known to contain a lot of malware.
You can get a NordVPN subscription for as little as $3.19/month. One subscription allows up to 6 simultaneous connections.
Surfshark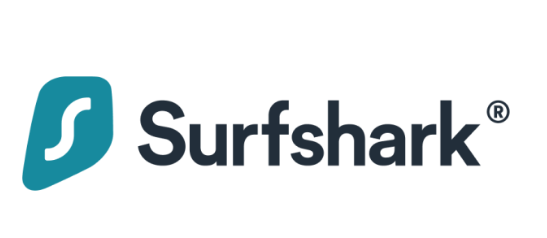 Surfshark is known as one of the most affordable VPNs that comes with all the necessary features. Despite being very budget-friendly, it's very useful for torrenting. It encrypts traffic using military-grade AES-256 encryption and conceals it from all parties, including the ISP. Surfshark also keeps no logs of users' online activities, which means browsing will be completely anonymous.
Surfshark has 3,200+ servers in 100 countries, and they all support torrenting, making Surfshak particularly suitable for torrenting. Surfshark also has great speeds, with only around a 15% decrease in Internet speed when connected to a VPN. This is not very noticeable unless you have slow Internet in general.
The VPN also comes with a kill switch to protect your IP address from leaking. Surfshark will also give you the CleanWeb feature that will protect you from malware and block ads when you're torrenting or browsing.
Surfshark plans start at $2.30/month, which is very affordable. And it's noteworthy that Surfshark does not limit the number of simultaneous connections.
ExpressVPN
ExpressVPN is another great torrenting VPN. It's on the more expensive side when it comes to VPNs, but all the premium features make it worth it. It uses standard military-grade AES-256 encryption to conceal your traffic and keeps no logs of your online activities, allowing you to be anonymous when online.
ExpressVPN has 3,000+ servers in 94 countries. All servers support torrenting so you will have no issues finding a suitable server. ExpressVPN also has great speeds, which is important for torrenting. You do not want to be stuck downloading a gigabyte for 5 hours. You should notice only a slight decrease in speed unless you generally have slow Internet. And ExpressVPN's integrated kill switch will protect your IP address from leaking if you get disconnected from the VPN while torrenting.
ExpressVPN is a bit more expensive than other VPNs on the list, with subscriptions starting at $8.32/month.