NordVPN can unblock Netflix in 2023. Even if Netflix is cracking down on VPN usage, NordVPN is still an excellent tool that will give you access to content that would normally not be available to you because of your location.
All Netflix users are aware of the fact that the content they can watch depends on where they are located. Users in countries like the US and Canada have significantly more movies and TV series in their libraries than users in European or Asian countries, for example. Netflix does not have full control over this because it has to do with licensing agreements. Nonetheless, users are understandably annoyed about the fact that they pay for a service but do not receive all the content. Thus, they often turn to VPNs, tools that allow users to spoof their locations and appear anywhere in the world.
NordVPN is one of the VPNs that is often recommended for users who want to stream Netflix. In addition to having all the necessary security features, NordVPN has a wide network of servers and is very fast, which means no buffering when trying to watch something.
How to use NordVPN with Netflix
Setting up NordVPN is easy, and it's even easier to use it with Netflix. If you need assistance, use the below instructions:
Download NordVPN from the official website and install it.
Open NordVPN, create an account and buy a subscription if necessary.
Connect to a server of your choice.
Enjoy that country's now unblocked Netflix library.
Does NordVPN unblock Netflix's US library?
NordVPN can unblock a lot of Netflix libraries, including the US, the UK, Japan, Australia, and Canada libraries. The US Netflix library is likely the most popular one because it has the largest selection of titles. And NordVPN is able to unblock it with ease.
NordVPN Netflix not working?
It's not uncommon to encounter errors when trying to stream Netflix with a VPN. The streaming service does not like users using VPNs when using their services. If they detect VPN usage, they block the user from using its service until they turn off the VPN. This can result in the following errors: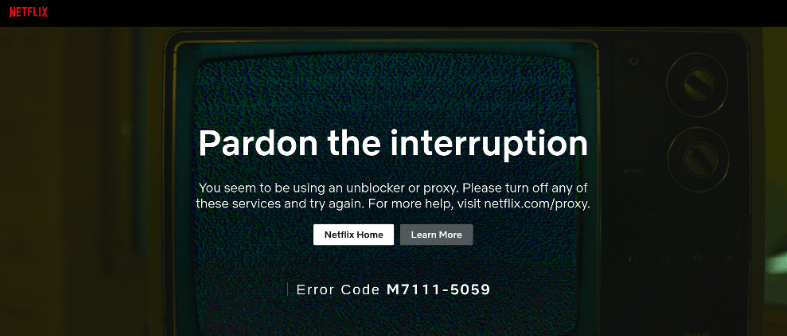 "Oops, something went wrong… Streaming Error. You seem to be using an unblocker or proxy. Please turn off any of these services and try again."

"You seem to be using an unblocker or proxy. Please turn off any of these services and try again. Error Code M7111-5059."
If you've encountered them when using NordVPN to stream Netflix, there are several things you can do to fix the errors.
Clear your browser's cookies/cache
If your issue is that you are seeing your local content despite being connected to a VPN, you likely simply need to clear your browser's cookies/cache. Websites can get your location from the information stored in your browser so if you delete the information, NordVPN should start working with Netflix.
If you don't know how to clear your cookies, use these instructions:
Clear cookies on Google Chrome:
Google Chrome -> Menu (three dots in the top right corner) -> More Tools -> Clear browsing data.
Tick the boxes that say "Cookies and other site data" and "Cached images and files".
Select "All time" from the drop-down Time range menu.
Click Clear data.
Clear cookies on Mozilla Firefox:
Mozilla Firefox -> Menu (the three bars in the top right corner) -> Settings -> Privacy and Security.
Cookies and Site data -> Clear Data.
Select what you want to delete and click Clear now.
Clear cookies on Safari:
Safari -> Preferences -> Privacy -> Manage Website Data.
Click Remove all to delete all cookies.
Click Done.
Clear cookies on Microsoft Edge:
Microsoft Edge -> Menu (the three dots on the top right corner) -> Cookies and site permissions ->Manage and delete cookies and site data.
Click See all cookies and site data.
Click Remove all.
If you're always getting the Error Code M7111-5059 when trying to stream Netflix, simply switching to a different server in the same country may fix it. NordVPN has a significant network of servers so you should have no issues finding a server that works.
Switch tunneling protocols
Another solution may be to switch tunneling protocols. NordVPN allows you to choose which protocol you want to use, and switching to a different one may make Netflix work.
Use a dedicated IP address
When you connect to a VPN server, you share the same IP address as all other users connected to the same server. This is not great for streaming because when a lot of users have the same IP address, Netflix immediately identifies that the IP address belongs to a VPN.
Some VPNs like NordVPN offer a dedicated IP address feature for an extra price. When you use a dedicated IP address, the IP address will only belong to you. This would be ideal for streaming.
NordVPN's customer support will know best how to help you so we recommend you contact them if you cannot access Netflix when connected to NordVPN.