What is "FBI CRIMINAL INVESTIGATION" scam
"FBI CRIMINAL INVESTIGATION" scam refers to an old scam that claims the affected computer has been blocked because of US law violations. FBI scams aren't exactly anything new or particularly interesting, they have been around for many years, falsely accusing users of crimes and threatening with jail time. This particular "FBI CRIMINAL INVESTIGATION" scam claims that your "device is locked due to violations of the federal laws of the United States of America". The crimes of which you are accused of by this scam are: watching "child pornography, zoophilia pornography, child abuse", as well as performing bulk-spamming. The scam demands that you pay a fine for the charges to be dropped, as otherwise an arrest warrant would be issued.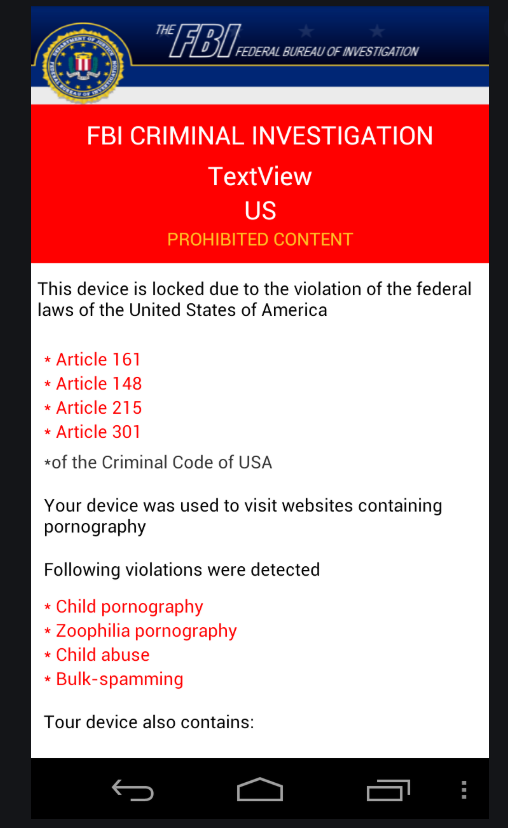 Even if users hadn't encountered such a scam before, there's little chance anyone would fall for this. The contents make no sense and the text is full of grammar and spelling errors, making it clear that you are dealing with an FBI scam. It goes without saying that the actual FBI has nothing to do with this.
There could be two possible reasons why you may be seeing the scam. Either you were visiting a high-risk website when the redirect happened, or your computer is infected with adware. If it's the latter, you'll need to get rid of it to delete "FBI CRIMINAL INVESTIGATION" scam.
Adware is often behind such scams
Certain websites use very low-quality advertisements to generate revenue, and they're usually considered to be high-risk. Commonly, it's pornography sites, pages hosting pirated content, etc., that have questionable ads and could trigger a redirect. If you can recall being on such a site when you got redirected, you likely have nothing to worry about. Though you should have adblocker enabled to prevent pop-ups and redirects.
If you, however, are constantly redirected, even when on safe sites, your computer might have adware installed. Adware is one of the less serious malware infections that comes attached to free software. Adware, browser hijackers and potentially unwanted programs (PUPs) are often attached to freeware as extra offers, and are permitted to install alongside. This is called software bundling. The offers are optional but to stop them from installing users need to manually deselect them. This is, fortunately, not difficult to do. When installing freeware, opt for Advanced (Custom) settings and if those settings show that something has been added, simply uncheck the boxes. It takes seconds to uncheck a couple of boxes, and will save you a lot of trouble.
The FBI scam wants you to pay a "fine"
The "FBI CRIMINAL INVESTIGATION" scam will try to convince you that your computer has been locked because you violated the law. Supposedly, you have visited websites showing child abuse and zoophilia pornography, and thus now need to pay a fine. If you don't, the scam claims that you would be arrested. Never mind the abundance of grammar and spelling mistakes, the contents don't make much sense. Realistically, if someone was caught watching child rape and abuse videos, charges would not be dropped by paying a fine. This is a serious crime for which prison time is almost guaranteed. And the charges would not be announced via browser. So the whole scam is very unrealistic and it's unlikely that users would fall for this.
The site displaying the scam will also show a pop-up with a message saying a virus is present on your computer. It's supposedly a "Google Support" message and it's warning you that your data is being stolen. To stop the data theft and remove the virus, you are asked to call the displayed number. If you have never encountered this before, this is a tech-support scam. If you were to call the number, you would be connected to professional scammers who would request remote access to your computer, pretend to fix it, and then demand that you pay hundreds of dollars.
Overall, this whole thing is a scam, a pretty typical one at that. It goes without saying that if the FBI wanted to arrest you, they wouldn't inform you via your browser. And Google does not alert you about viruses on your computer. You can ignore all alerts that show a phone number, as they are 100% tech-support scams.
"FBI CRIMINAL INVESTIGATION" scam removal
If your computer is infected with adware, you will need to get rid of it to remove "FBI CRIMINAL INVESTIGATION" scam from your screen permanently. We suggest using anti-spyware software for that, as adware can be tricky to remove manually.