Virtual Private Network (VPN) tools help protect users' privacy when browsing, hide browsing activities from internet service providers (ISP) and the government, as well allow access to geo-blocked content. Developed by cybersecurity company Nord Security, NordVPN is one of the best VPNs available. Operating under Panama's jurisdiction and with offices in Lithuania, the United Kingdom, Panama, and the Netherlands, NordVPN is one of the most widely used VPNs. It's always at the top of the best VPNs for a reason.
NordVPN 2023 review
If you're looking for a VPN, you likely came across a lot of options. One VPN that was likely mentioned everywhere is NordVPN. And if you're considering NordVPN, below you can find a quick review that will helpfully help you make a decision. But overall, its audited no-logs policy ensures complete privacy, strong encryption protects data from prying eyes, and a large number of servers allows access to streaming service libraries from all over the world.

NordVPN features
NordVPN has over 5,500 servers in 59 countries that you can connect to. NordVPN can help find the best server to connect to depending on why you're using the VPN. For example, if you want to access geo-blocked content, you can choose that and the country you're connecting from, and NordVPN will suggest servers that would allow you to do just that. This is a great feature because not all servers will work for certain things. You will be able to save loads of time because you won't need to connect to servers one by one until you find one that works. It's also worth mentioning that no logs are kept by NordVPN of your browsing activities. The no-logs policy has been verified so you can be sure that your privacy is protected while you're browsing. The company also operates under the legal jurisdiction of Panama, which means it's not obligated to keep data for any amount of time. The company has also been audited by a third party.
In addition to protecting your privacy, NordVP makes browsing more secure. Because it encrypts your internet traffic, you can safely use a public Wi-Fi network without worrying that someone could be spying on you. The "Split tunneling" feature will also allow you to control which apps can access the internet directly and which need to be accessed via a VPN. If you want to use a particular app without a VPN to enjoy a faster connection, you will be able to do that while also maintaining a VPN connection for other apps.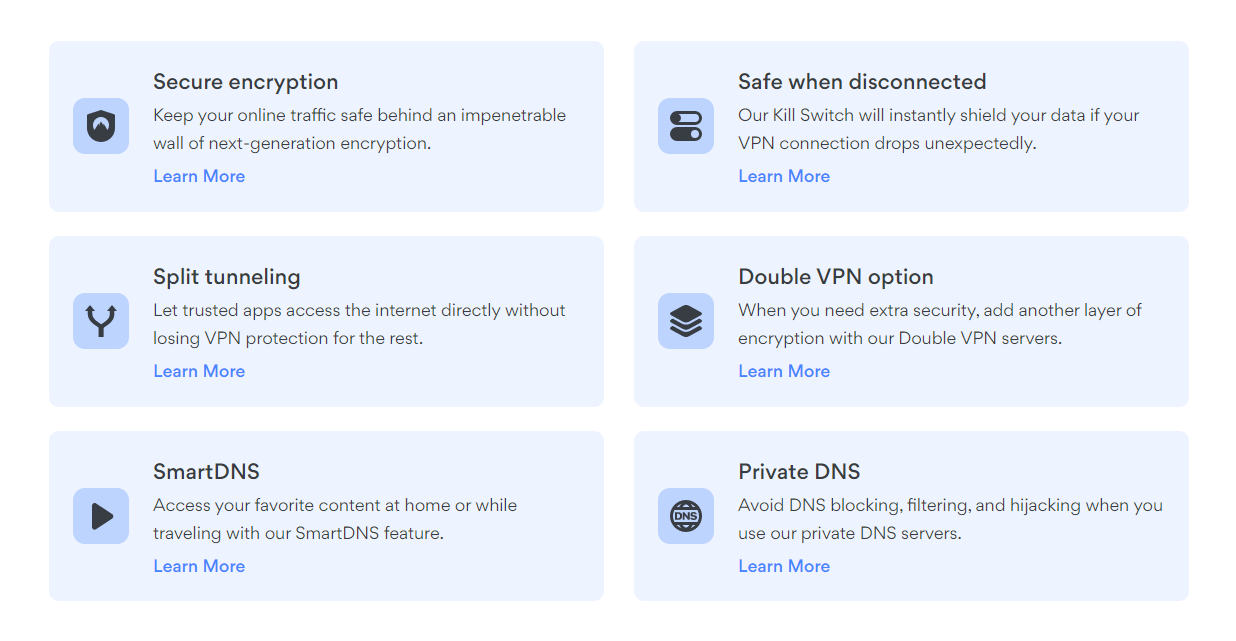 NordVPN also has a "Threat Protection" feature that, according to the official website, will protect you from ads, trackers, and malware. The feature should prevent you from accessing malicious websites, as well as scan files you download for malware. We should note that while NordVPN's anti-virus features are certainly useful, it's not a substitute for an anti-virus program. At least not yet because during testing, NordVPN failed to detect certain malicious websites. NordVPN's Threat Protection works great alongside anti-virus programs but it's not a substitute for it. Though the adblocking feature certainly does its job. It did block the most intrusive ads when we visited particularly ad-heavy sites, and even blocked attempts to redirect.
NordVPN also has a kill switch that will block internet access for your device in case your connection to the VPN drops for some reason. The connection remains blocked until you either disable the feature or the connection is restored. This is an important feature to have because it prevents your personal information from leaking. Most reliable VPNs come with this feature now but it's still worth a mention.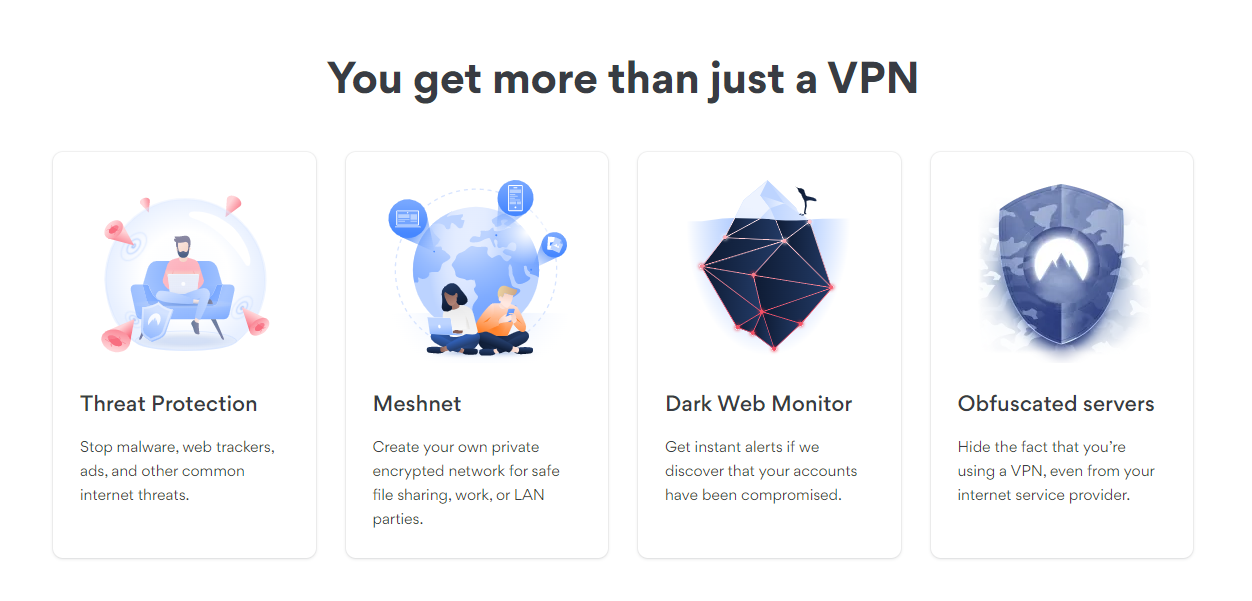 If you're looking for a VPN to torrent without your ISP knowing about it, NordVPN is a good choice. Torrenting in some countries (e.g. Japan) is prohibited so a VPN is necessary in order to do it safely.
If you're looking for a VPN to access streaming services like Netflix, Amazon Prime Video, Hulu, Disney+, HBO Max, etc., NordVPN is a great choice. Streaming services are becoming more strict about users using VPNs but it seems that NordVPN is able to bypass this in most cases. It will also choose the best server for you to connect to in order to get the best streaming experience. We tried to access Netflix's US library using the VPN with great success, so NordVPN is a great choice.
NordVPN allows up to 6 simultaneous connections. Depending on how you're planning on using the VPN, this will either be too little or too many. But there are only a few VPNs that offer more connections so 6 is nothing out of the ordinary.
NordVPN interface
NordVPN has different apps for different platforms but they're all equally easy to use. The apps have similar interfaces so whether you're using one for Windows or macOS, it should be fairly simple to operate it. You can choose a country from a list to connect to or use a map. Recent connections are saved so you can quickly connect to your preferred server. Onion over VPN is also easily accessible if you need that extra security. It's not difficult to get the hang of the program, even for less-tech savvy users.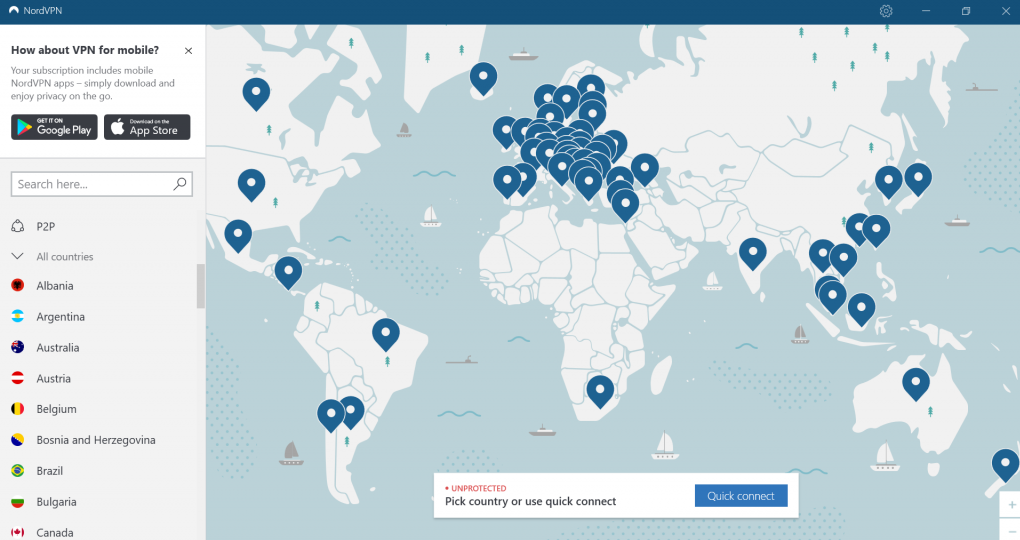 NordVPN customer support
NordVPN has a 24/7 live chat option for general inquiries, as well as customer support via email. Customer support will help resolve issues users may be having with the program, as well as answer users' questions. The lack of phone support may be annoying to users who prefer to talk to technicians to resolve issues but NordVPN certainly does try to quickly get back to users' messages/emails. Support provided detailed answers to inquiries so NordVPN's customer support is satisfactory, even without a phone option.
NordVPN price
NordVPN is a paid program and does not offer a free version. There's also no free trial but there is a 30-day money-back guarantee so users can test out the program before deciding whether they like it enough to buy a subscription. NordVPN subscription price depends on what features you want. Some features like the VPN, malware protection, and the adblocker are included in all plans but more expensive ones also offer a password manager, a data breach scanner, and a 1TB of cloud storage. Users can choose the length of their subscription, whether they want to pay month by month or for a whole year in one payment. Typically, subscribing long-term is cheaper because of the great discounts offered.
The standard NordVPN plan costs $11.99/month, $59.88/year ($4.99/month) with a 39% discount, or $78.96/two years (3.29/month) with a 60% discount. The plan includes the VPN, malware protection, and a tracker/adblocker. The NordVPN Plus plan has the already mentioned features, as well a password manager, a data breach scanner, and 1TB encrypted cloud storage. It costs $12.69/month, $68.28/year ($5.69/month) with 46% discount, or $126.96/two years ($5.29/month) with a 62% discount. NordVPN Complete subscription plan also includes a 1TB of encrypted cloud storage in addition to the features that come in other plans. The plan costs 13.99/month, $83.88/year ($6.99/month) with a 57% discount, or $126.96/2 years ($5.29/month) with a 68% discount.
The plans have a 30-day money-back guarantee that acts as a free trial. It's worth mentioning that the discounts may only be applied when initially making a purchase. So if you buy a 2-year subscription with a discount, you would be charged the full price when the subscription renews. You should also know that subscriptions renew automatically. If you do not want to be charged again, you'd need to manually cancel the subscription before you're charged again.
NordVPN 2023 review, is it worth the price?
If you're looking for a VPN to use long-term, NordVPN is it. While paying month by month can be quite expensive, the discounts for long-term plans make NordVPN more than affordable. Especially because you not only get a VPN but also additional features (e.g. malware protection and an adblocker) even if you choose the cheapest plan. The VPN protects your privacy with powerful encryption, has a strict no-logs policy that allows you to browse safely even on public Wi-Fi, offers access to 5,500+ servers, and even unblocks streaming services like Netflix, Hulu, BBC iPlayer, and Disney+. It's also very easy to use and has a nice design. And if you're not satisfied with the program, you can get your money back within 30 days.