Police or FBI virus removal from Android phone
The users who have a mobile phone with Android operating system in it can one day find that their device is being blocked by a ransomware virus. The notification, which appears to be sent from law agency, informs the users that they supposedly performed some kind of illegal activity and now have to pay a fine to recover access to their systems. The truth is that you have done nothing wrong. This bogus message is usually sent by some version of Trojan Koler which obviously has no ties with any kind of legal institution. SDC – San Diego Criminal, a criminal defense law firm in San Diego sat down with us to talk about the potential for any actual laws that could be being broken here (find advise with criminal lawyers Melbourne). Funnily enough, while this app accuses you of being complicit in some kind of illegal act, the ones actually breaking the law are the ones invading your phone with this malicious intent to commit fraud by extorting you into paying. Lets go over how this app behaves so you can recognize it and understand what is happening should you fall victim to this scam.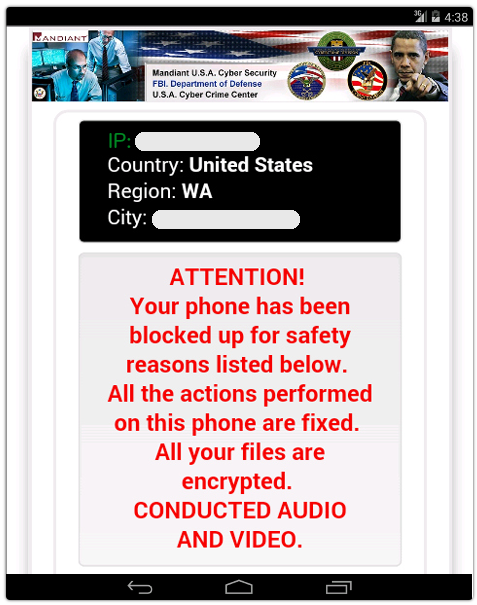 Just like the original FBI or Police virus that attacks Windows operating system, this infection blocks user's access to Graphical User Interface (GUI). Know that the only goal of this malware is to convince users that they must give away their savings, if they wish their phones to be unblocked. However, instead of paying cyber crooks who infected your system, you should terminate Police or FBI virus from your Android device.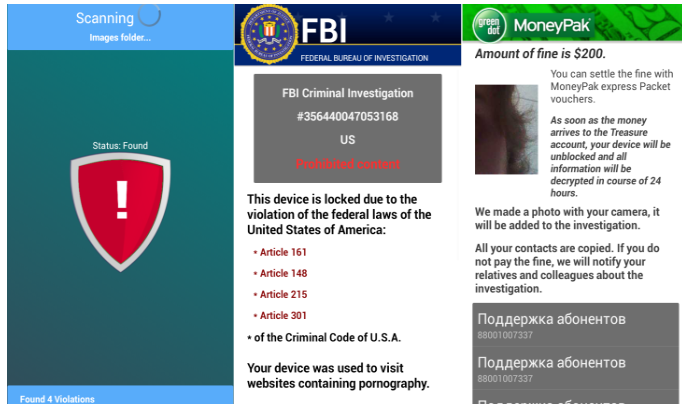 Unfortunately, since this virus easily adapts to user's geographical location and pretends to be sent from local law enforcement agency, many fall for its tricks and pay the required amount of money. Most often the infection uses FBI or local police emblems, however it may also pretend to be U.S. Department of Justice, Irish An Garda Síochána, Police Central e-crime Unit, Metropolitan Police,  Royal Canadian Mounted Police, and so on. The message presented by this rogue demands that you pay a fine of $300 via Ukash, GreenDot MoneyPak or Paysafecard systems. You must bear in mind that the fact that you pay the money does not guarantee that your system will be unblocked. Also, do not forget that by complying with the demands, you will real you banking data to the crooks who can use it to steal your money again in the future. Once again we urge you to keep your money to yourself and to remove the virus which currently resides in your Android phone.
Since users often leave their smartphones vulnerable by not using a security application, it is not hard for such intruder to sneak in. According to the Law Offices of Michael J Aed malicious software usually enters the device alongside unreliable applications which you install believing that they are safe. Also, it may enter the system from some suspicious page you visited recently. Whichever way this malware used to enter your phone, we recommend not to let it stay any longer and to get rid of Trojan Koler.
Delete Police or FBI virus from Android phone
The users who decide to terminate the existing malware, should look for BaDoink (name known for its online porn service) application in their Android device.
Eliminate Police or FBI virus from APP
First of all, move to Settings menu.
Locate and choose Apps manager.
In the provided list all applications, locate BaDoink.
Select the malicious application and choose Uninstall.
Click OK.
Reboot your Android device in Safe Mode option (for Android 4.1 and Up)
Keep the Power button pressed until Power off menu appears.
In the presented window, hold Power off option.
Choose to Reboot in safe mode (this option will disable all third party software which will be resorted after you reboot again).
Press OK to start a process.
Reboot Android phone in Safe Mode option (for Android 4.0 and Lower)
Hold the power button until the Power off menu shows up.
In the presented menu, select and press Power off option.
Long press the power button again.
While the phone is loading, you have to hold the Volume Down in order to boot in Safe Mode.