Provided by Synclusive Games, PowerVPN is a VPN for Android and iOS operating systems. There's not much information available about this VPN but it is available for download from Google Play and Apple's App store. It's a pretty basic VPN that does not have many features but does work as it should. If you choose to use PowerVPN in 2023, you will be able to connect to a number of servers in 25+ countries.
PowerVPN review for 2023
PowerVPN's online presence is very minimal. It doesn't even have an official website. Trying to access the official website via app stores leads to an Instagram account with practically no information. It appears that the site was active in the past but was taken down for some reason. This isn't a good sign because an official website is often seen as a sign of legitimacy by many users. If users research an app before installing it and come across very little information about it, they'll likely reconsider installing it.
PowerVPN may be lacking in the PR department but it's a fully functional virtual private network (VPN). There's nothing particularly special about PowerVPN but it does its job. Below, you will find a quick review that goes through some of the most important things to consider when deciding whether PowerVPN is the right fit for you.

PowerVPN features in 2023
PowerVPN offers access to servers in 25+ countries. Don't expect thousands of servers but the amount it does offer should be enough for whatever you need a VPN.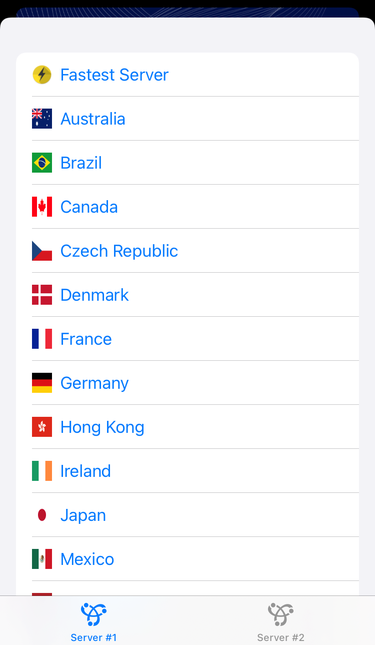 Traffic encryption
One of the most important VPN features is traffic encryption. Encrypting traffic essentially conceals it from anyone who may be watching. It also allows you to use public WiFi safely without fear that someone may be spying and potentially stealing your sensitive data. PowerVPN does encrypt traffic so you can use it to conceal your online activities.
No-logs policy
Finding PowerVPN's Privacy Policy is somewhat complicated. But the policy explains that no browsing or personal information is collected. However, we could not find any information about any audits by independent parties, so you, as a user, have no way of checking whether claims of a no-logs policy are true. You should keep that in mind if you decide to use PowerVPN.
Geo-blocked content unblocker
PowerVPN is advertised as being able to unblock streaming services like Netflix, Disney+, etc. A lot of VPNs are promoted this way but rarely are they actually able to do that. Surprisingly, PowerVPN (even the free version) does unlock streaming services. We were able to successfully unblock Netflix's US library by connecting to a US server.
Whether you're successful in unblocking depends on which server you connect to. Furthermore, whether VPNs can unblock Netflix and other streaming services changes all the time because VPNs are often detected. So just because we were successful does not necessarily mean it will work for you.
PowerVPN interface
PowerVPN has a very simple interface and is thus very easy to use. It can be downloaded from the Google Play store or the Apple App store. You don't need to set up anything, simply agree to the terms, choose a server, give the required permission(s), and connect.
If you're using the free version, ads will pop up every now and then but you can close them pretty easily. Once you have chosen your preferred server, you can connect to it simply by clicking on the power button in the app.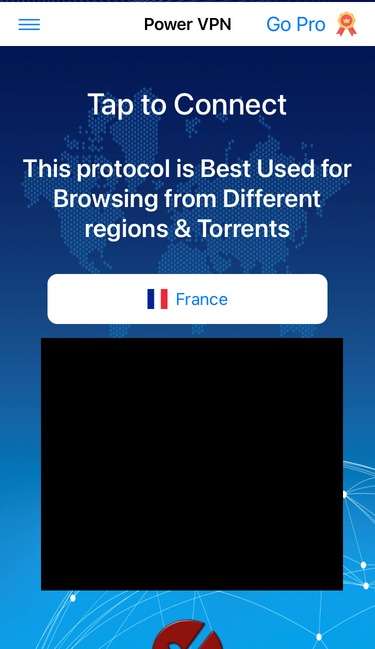 The design is very simple and somewhat typical for Android/iOS VPN apps. However, it's not intrusive. Overall, it's a pretty nice interface/design.
PowerVPN customer support
PowerVPN customer support is reachable only via email. There is no live chat or phone support, and that's not entirely unexpected considering that it's a smaller VPN. Nonetheless, if you encounter an issue that needs urgent assistance, it would take a while before you would get a response via email.
PowerVPN performance in 2023
PowerVPN works pretty well overall. The app is fast, and connection speeds are adequate. It's only natural that your Internet speed goes down when you're connected to a VPN but different VPNs have different effects on speed. PowerVPN does pretty well in this regard, during testing, Internet speed went down by around 15-20%. We have seen VPNs that slow down the Internet by more than 50% so up to 20% is still pretty good.
PowerVPN 2023 price
PowerVPN is mostly promoted as a free VPN but it does have a premium version. The advertising is also somewhat misleading because the description on Apple's App Store claims that "All features of Premium paid-up VPN service for ABSOLUTELY FREE" but that's not actually the case because there is a premium version. The premium version allows you to enjoy faster servers, more locations, an ad-free experience, and fast streaming/gaming.
There is a 3-day free trial, at end of which you would be charged $3.99 if you don't cancel in time. It's worth noting that a couple of reviews mention being charged before the free 3-day trial is up so keep that in mind. It's rather confusing how much the monthly subscription actually costs. App stores display a $2.99/month price but the app sometimes mentions $3.99/month.
Is PowerVPN a good VPN in 2023?
Whether PowerVPN is a good VPN for you depends on what you plan on doing and how much you value privacy. If you require a large number of servers, want guarantees that no logs are kept, additional features, etc., you're likely better off with premium VPNs. However, if you need a simple VPN for occasional use on your smartphone, PowerVPN may be a good fit in 2023. Its no-logs policy has not been audited (at least not that we know of) so you don't know whether any logs of your activities are kept. So if you choose to use it, you need to be aware of the fact that you may not be completely anonymous.
PowerVPN is easy to use so it may be a good choice for beginners. It has a free version so you can test it out before committing but the paid version is also very affordable. And surprisingly, you may have luck unblocking streaming services. It's strictly a VPN for Android and iOS operating systems so you won't be able to use it on a Windows or macOS computer, at least not in 2023.