Developed by Reimage Ltd, Reimage is a computer repair program. The program can repair damage from viruses, restore/replace files, solve system errors, repair Windows, and offers other computer repair features. It's a rather popular program used by users to fix errors and remove damage done by malware.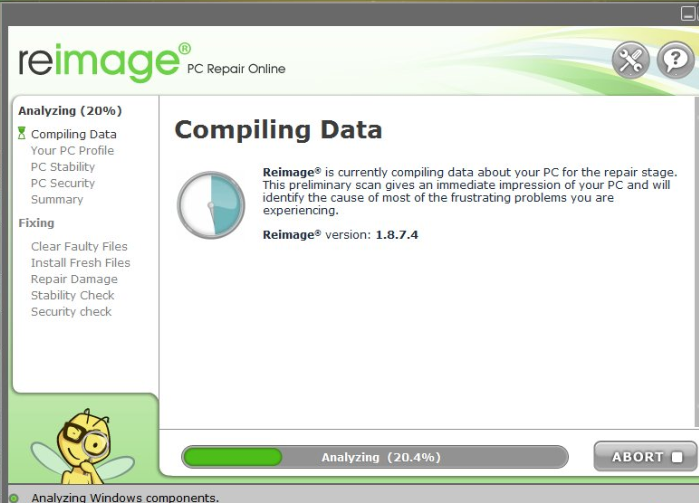 Before we proceed, we'd like to make clear that while it does remove some viruses, Reimage is not an anti-virus program. It will not protect your computer from incoming malware infections, nor will it detect the majority of malware. However, it will deal with the damage done by malware. According to developers, the program works best when complimenting anti-virus software. Anti-virus will detect and remove the malware, while Reimage will fix the damage left behind. Thus, it's best used along with an anti-virus tool.
While it has plenty of features, Reimage is not capable of fixing third-party programs. If a program you have downloaded from the Internet has encountered some kind of issue and is not working properly, Reimage will not be able to fix it.
Reimage is also not a free program. Any issues it finds on your computer will only be fixed if you purchase the program's subscription. Keep in mind that by buying the license, you are signing up for automatic license renewal. That means that you will be charged the same sum every year, unless you cancel. This is standard practice so do not be alarmed.
What does Reimage fix?
Reimage is a primarily a repair program that focuses on solving system errors, replacing files, solving other computer issues. It's not an anti-virus program but it can detect some malware, though it does not offer real-time protection. It will also fix damage caused by viruses.
Windows errors, damaged DLLs and blue screens
Windows errors and blue screens (the so-called Blue Screen of Death) are the bane of many computer users' existence. Fixing those errors manually means doing a lot of googling and going through various posts on forums. In short, it can take a long time and a lot of effort to fix system errors. Or it could cost a lot of money if you take up the problem to a professional.
Damaged DLL files are also something that often causes problems. DLL (Dynamic Link Library) files are essential parts of programs, and if they are missing or have been corrupted, programs that call out to them will not work, causing various errors to appear. These missing or corrupt DLL errors are one of the more common errors that users encounter. They can be caused by users themselves moving these files somewhere else, renaming them, etc. When a program calls out to a particular DLL file but cannot find it where it's supposed to be, whether it's because it's been renamed or placed somewhere else, an error will appear.
This is where a program like Reimage comes it. According to the official website, the program has 25,000,000 files in its repository, and can fix corrupted, malfunctioning and missing Windows software files, DLL errors , blue screens, etc. It will replace the missing/corrupted files with new ones from its database, and this way solve the errors.
Virus damage
While anti-virus program remove the viruses, they do not fix damage done by them. Depending on what kind of virus your computer becomes infected with, your computer may be left damaged once the infection is gone. If certain files are missing or have been corrupted, you might start getting errors or your programs may not work as normal. Reimage claims to be able to fix the damage caused by viruses by replacing corrupted or missing files. Since it's a repair program and does not have real-time virus protection, Reimage may work best alongside anti-virus software. The anti-virus would remove the infection and Reimage would fix any damage the virus was able to cause.
Reimage Download 2020
Reimage is available for download on numerous websites, including those free software download pages and virus removal instruction websites. However, we recommend you use the official website to download Reimage if you have decided to use the program. If you're planning on purchasing the program's license as well, you should also use the official site.
Reimage system requirements
Reimage is compatible with the following Windows versions:
Windows XP (32 bit)
Windows Vista (32 & 64 bit)
Windows 7 (32 & 64 bit)
Windows 8 (32 & 64 bit)
Windows 8.1 (32 & 64 bit)
Windows 10 (32 & 64 bit)
Requires 1 gigahertz (GHz) 32bit (x86) or 64bit (x64) processor – Single – core or Multi – core, 512 megabytes (MB) of system memory, 40 GB hard drive with at least 15 GB of available space.
Reimage subscription cost
As we mentioned above, Reimage is a paid program. You may be able to scan your computer with the free version but you will need to buy the full program to solve any issues it detects. The program costs $70 + tax/per year for one license or $105 + tax/per year for three licenses, though the company often offers discounts that greatly reduce the price. At the time of writing, one license costs $40 + tax/per year. Whether the money is worth the program is your decision but if you do buy a subscription, remember that it will renew automatically unless you cancel it.