Anti-virus programs are essential tools for every user. This is the case now more so than ever because threats like ransomware are becoming increasingly more common. But it's not surprising that users have a hard time choosing an anti-virus program considering just how many of them are available. Because we understand this struggle, we have prepared a series of comparison reviews to help users make the decision.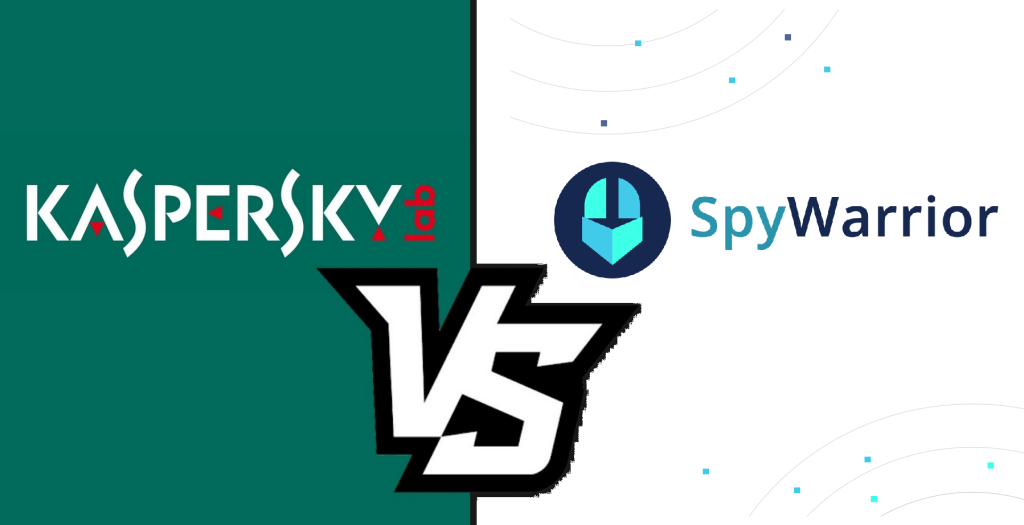 In this report, we compared newcomer SpyWarrior and old-timer Kaspersky.
SpyWarrior
The developer behind SpyWarrior is Kibernetinio Saugumo Sistemos, a Lithuanian cybersecurity company. It's a very new program, especially compared to old players like Kaspersky, but it's, nonetheless, a very capable anti-virus program for Windows computers.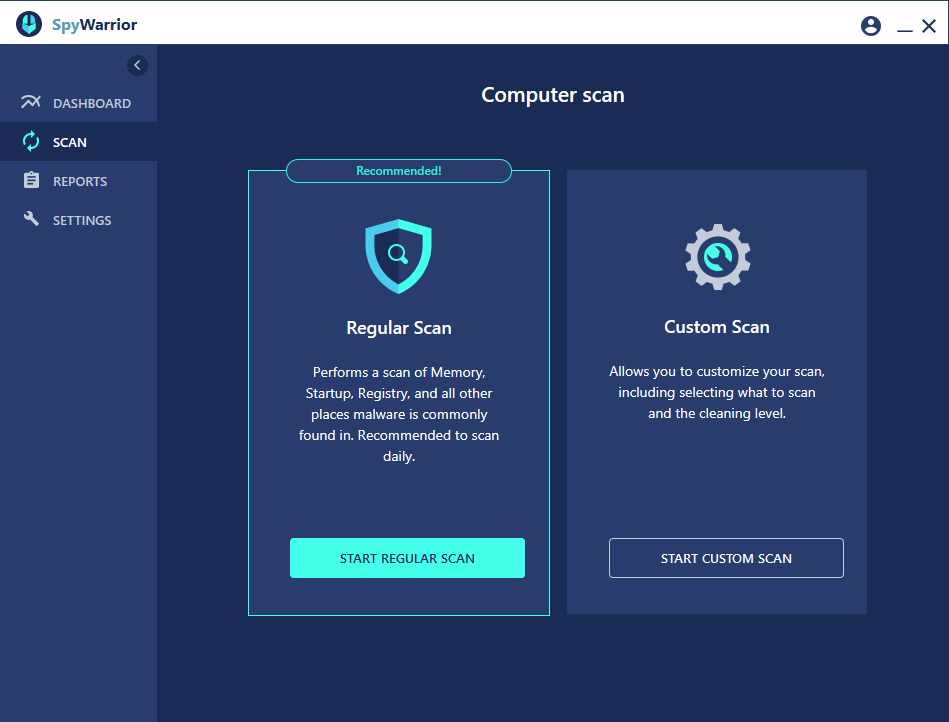 Protection against malware
SpyWarrior guards computers against both minor and serious threats. We tested it against both with quite successful results. It was able to detect all browser hijackers and adware infections present on the computer, which is quite impressive. These infections, while not very serious, are usually quite annoying. A lot of anti-virus programs overlook them as well.
Against serious threats like trojans, viruses, and other malware, SpyWarrior is just as effective. It was able to detect the majority of malware on the computer. And surprisingly, it detected every ransomware strain we tested it against. This is very important because ransomware is becoming increasingly more common and it's essential that anti-virus programs guard against them.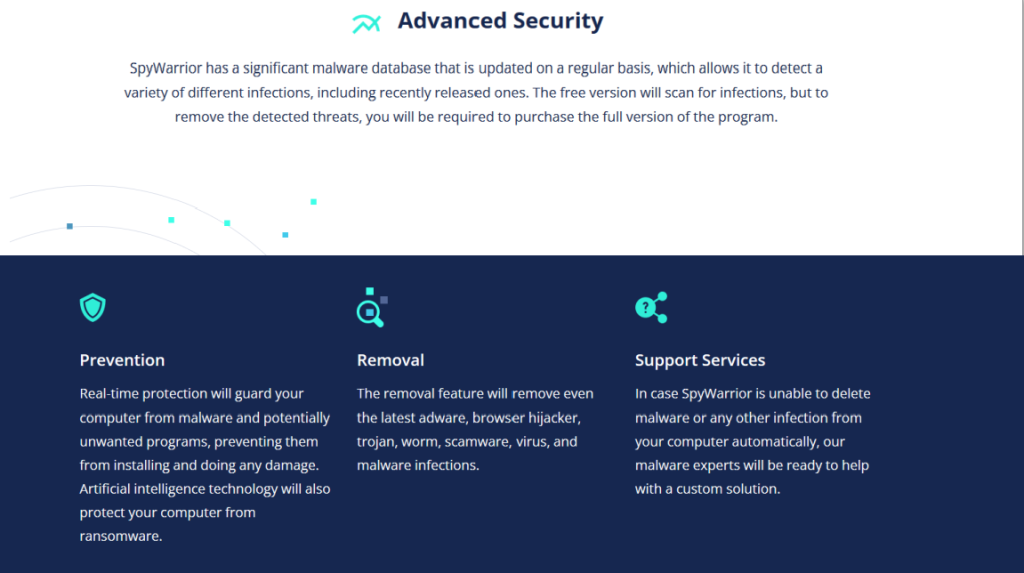 • Impact on system performance
After extensively testing the program, we can confidently say that it's a pretty lightweight program. The only time we noticed any kind of lag or any disruption was when the program is first launched. However, it only lasts a couple of seconds. While scans do take up some amount of resources, it's certainly not to the extent that users would notice. So all in all, SpyWarrior is quite quiet.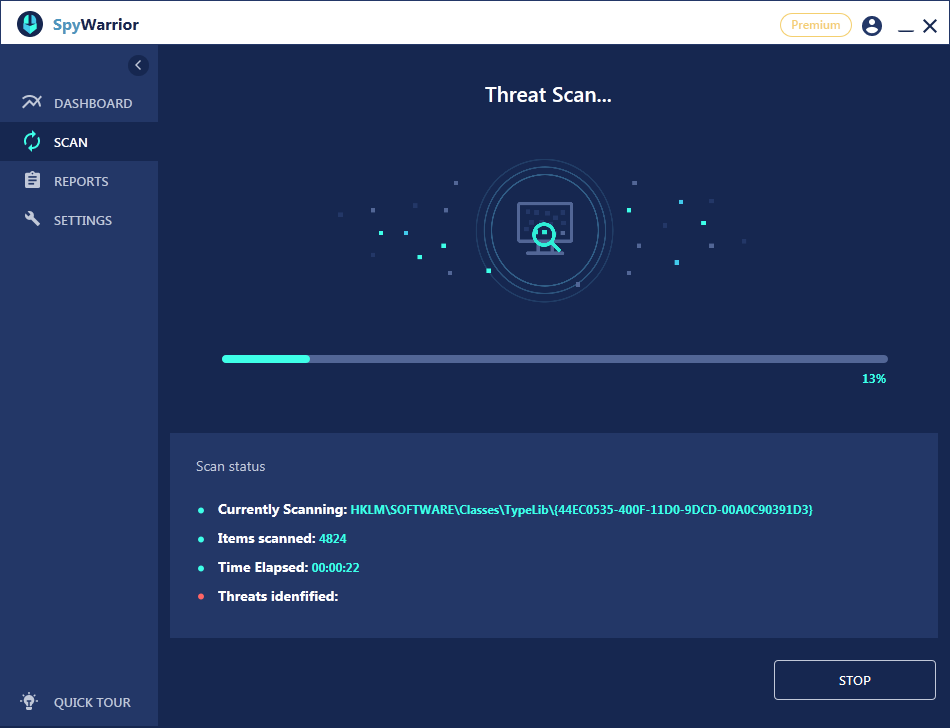 We really like both SpyWarrior's design and interface. There's nothing overcomplicated about the program, everything's clearly sectioned to make navigating the program easier, especially for users who are less tech-savvy. It's quite clear that developers had users in mind when creating the program. Design-wise, it's quite a clean program. The design is quite typical for anti-virus programs but that's certainly nothing bad.
SpyWarrior's free version can only be used to scan the computer. To use the program's removal features, users will need to buy a subscription. Users have three options, two of which are long-term commitments. SpyWarrior costs €10/month if users want to pay on a monthly basis. But buying either the 1-year or 2-year subscriptions is cheaper overall. With the current discount, the 1-year plan costs €59/year, and the 2-year is €79/two years. All three subscriptions allow users to use SpyWarrior on up to 5 devices. When users purchase either the 1-year or 2-year plan, the 7-day free trial is immediately activated, so users will not be charged until the trial ends.
In short, SpyWarrior is an excellent anti-malware program for Windows computers. It has great detection scores, is easy to use, has a nice design, and does not cause computer performance issues. And with the offered discounts, SpyWarrior is also very affordable.
Kaspersky
Developed by Russian cybersecurity company Kaspersky Lab, Kaspersky is an anti-virus program. The program had a very limited release in 1989 and by 2009, the program was being used by millions of users all over the world. Today, Kaspersky is one of the most widely recognized anti-virus programs.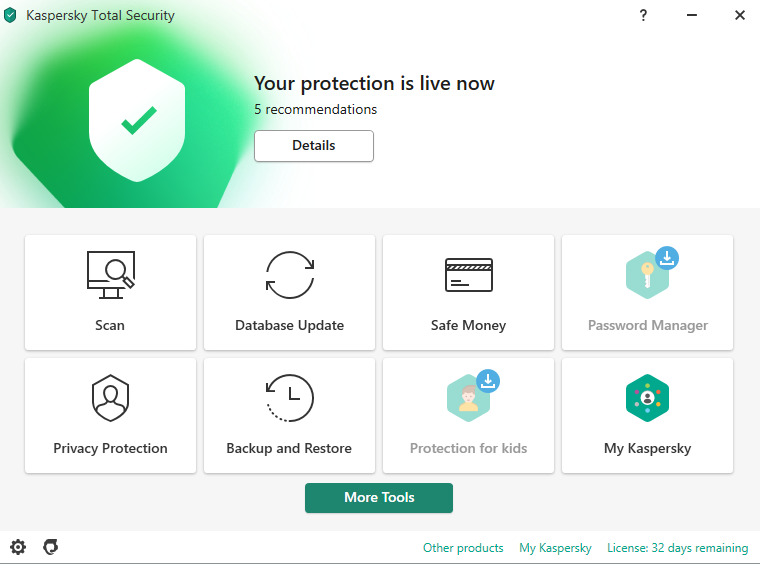 Protection against malware
Considering that Kaspersky has been protecting users for over three decades, it's obviously a very capable program. As was expected, Kaspersky performed well during testing. We tested it against infections like adware and hijackers first. These infections aren't particularly serious so it's not uncommon for anti-virus programs to not detect them. Kaspersky was able to detect 95% of these threats on an infected computer, which is quite a good score.
Kaspersky anti-virus also had great detection scores when being tested against serious malware. It was able to detect the majority of trojans, viruses, and other malware with no issue. Ransomware is often tricky to detect but Kaspersky blocked 48 out of 50 ransomware strains during testing.
Impact on system performance
Depending on what Kaspersky is doing, there may be some disruption because of the program's impact on the system. When running a quick scan or when it's only monitoring for incoming threats, there is very little disruption. Checking Task Manager shows that it does use resources but otherwise, it's unnoticeable. However, when running a full scan, CPU usage was up to 98% at one point, with an average of 65% of CPU use. That certainly is noticeable as it can cause system lag and slowdown. Though there is no reason to perform a full scan regularly so it may not be a major inconvenience for users. However, the program does warn that this may happen so users should expect it.
Kaspersky's design is something we really like. It's very clean, modern-looking, and aesthetically pleasing. Despite Kaspersky having many features, the program itself isn't cluttered and everything is in clear sections. The interface is very user-friendly so users of all skill levels will have very little trouble using the program.
Kaspersky offers three subscription plans for home users. The Kaspersky Anti-virus plan costs €29.99/year for two devices and includes real-time anti-virus, the anti-phishing feature, as well as a system optimizer. For €41.99/year, users can buy the Kaspersky Internet Security subscription for 2 devices. It includes the 3 mentioned features, as well as a VPN, an adblocker, and many other features. The Kaspersky Total Security includes the already mentioned features, as well as a password manager, a file protector, and a GPS Child-Locator. It costs €75.99/year for 2 devices.
To summarise, Kaspersky is an excellent choice. Its extensive malware database allows it to detect a wide range of malware infections, and its user-friendly interface will allow even the less tech-savvy users to use it. A dip in system performance was noticed when Kaspersky was running scans but that shouldn't affect too many users. Price-wise, Kaspersky is also quite affordable.
SpyWarrior vs Kaspersky
Both programs are quite exceptional and perform similarly in tests. However, SpyWarrior's detection rates are slightly higher, especially when it comes to ransomware. And while it's not a major flaw, Kaspersky is quite a heavy program, and that may cause performance issues. SpyWarrior, on the other hand, is very lightweight. Taking everything into account, our choice would be SpyWarrior. SpyWarrior is perfect for those looking for a lightweight program that does just as well, sometimes even better, as other anti-virus programs.