About WiperSoft crack download
Not everyone is willing to pay for programs, which is why one of the first suggestions when googling WiperSoft is "WiperSoft crack". Anti-virus programs in particular are often pirated because of their high subscription prices.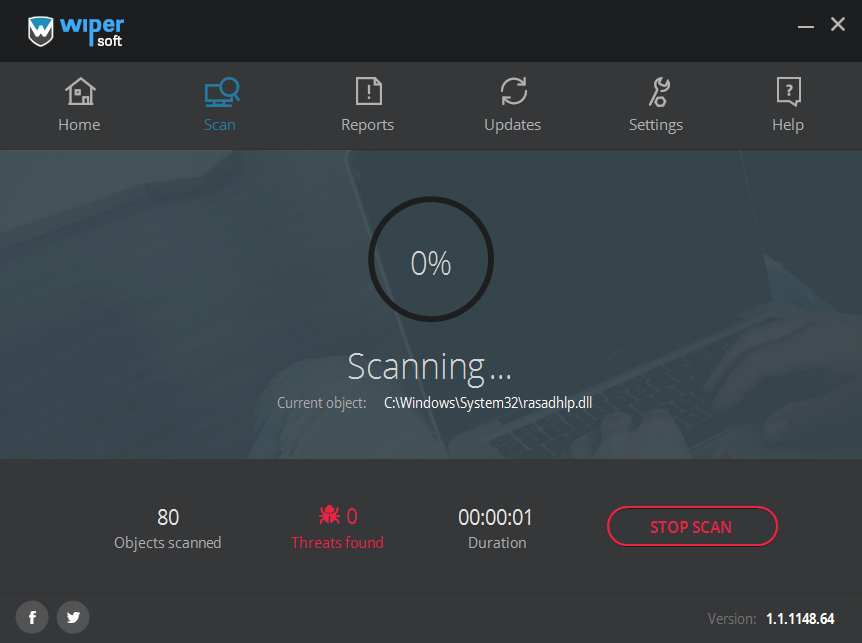 Why you should not download WiperSoft crack online?
When pirating, whether it's downloading something or viewing it on a website, users usually don't realize the danger they are putting their computers in. Websites hosting free copyrighted content often also host malware. That is a fact. Kaspersky Lab recently published an article detailing how cyber criminals use popular TV shows to spread malicious content. However, it's not just TV shows or movies that are used for these purposes, which is why by even searching for WiperSoft crack, you're potentially endangering your device. Not to mention the fact that you're essentially stealing. Assuming you want to clean your computer of malware by trying to get WiperSoft for free, why risk getting it even more infected by looking for software cracks. The malware you can encounter on those websites ranges from minor to very serious, and worst case scenario you might end up with files encrypted by ransomware.
Even if you're just trying to get a free WiperSoft activation key, you could still encounter malware, so we suggest staying away from such websites.
WiperSoft review
You may be thinking of purchasing a WiperSoft subscription, and to help you make the right decision we have prepared this short WiperSoft review.
What is WiperSoft?
Developed by Wiper Software, WiperSoft is an anti-virus program that deals with infections like adware, browser hijackers, potentially unwanted programs, worms, unwanted toolbars, viruses, trojans, etc. It's primarily an anti-virus program so it does not yet offer any additional features. It has been around for only a short period of time, but already has more than a million users.
WiperSoft antispyware features
Since WiperSoft is an anti-virus program, it focuses on threat detection and removal. It detects and removes both small and big infections, ranging from adware to trojans. Because WiperSoft has a huge database that includes smaller scale infections, it will detect threats that are often missed by other security programs. This is particularly true with adware and browser hijackers. They aren't particularly dangerous threats but they are certainly annoying, and dealing with them can be quite frustrating. Such infections are also often not widespread enough to be picked up by major anti-virus vendors. Smaller programs, however, are more likely to detect those infections, and WiperSoft is one of them.
WiperSoft Performance
It doesn't take long for WiperSoft to scan your computer but even when it's running a scan, you shouldn't notice any impact on your computer's performance. This is highly important when it comes to anti-virus programs because they have a reputation of negatively affecting systems.
WiperSoft user interface and design
Design and user interface are one of the most important parts of a program, as the program needs to be visually appealing and easy to use. WiperSoft has a modern, dark design and is quite visually pleasing. The program is also not difficult to use.
WiperSoft free download
WiperSoft antispyware is not a free program, but it does offer a free version, which may confuse some users. The free version, which can be downloaded from the official website, allows users to scan their computers. However, if an infection is identified, the free WiperSoft version will not remove it. There is a WiperSoft free trial that users can make use of, but it only removes threats one time. The WiperSoft free trial needs to be activated, and there is a 48-hours waiting period.
If you have decided to purchase a subscription for the program, know that you are signing up for automatic renewals every six months. A six-month subscription costs €29,99 + taxes. However, you can get a discount of €9 if you get redirected to the purchase page via the program. As we've said above, your subscription will be renewed automatically, unless you cancel it in time. After you purchase a subscription, you won't get a WiperSoft activation code, and instead will need to log in in the program.
WiperSoft Discount 2019 Overview
WiperSoft is a particularly helpful program when dealing with infections that aren't identified by popular anti-virus programs. Oftentimes, users turn to WiperSoft because they know their computers are infected with something but their chosen anti-virus programs are not detecting the issues.
WiperSoft Discount 60%

– WIPE9QNHW40D
WiperSoft Discount – 50% – WIPEGKUEWS
WiperSoft Discount 40%    – WIPEAVTG
WiperSoft Discount 30%    WIPED5AZTGD
It's a relatively cheap program, and comes up to around €40/year if you use the discounts. While it is yet to add additional features, it's a powerful anti-virus program that could help solve your issues.
Links to download and purchase WiperSoft:
Incoming search terms: