"A simple and easy to use VPN" is how the Philippines-based DroidVPN advertises itself. It's a VPN that primarily targets Android and Windows users. Not much information is available about DroidVPN in 2023 so it's difficult to say whether it suits your needs without trying it out. And unfortunately, after trying it out, we can say that there are quite a few issues with DroidVPN.
What features does DroidVPN have in 2023?
Finding information about DroidVPN on the official website is quite difficult. Even the most basic information like the server count is missing so users won't even know what they're getting before buying a subscription. This makes it difficult to know what features DroidVPN offers exactly. The site itself barely works. Clicking on certain buttons does nothing, and the site is clearly not finished.
One of the main features a VPN must have is traffic encryption. Usually, VPNs clearly state what kind of encryption they use but with DroidVPN, there's no information.
DroidVPN also lacks one of the most important VPN features, a kill switch. A kill switch essentially blocks all network traffic when the connection to the VPN gets dropped. With no kill switch, a dropped VPN connection would leak the IP address. If you use a VPN for streaming, a leaked IP might not matter as much. However, if privacy is important, a leaked IP address could be a disaster. This is especially dangerous for those who do activism work in dangerous countries or work to oppose governments. Furthermore, DroidVPN does not notify you when a connection is dropped. That means you would continue browsing unprotected until you manually check whether the connection is active.
While DroidVPN 2023 claims to not keep any logs of users' online activities, it does collect some information. To be more specific, it collects the time, date, and locations of the connection, duration of the VPN connection, and bandwidth used during the connection. There's also no information about whether DroidVPN has been audited by a third party. Without these audits, users have no way of knowing whether the VPN collects information and keeps logs of browsing activities.
Furthermore, there are some questionable statements in the Privacy Policy.

First of all, it clearly states that it stores your IP address. If you're trying to hide your location, don't bother with DroidVPN. The privacy policy also mentions that the company may filter through your traffic if it suspects some account is using the VPN to pirate copyrighted content. This is absolutely unacceptable for a VPN.
Whether DroidVPN 2023 protects your privacy is already questionable, its security practices are even worse. When we signed up for DroidVPN, we received an email that clearly reveals the password. This was completely unexpected because storing plaintext passwords is not an acceptable practice anymore. When a company stores passwords in plaintext form, they are visible to anyone who manages to break in. And if a company has such lax security, a breach is only a matter of time.
The whole point of a VPN is to protect your privacy. How can you expect a company that stores plaintext passwords to do that?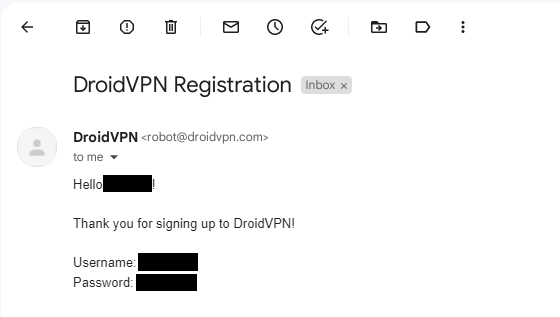 Does DroidVPN unblock streaming services in 2023?
If you're looking for a VPN specifically to stream, you're unlikely to be able to do that using DroidVPN. It's difficult to say whether DroidVPN even promises to unblock geo-blocked streaming services because features are not listed on the official website. But nonetheless, it cannot bypass streaming services' VPN detections. We tried to access Netflix, Amazon Prime, and Disney+ but the VPN was immediately detected. This isn't particularly surprising because usually, only top-tier VPNs (e.g. NordVPN, ExpressVPN, Cyberghost, etc.) are successful.
DroidVPN interface/design in 2023
DroidVPN has a very basic design and interface. If you prefer a very minimalistic design, you may like DroidVPN but personally, we want much more from a VPN. It's at least somewhat easy to use.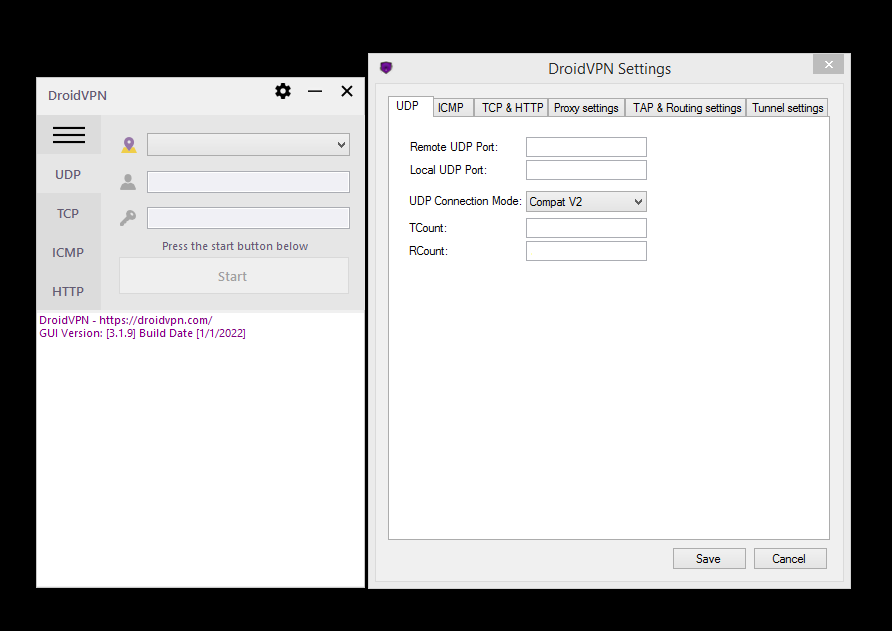 DroidVPN customer support
There is no live chat option or phone support so contacting customer support is only possible via email. If you face immediate issues, contacting support via email would take a while. Normally, support being available via email only is not a huge deal but DroidVPN is a bit of a problematic VPN with many issues so slow support will certainly annoy a lot of people.
DroidVPN 2023 price
DroidVPN offers a limited free version. But the free version gives only 100MB of data, which is very little. In comparison, well-known premium VPNs give 10GB of free data allowance. There are also only 2 servers to choose from (the US and France) if you're using the free version. Like the paid version, the free one also allows only one connection.
To get full access to features and servers, buying a subscription is necessary. DroidVPN is considerably cheaper than other VPNs. The current plans are: $4.99/month, $13.99/3 months ($4.66/month), $23.95/6 months ($3.99/month), and $35.88/year ($2.99/month). DroidVPN has a money-back guarantee but only for 7 days. Usually, VPNs offer a 30-day money-back guarantee.
We strongly recommend that you use the free trial or the free version before buying a subscription because DroidVPN 2023 is not a particularly good VPN.
Is DroidVPN a good VPN to use in 2023?
You may have better luck using DroidVPN on an Android device than on a PC. But considering that DroidVPN lacks the most essential features, drops the connection without informing you, and potentially collects information, we don't recommend using the VPN if you're concerned about your privacy. DroidVPN also appears to not have been audited, so there's no way of knowing what kind of information it collects. There's also no 24/7 customer support, and the official website does not look finished and lacks information. There is a free version, and while it's limited, you can at least try out the VPN to decide whether it suits your needs. Price-wise, DroidVPN isn't particularly expensive but it also does not offer many features. You'll also be able to use it only on one device.
If you're not too concerned about your privacy and need a VPN for special occasions, DroidVPN could be suitable for you. However, if you're looking for a top-tier VPN with additional features, absolute privacy, thousands of servers, etc., DroidVPN is not a good choice in 2023.
Incoming search terms: