SpyWarrior review
SpyWarrior is a new anti-virus program for Windows computers. The program handles all kinds of infections, including adware, browser hijacker, potentially unwanted programs (PUPs), trojans, viruses, ransomware, etc. It's a new player in the cybersecurity industry but already has an excellent anti-virus product.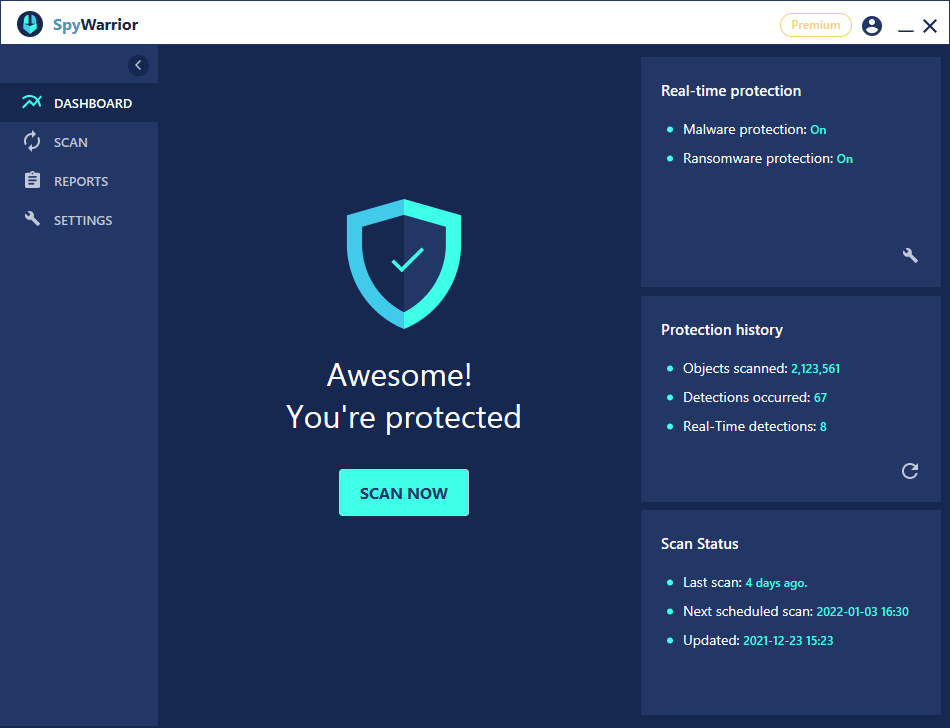 The below review will hopefully help you decide whether SpyWarrior is suitable for your needs.
SpyWarrior features
SpyWarrior is an anti-virus program so it will detect and remove a huge variety of computer threats, including adware, browser hijackers, potentially unwanted programs (PUPs), trojans, viruses, keyloggers, and other malware. The thing about a program like SpyWarrior is that it's great at detecting threats that many other anti-virus programs miss. In particular, it's an excellent program to detect threats like adware, browser hijackers, and PUPs. While they are incredibly annoying to deal with, they very rarely cause serious damage to the computer, which is why many larger vendors often miss them. Nonetheless, it's important to get rid of them quickly. SpyWarrior has a large database that is constantly updated, so it can detect even the most recent threats.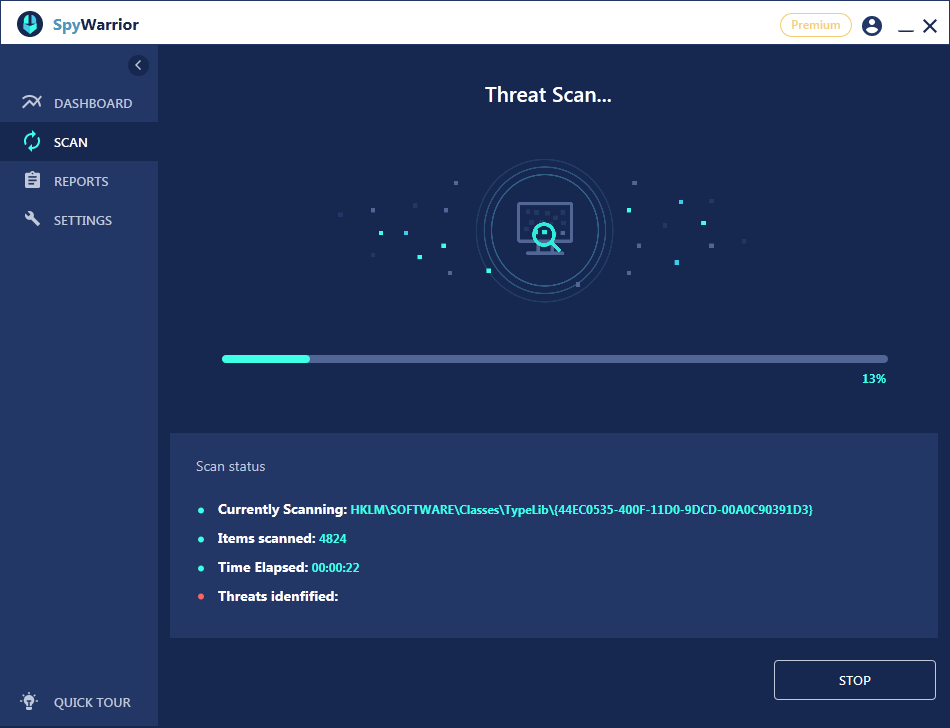 However, just because it excels in detecting less serious threats does not mean that it will not deal with severe infections. Testing has shown that it's fully capable of handling infections like trojans, keyloggers, and even ransomware.
Ransomware protection
With how common ransomware is nowadays, it's important that users' anti-virus of choice has some kind of protection against ransomware. Ransomware protection is included among SpyWarrior features. Using artificial intelligence, SpyWarrior is able to instantly detect a malicious programs' intent to encrypt files. If it detects this kind of behavior, it stops the processes, and removes the infection, preventing damage to files.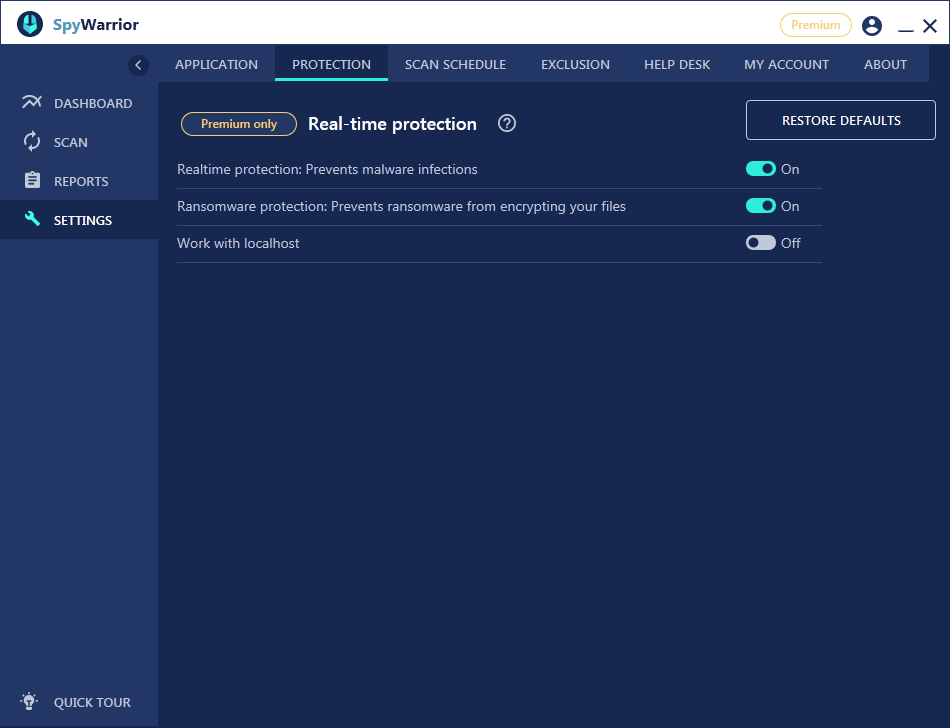 Real-time protection
The real-time protection feature is essential to anti-virus programs. It prevents malware from doing damage by detecting it immediately upon its entry. Real-time protection deals with the infection before it can even fully initiate. SpyWarrior uses artificial intelligence and behavioral analysis to stop malware in its tracks as soon as it enters, preventing it from performing actions like stealing passwords or encrypting files.
It's worth mentioning that while it's monitoring your computer, it will be unnoticeable.
SpyWarrior's effect on system performance
An anti-virus program's effect on a system performance-wise is quite an important thing to consider. Many users still believe that anti-virus programs negatively affect computers. This was certainly the case in the past because anti-virus hogged system resources, which resulted in laggy computers that sometimes became completely unusable while anti-virus programs were performing scans. It's understandable that many users still remember their negative experiences with anti-virus programs. However, nowadays, there is very rarely an issue with system performance when an anti-virus is running. Unless you are using an older computer, there should be no issues.
SpyWarrior is a pretty light program in this regard. It will not hog your computer's resources, nor will you notice it performing scheduled scans or removing detected issues.
SpyWarrior interface and design
In addition to providing good security, an anti-virus program also needs to have a user-friendly interface. A lot of inexperienced and less tech-savvy users use anti-virus programs, and they are arguably the users who need to protect their computers from malware the most. If they find an anti-virus program difficult to use, they will either switch to a different program or not use one at all.
SpyWarrior has a modern/dark design that's easy to look at. The interface is quite simple and is not difficult to navigate because everything is sectioned. The Dashboard displays information about enabled/disabled features, general information about scans (number of scanned items, number of detected threats), and allows to quickly launch a scan. The Scan section allows users to choose between a regular scan and a custom one. In the Reports section, users can check what has been detected, as well as whitelist programs or files that are always detected but users wish to keep them. In the Settings section, users can control updates, manage notifications, schedule scans, manage launch settings, enable or disable certain features like real-time or ransomware protection, contact the help desk, as well as manage their account.
Overall, the program is quite simple to use, which benefits less tech-savvy users in particular because they will be able to use the program to its full capabilities.
SpyWarrior price
It's important to consider the price when choosing an anti-virus program. The official site shows the price to be €47.99/year. While this comes up to €3.99 per month, the full sum is charged annually. The plans come with a 30-day money-back guarantee in case you do not like the program. Keep in mind that anti-virus subscriptions renew automatically so you need to manually cancel before they expire in order to not get charged again.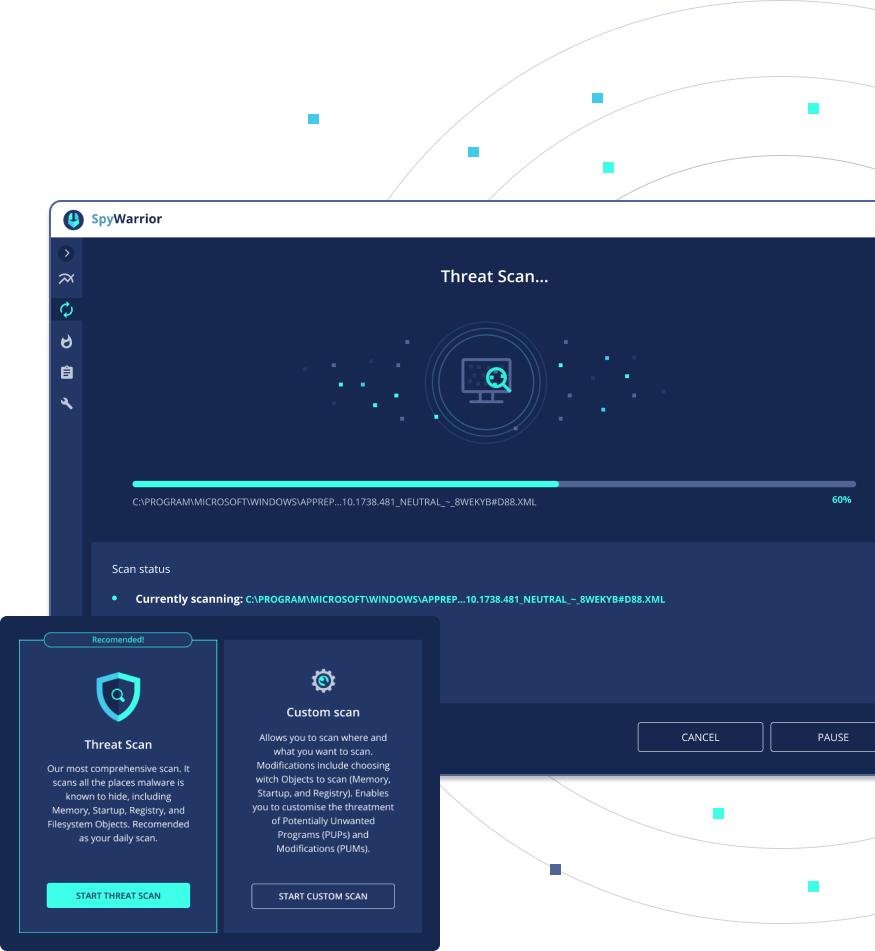 While SpyWarrior does have a free version, it's primarily a paid program as the majority of its feature become available only when you purchase a subscription. You can detect issues on your computer with the free version but will not be able to remove them. Real-time protection and ransomware protection features will also be disabled when using the free version.
Overview
To summarise, while SpyWarrior is a relatively new anti-virus program, it's already a powerful tool that will protect a computer from all kinds of threats. One of the reasons why SpyWarrior stands out among other similar programs is its focus on infections like adware and browser hijackers. Compared to other, bigger anti-virus programs, SpyWarrior is much more likely to detect and properly deal with smaller infections. These infections can be encountered every time users download free programs so they are incredibly common. It's important that users have protection against these threats. So for users who are constantly bothered by these kinds of infections, SpyWarrior is ideal. However, it's also excellent at detecting threats like trojans and ransomware. And the ransomware protection feature will protect files from becoming encrypted.
Its user-friendly interface makes the program easy to use even for less tech-savvy users, while the design is pleasing to the eye. And compared to other anti-virus programs, a SpyWarrior subscription is relatively cheap. Considering that SpyWarrior is still quite a new program, more features are likely to come in the future. But for now, SpyWarrior is an excellent anti-virus tool that will safeguard your computer.